Regular price
Sale price
£38.99 GBP
Unit price
per
Sale
Sold out
Build Time: 4 - 6 Business Working Days
Description

Children's Plastic Play Area Fencing

Elegance Meets Safety in Outdoor Play Areas

---

Product Overview:

Elevate your garden or institutional play areas with our premium Children's Plastic Play Area Fencing, tailored specifically for the UK market. Expertly crafted from top-grade PVC, our fencing solution not only resonates with British quality standards but also prioritises the safety of young ones.

Key Features:

Durable Material for UK Weather: Manufactured with superior PVC, embedded with UV stabilisers, ensuring resilience against the unpredictable British weather.
Maintenance-Free: Eliminate the frequent upkeep synonymous with wooden alternatives. This fencing solution stands strong, with zero maintenance.
Hygiene Optimised for the UK: Designed for easy cleaning, ensuring consistent hygiene despite the muddy UK rains. Compatible with standard household disinfectants, garden hose, or pressure washer.
Versatility in Design: Choose from a sophisticated range of shades – Dark Grey, Brown, White, Golden Oak, and Multi-coloured – tailored to complement British gardens and interiors.
Adaptable Heights: Whether it's for toddlers or slightly older children, adjust the post lengths to suit varied age groups.
Swift and Simple Assembly: Perfect for the British lifestyle, set it up or pack it away in moments, ideal for both permanent and temporary installations.
Safety Certified for the UK: Proudly inspected and approved by RoSPA, a UK trusted safety organisation, vouching for its low risk and appropriateness for environments like UK nurseries and creches.

Installation Guide:

Grounded Installations: For the soft British terrains, our posts are designed longer, ensuring secure embedment in cement.
Solid Floors: Opt for our recommended solid floor fixings or the specialised Metposts.
Temporary Setups: For those pop-up garden events or temporary needs, leverage our outdoor stainless steel stabilising feet for unmatched stability.

Cleaning Recommendations:

Tackle the typical UK outdoor mess effortlessly. While daily messes can be addressed with a simple wipe or hose spray, for more stubborn UK garden residues, we recommend the Everbuild Solvent PVC Cleaner.

Kit Contents:

Each Play Area Fencing kit, tailored for the UK, includes:

1 x Post and Cap
1 x Panel
Fixings and comprehensive assembly instructions

Order today and redefine safety and style for your child's play area, exclusively for the UK market.

Fencing Explained

With our posts you can connect a panel to each of the four faces, any faces of the post you don't use, will be covered with a cover strip. It's a modular system so you can keep adding to the fencing. You can make rectangles, squares, straight lines, U-Shapes, L-Shapes, etc

We can cut the panels so that you can go at different angles if required. If your making smaller squares or rectangles the fencing is free standing, if you require straight lines of more than 2 panels, then we can offer temporary stabilising feet which our posts slide over and this helps to stabilise the fence across longer runs or metposts which are knocked into the ground just below the surface level and our post recesses into the metpost and clamped into place. For permanent fixing (which is the best method) we can offer the posts cut longer to cement into the ground or we offer solid floor fixings. All of the above fixing products are on our fixings page. We can cut down our standard panels and make most sizes required, simply email a plan of what you require and our team will work everything out for you. Or if you can make our standard panels work, you can easily order everything you need direct from the website.

Each panel comes with one post. If you're not making a square or rectangle then you will require a finishing post every time you finish the fencing. Again, these are on our fixings page. If your making in and out entrances with gates or just walk through gaps. So, stopping the fencing and starting again, you will require more finishing posts.

We can also offer gates to suit most gaps from 500mm – 1200mm wide if you're going for our temporary fixings we would recommend not ordering a gate over 800mm wide due to the post not being fixed to the ground. If the posts are fixed permanently then anything up to 1200mm is fine. Our single play area gates are on the fencing page. This product has all the options you need to match this product, colours, height, etc

You will need to fix your post caps with PVC Solvent adhesive or super glue, to make a permanent fixing, or with silicone if you wish to move the posts at a later date or be able to replace them easily.

We also have another product Plastic Picket Fencing which allows the panel to sit of the ground by 50mm this helps when fitting the fencing on un-level ground. Allowing you to cut the spacer profile at slightly different heights each end to ensure the panels are level or you can even step the panels down slightly.
Dimensions

Panels & Post Sizes

Panels

Height: 600mm / 750mm / 900mm
Width: 1150mm

Posts

Height 600mm / 750mm / 900mm
Width 75mm Square

Shipping

Free Delivery to all UK Mainland (not including the Highlands)
View full details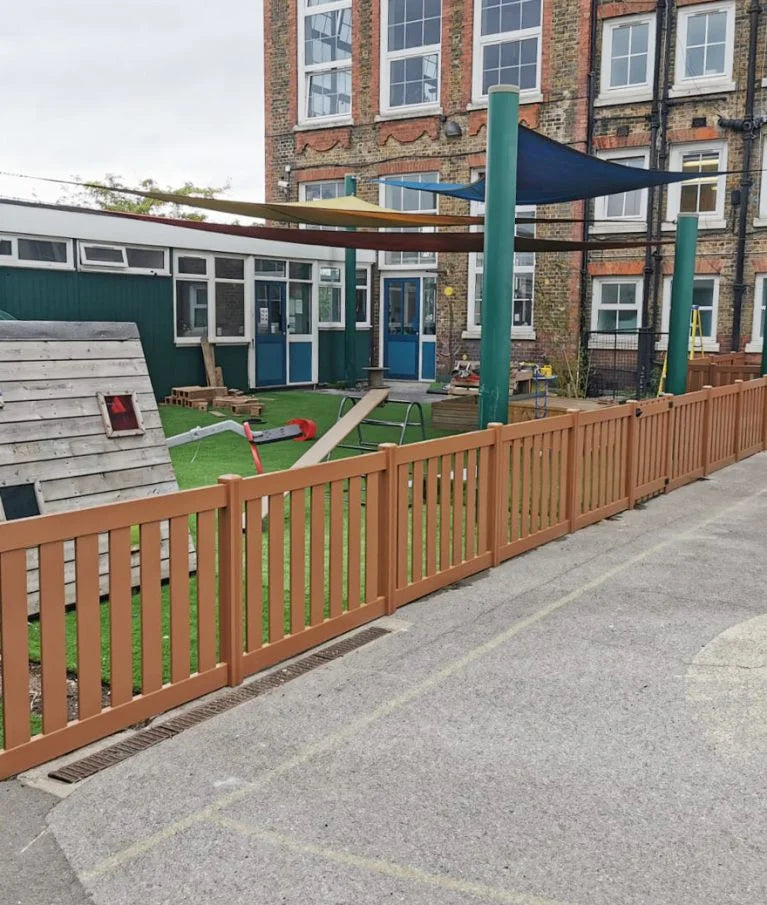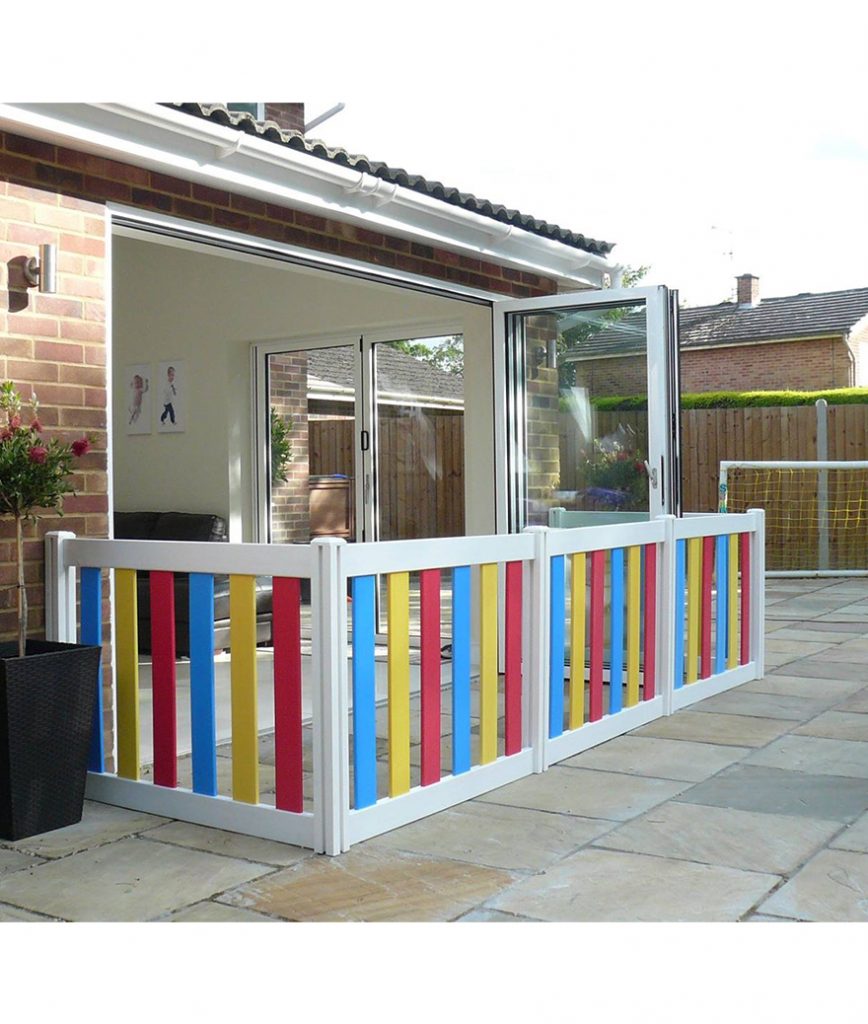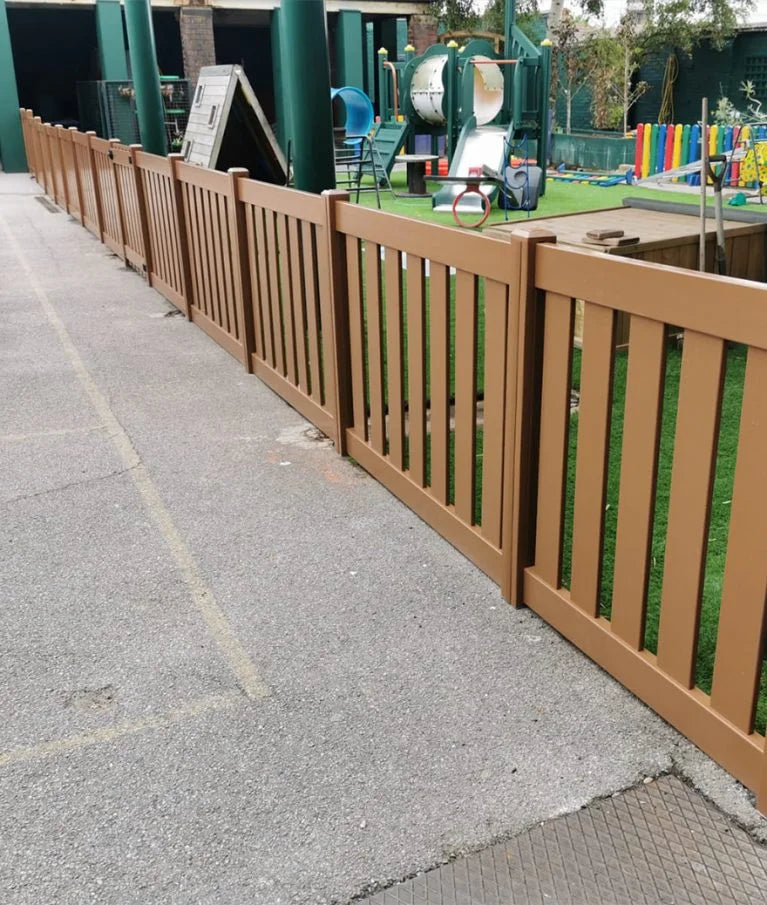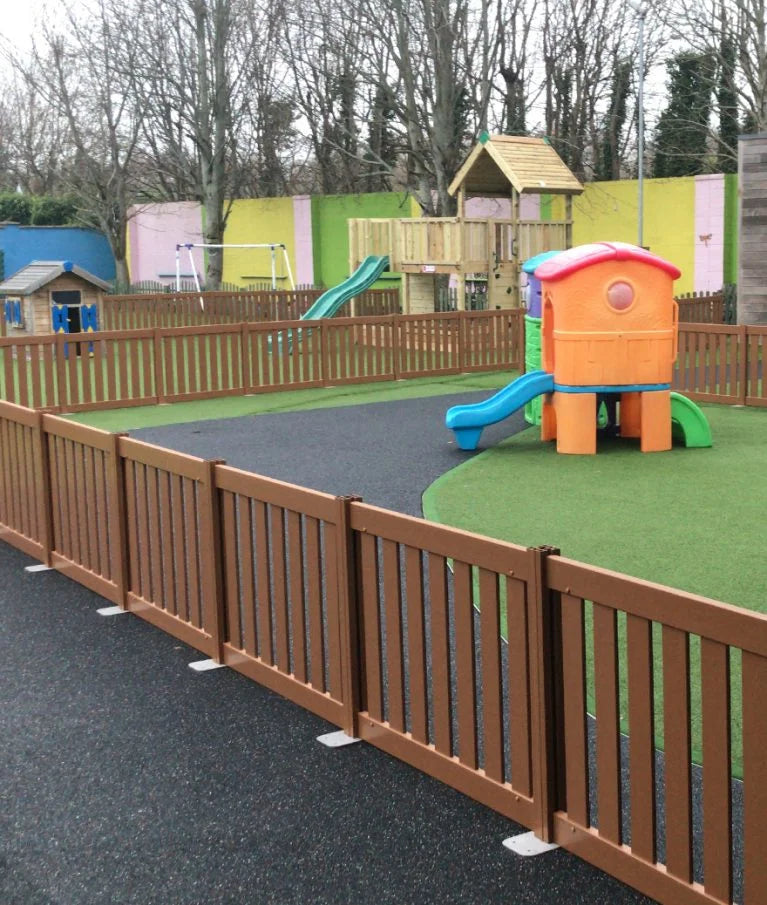 Types of Fixings
To secure your fencing we offer solid floor fixings (permanent fix) or stabilising feet (temporary fix).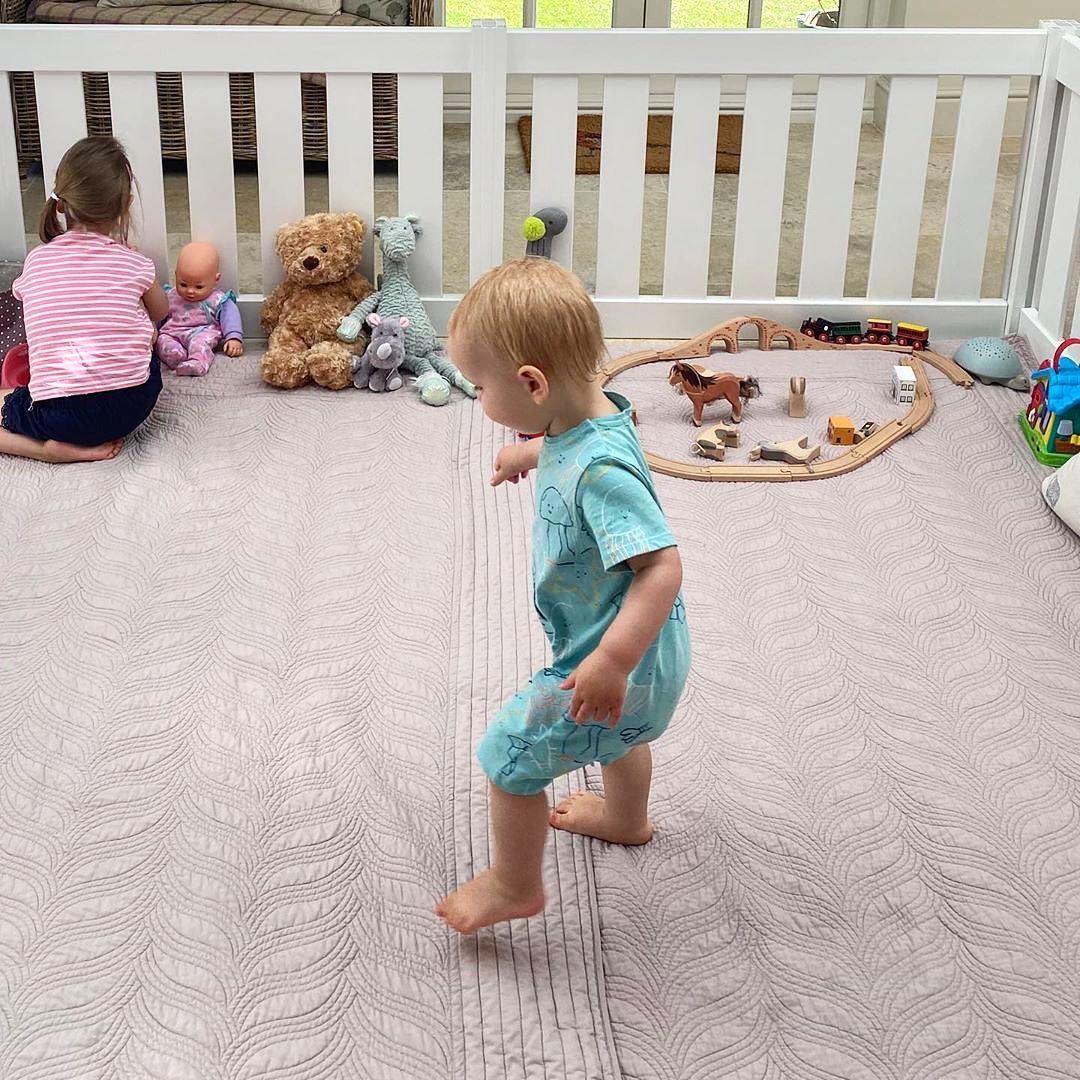 Grows with your child
Need more room? Our playpens are expandable and can grow with your child. Just add more panels as they grow bigger giving them more room to play.
FAQs
Are your playpens suitable for carpet or hard floors?

Our products are suitable for all floor surfaces. Due to their construction they are strong and difficult for a child to move once in place. We provide rubber feet for hard and slippery floor surfaces.
Are the playpens easy to assemble?

Our playpens are easy to assemble. No tools are required and the posts and panels simply slide and lock into position.