Regular price
Sale price
£36.99 GBP
Unit price
per
Sale
Sold out
Build Time: 4 - 6 Business Working Days
Description

Tekplas' Christmas Tree Fence: Your Essential Festive Protector

 

Safeguard your festive joy this season with Tekplas' Christmas Tree Fencing. Whether you're in the cosy confines of your home, the professional atmosphere of an office, the bustling hub of a shopping centre, or even in an open outdoor space, our fencing solution ensures that your beautifully decorated Christmas tree remains untouched and the allure of the presents stays intact.

 

Features:

Safety First

: An impeccable barrier to keep curious toddlers and babies at bay, ensuring that the holiday magic isn't ruined by little hands reaching for the presents prematurely.

Versatile Use

: Suitable for both indoor and outdoor environments. Whether it's to prevent tampering in public spaces or to add an extra layer of protection in private areas, our fencing caters to all needs.

Aesthetically Pleasing

: Our fencing offers more than just protection. It does so with style. It is designed to blend seamlessly with your festive décor, ensuring safety without compromising the festive feel.

 

Bespoke Solutions: Do you have a specific size in mind or a unique design requirement? No problem! We understand that every Christmas setting is special. Contact us with your bespoke requirements, and we will tailor-make a Christmas Tree Fencing solution that fits your needs perfectly.

 

Order Now: Protecting your festive display has never been this stylish and efficient. Invest in Tekplas' Christmas Tree Fencing and keep the magic of Christmas alive and well-guarded. For our UK customers, we promise prompt delivery and impeccable service. Celebrate this Christmas with peace of mind.

Please Note

Each section only comes with one post, so when planning your fence for your Christmas Tree, you will need to buy a finishing post to complete the fence run. Unless you are making a square or rectangle around your tree and your last fence panel connects back into the first post that you started with.

Please see the related items for the finishing post. Or go to our fixings page for the finishing post product.


If your making large displays and ordering more than 8 panels and not creating a square or rectangle. You will need additional stabilising feet to help support the fence. When creating squares or rectangles with 8 panels or less you create corners which are strong and the fencing stands up perfectly. Please see our fixings page for the stabilising feet.

 Christmas Tree Kit consists of depending on your selection

1 x Christmas Tree Panel @ 115cm wide + 1 x Post & Cap
2 x Christmas Tree Panels @ 115cm wide + 2 x Posts & Caps
4 x Christmas Tree Panels @ 115cm wide + 4 x Posts & Caps




Please Note

We cannot be held responsible for the safety of installation of any of our products, as the buyer or installer you must make sure it is safe to use and be sure it is put together correctly.
Please make sure you glue the caps on before or after installing your fencing.
Dimensions

Panels & Post Sizes

Panels

Height: 500mm / 6000mm / 750mm
Width: 1150mm

Posts

Height 500mm / 6000mm / 750mm
Width 75mm Square

Shipping

Free Delivery to all UK Mainland (not including the Highlands)
View full details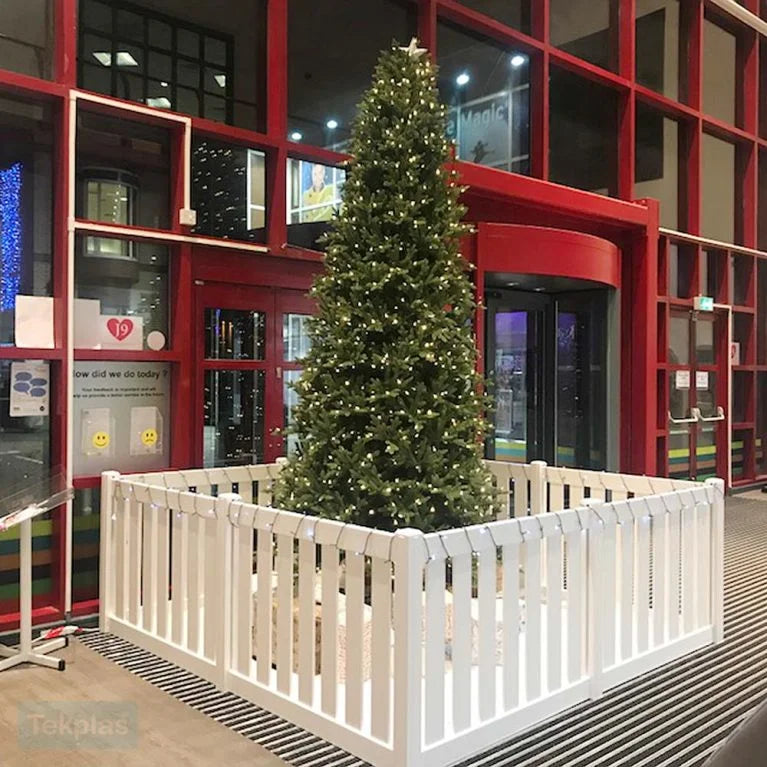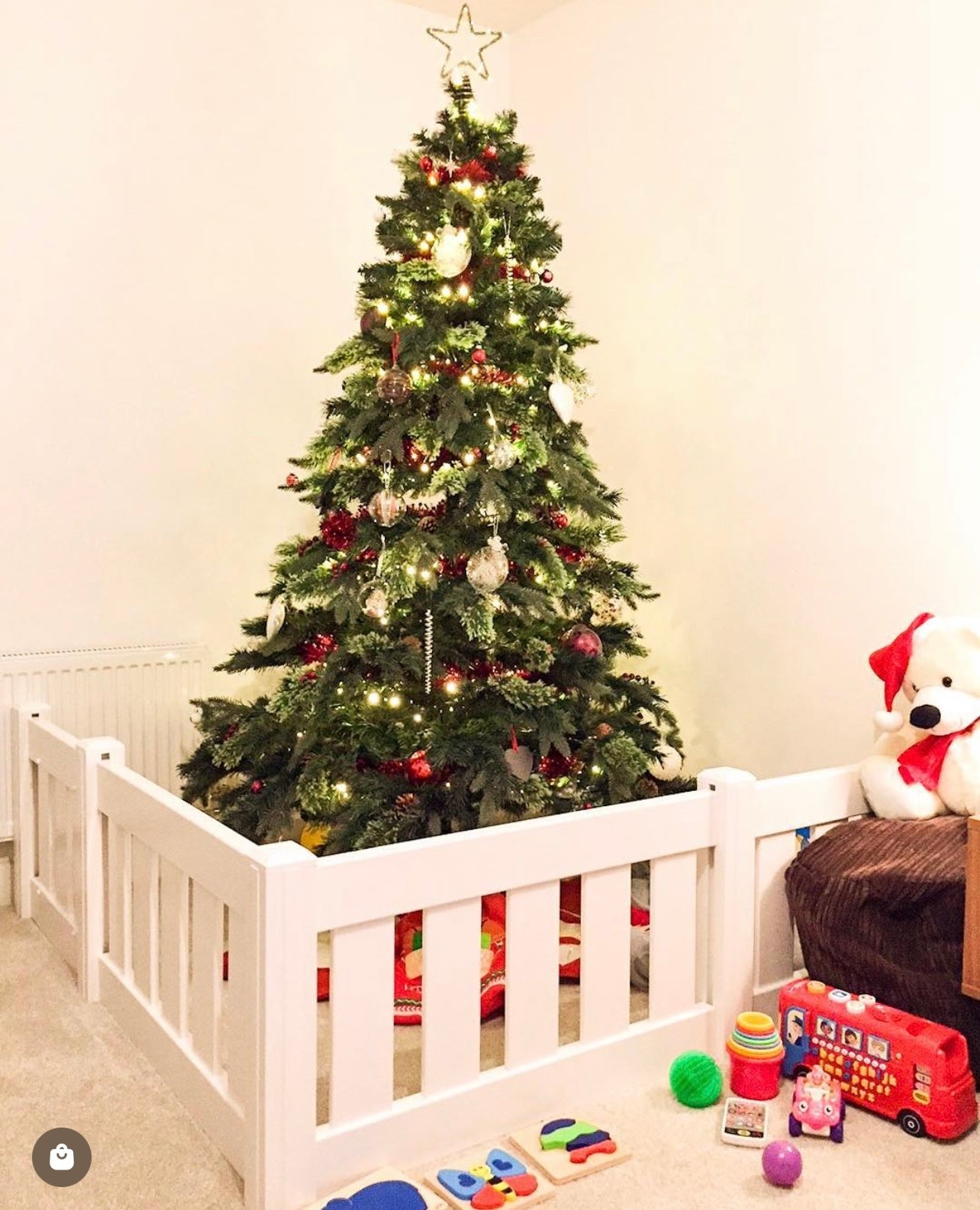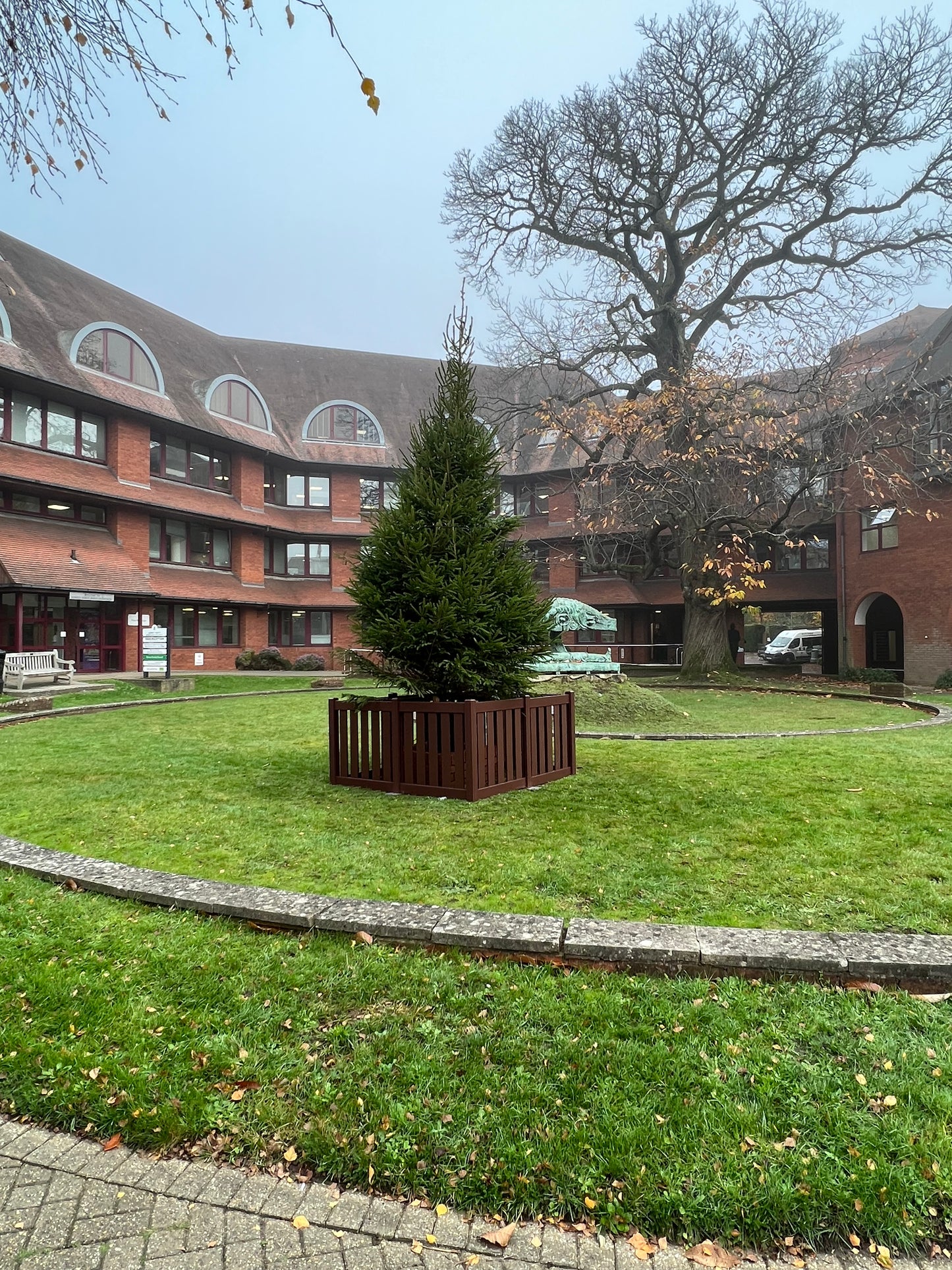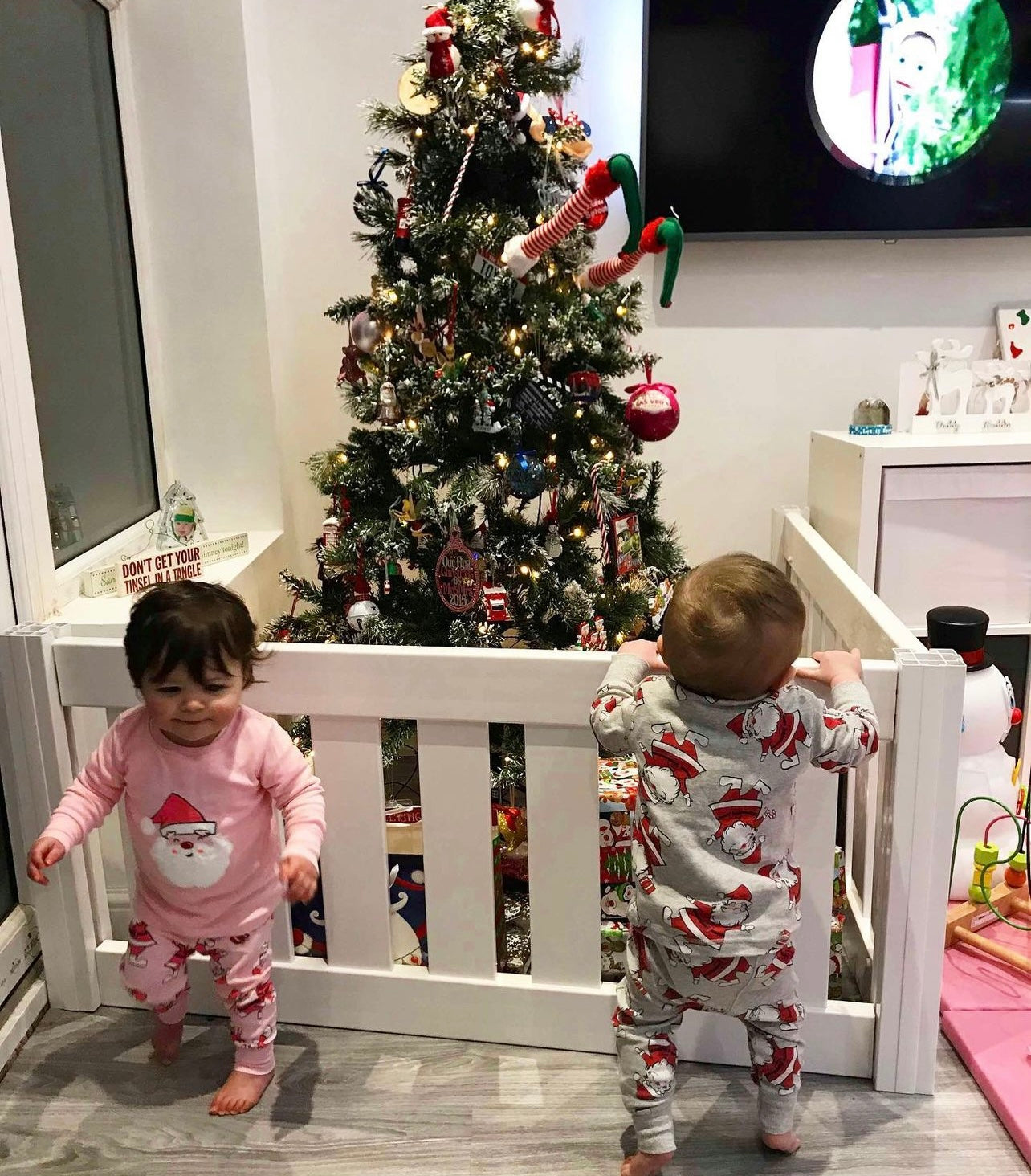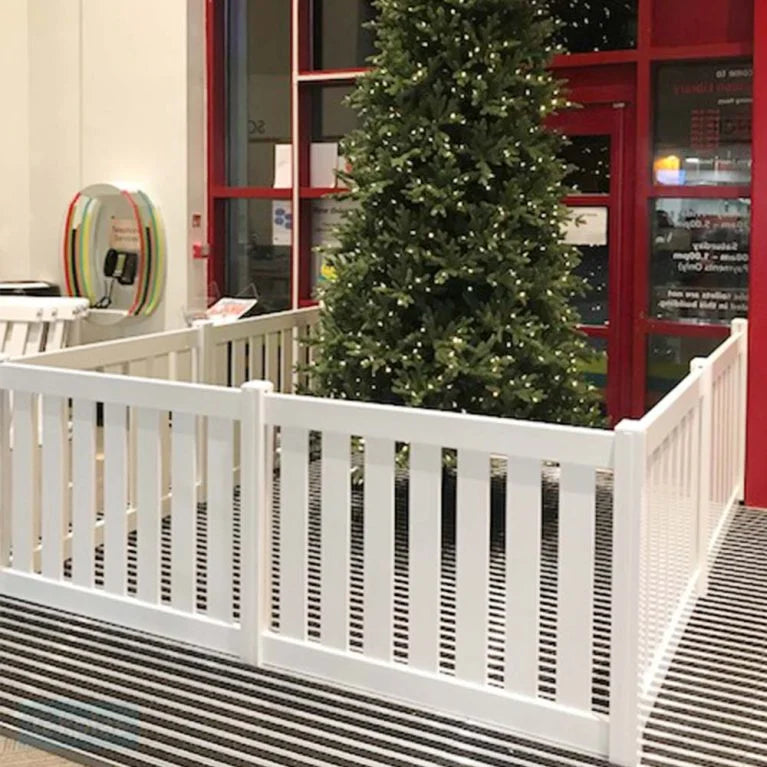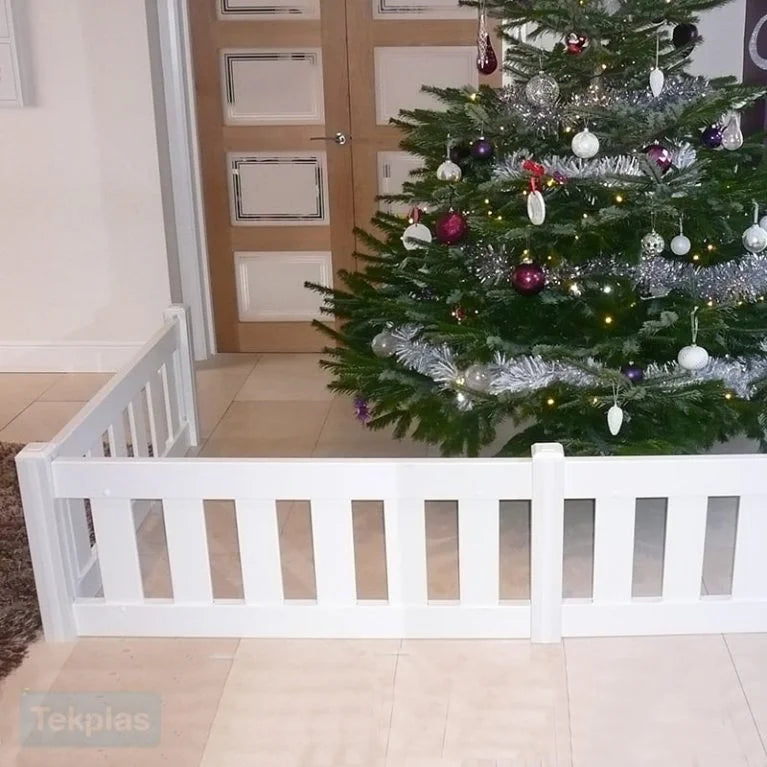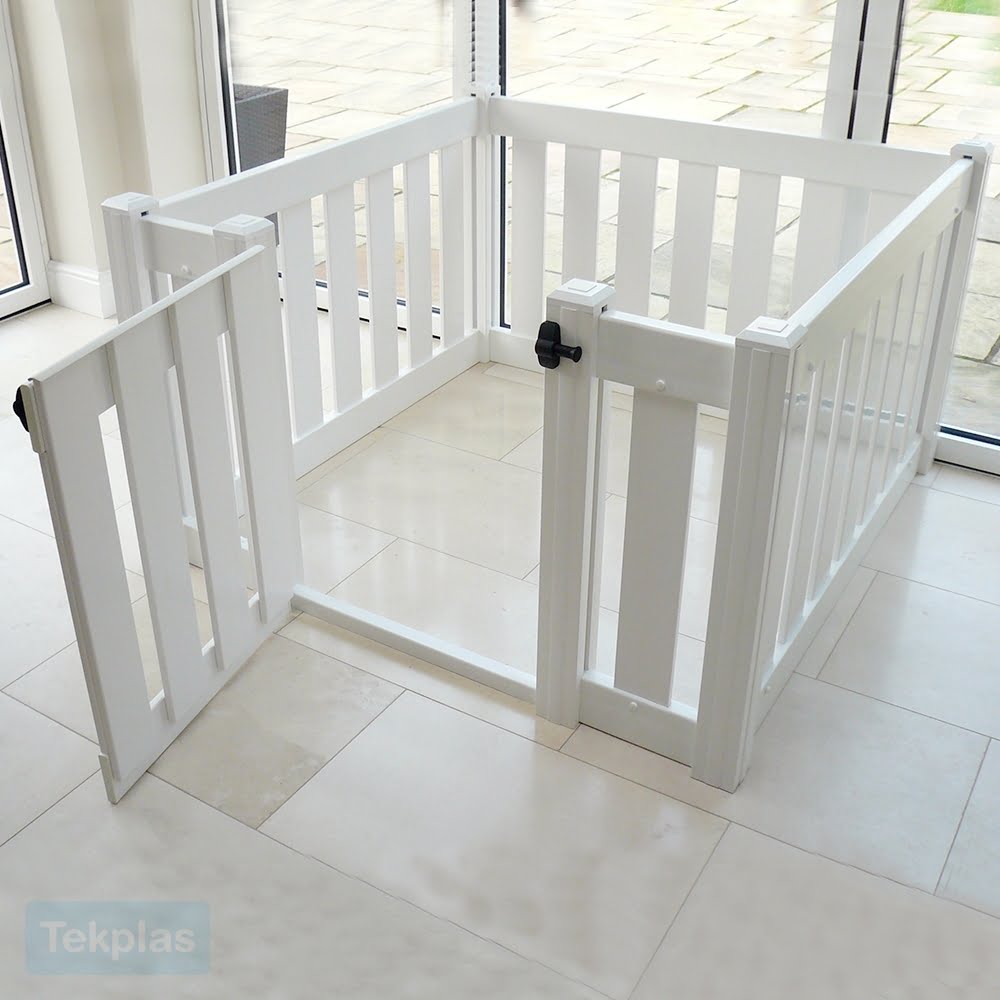 Secure access for little feet
Our Playpens featuring a gate offer effortless access for your little ones to enter and exit, alleviating the need for adults to awkwardly lean in or step over to take care of the children.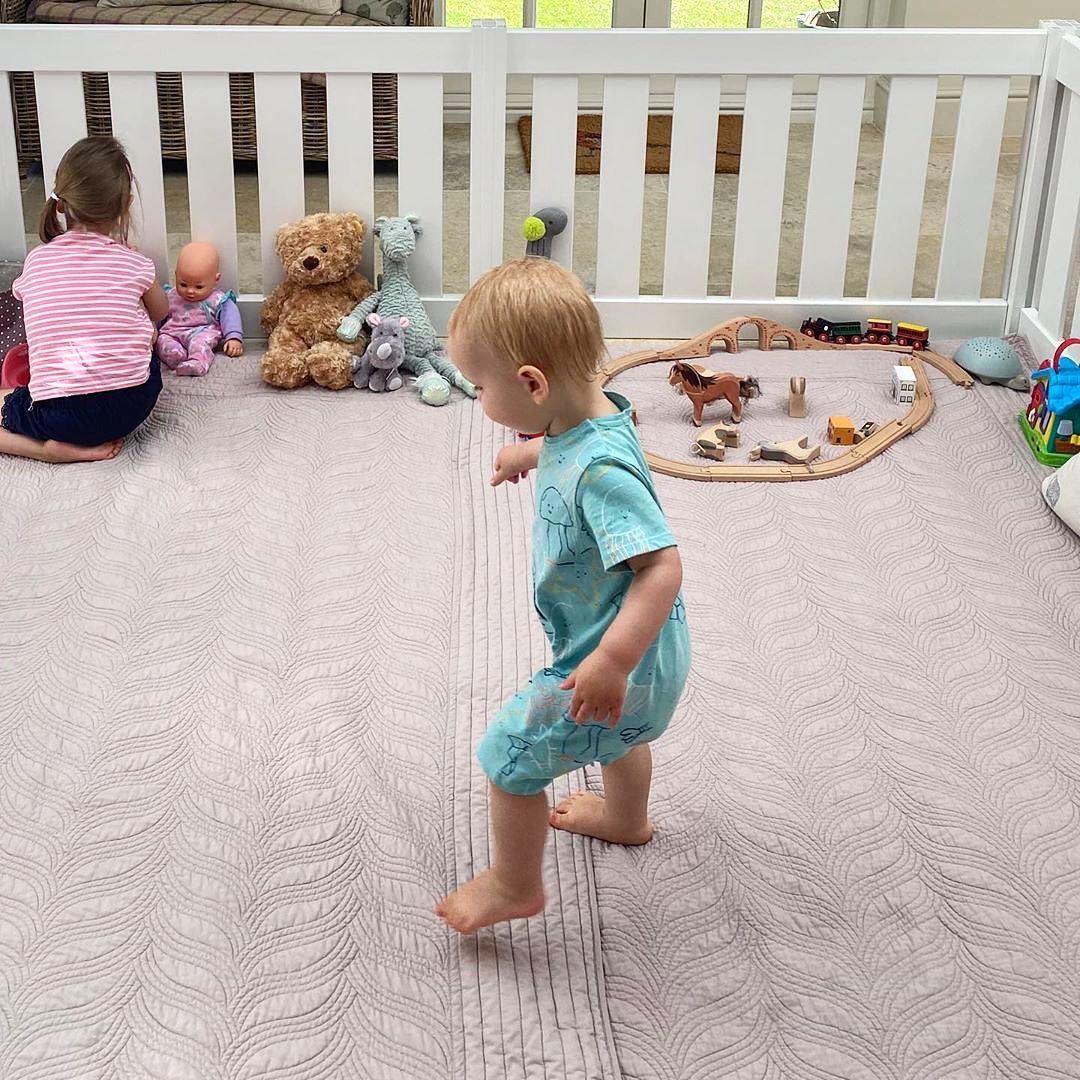 Grows with your child
Require extra space? Our playpens are designed to expand, evolving alongside your child. Simply incorporate additional panels as they grow, providing them with increased play area.
FAQs
Are your playpens suitable for carpet or hard floors?

Our products are suitable for all floor surfaces. Due to their construction they are strong and difficult for a child to move once in place. We provide rubber feet for hard and slippery floor surfaces.
Are the playpens easy to assemble?

Our playpens are easy to assemble. No tools are required and the posts and panels simply slide and lock into position.
Can I use a 6-panel playpen as a 4-panel playpen?

Yes, you can, simply remove 2 of the panels and 2 of posts
to create a 4-panel pen.
Can I mix and match the 110cm and 130cm playpen panel sizes?

Yes, you can, place the order online as a 130cm playpen and
then email info@tekplas.co.uk with your order number and required panel sizes.
Can I make my playpen bigger?
Can I add a gate to my playpen?
What does a single panel come with?

Each panel comes with 1 x post and 1 x cap.