Regular price
£359.99 GBP
Regular price
Sale price
£359.99 GBP
Unit price
per
Sale
Sold out
Description

Introducing Tekplas uPVC Plastic Slatted Side Gates: Elevate Your Property with Style and Durability. These gates are designed to look great and keep your space secure.

Our uPVC Plastic Slatted Side Gates are made from the high quality PVC and will fit varying gaps between 901mm to 1200mm and a standard height of 1800mm. The gaps between the vertical slats will be the same all the way across your gate but varies from gate to gate from around 15mm – 30mm depending on your gate width as the veritcal profile used is a fixed 100mm wide.


Main Features and Benefits:

Strong and Stylish:

 These gates are made from rigid PVC that's both strong and looks good. 

Sturdy Build:

 They are built to last and will keep your property safe while adding a touch of class.

Weatherproof:

 These gates can handle all types of weather - rain, wind, and sun and still look great. They will not hold water like wooden gates.

Color Choices:

 You can choose White, Brown, Golden Oak, and Dark Grey to match your property's look.

Easy to Clean:

 Wipe them down; there is no need to paint, and they'll always look fresh.

Made to Last:

 These gates are built for outdoor use and will stay in good shape all year round. The material has UV Stabilizers. 

Complete Package:

 You get everything you need for installation - hinges, latch, and post - so it's easy to set up.

Style Choices:

 You can choose a flat top or arched top gate to suit your taste. Please see our flat top gate product.

Bespoke:

 We can make these gates for you if you need something special. Whether you require a higher gate or an aliminum frame on the back of the gate, we have this covered.

Add-Ons Available:

 We also offer Tekplas Side Panels to match your gate and make your space look unified.

 

Extra Details:

Post Info:

 The plastic side posts are 75mm x 75mm square by 1830mm high as standard, and the aliminum posts are 100mm x 100m square by 2250mm high as standard. If you prefer two aliminum posts so that they look the same but require one of them 1830mm high we can also offer that option. Simply write it in the Notes section.

Complete Package:

 Your gate comes with 3 x Hinges, 1 x Door Latch, and screws to fit the hardware. The posts come complete with 2 x door stops and decorative top caps.

 

How To Measure Your Gap = Important Please Read.

 

We need to know the gap size you plan to fill with the gate and posts. We will manufacture the gate to suit. We subtract the correct amount of clearance required depending on the colour chosen. And subtract the posts from the measurement. This way, we ensure the gate will be made to the correct width. Please measure the top, middle, and bottom and give us the smallest distance in the Gap Box. If you are still unsure, don't hesitate to contact us, and we will talk you through it.

If you want to keep your existing posts, please get in touch with us with your gate gap and your current gate size, and we will assist you.

 

Post Options Available

 

2 x Plastic Posts = This is the most common option. Each post is fitted to the wall.

1 x Plastic Post, 1 x Aluminum Post = This is when you can fit one post to a wall, but the other post needs to be freestanding. The plastic post is fitted to the wall, and the aliminum post is cemented into the ground.

2 x Aliminum Posts = When both posts need to be freestanding, each post will be cemented into the ground

 

Security Locks = Two Types

 

1) High-security gate lock with key on one side and slide lock button on the other side for easy use. The slide lock button allows you to open the gate from the back garden side easily but requires a key from the front garden. These are made from high-quality materials and comes complete with instructions and five keys

2) The coded lock is available in silver and black. The black is made from a marine-grade material, and both locks are suitable outdoors. It requires a code from the front side of the garden and has a twist handle from the back garden side to allow easy access.




Please Note: The high-security gate lock barrel is 50mm, and our gates are approximately 32mm thick. See our pictures to see them fitted to our gates.
Dimensions

Post Height 1830mm (6ft) Gate Height = Start of Arch 1800mm
Shipping

Free Delivery to all UK Mainland (not including the Highlands)
View full details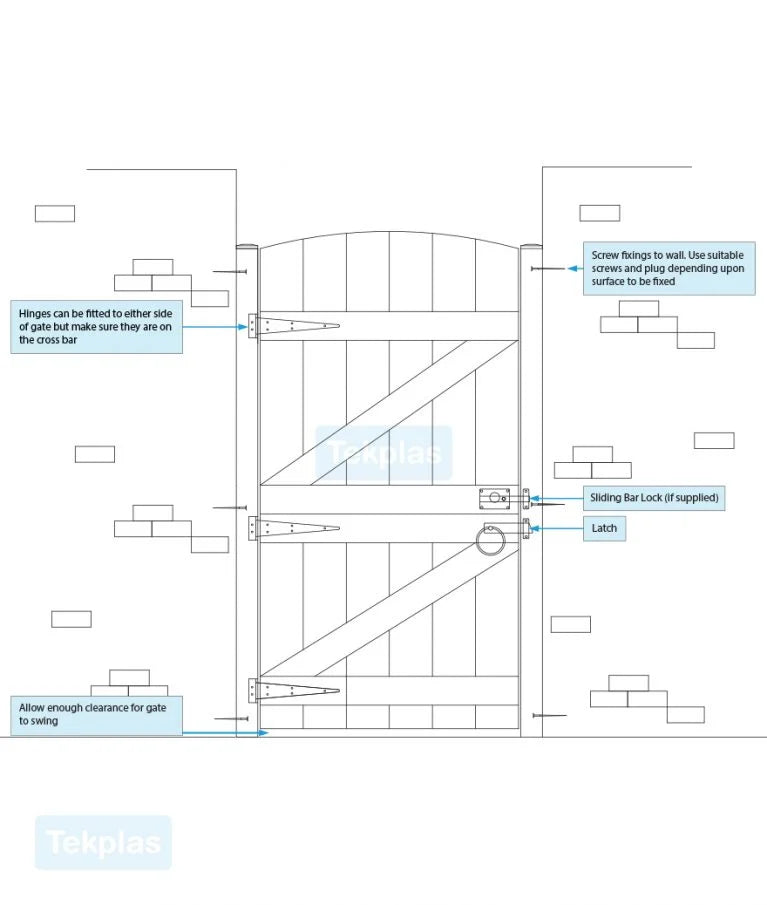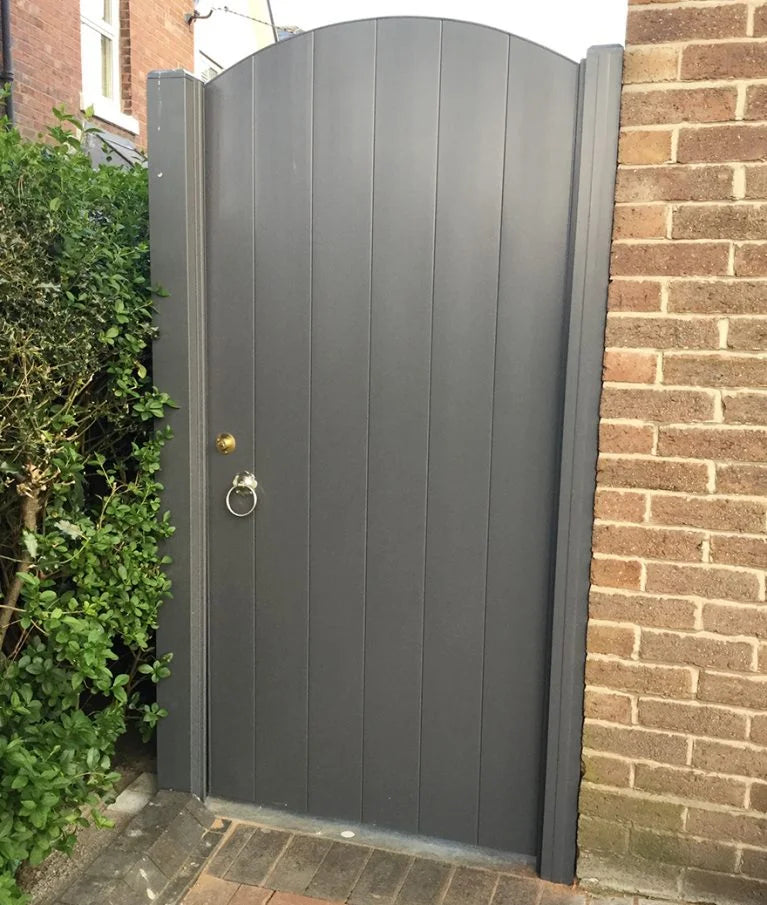 Hassle Free Maintenance
With no rotting or degredation in our material, our Gates are easy to maintain. Simply wipe down and clean.
Security Options
We have a range of locks bolts and hardware to add to your gate.
FAQs
Are your gates fully assembled?

Our gates will come fully assembled. You will need a trusted gate fitter to install your gate for you along with your lock options.
How strong are your gates?

Our gates are just as strong as wooden gates, without the worry of rotting and material degrading.
Does the total gap include the posts?

Yes, it does.
The total gap is to include the 2 posts and the gate - so it is the gap you are trying to fill.

We recommend measuring your total gap top, middle and bottom and giving us the smallest
measurement.

We then take into account the 2 posts, gaps for clearance and the gate size.
Can I use existing posts?

Yes, you can use existing posts as long as they are in good condition. Please send an email
with a picture of the existing posts to info@tekplas.co.uk so we can double check.
Does the gate come with screws for fixing the posts?

No, the gate does not come with screws for fixing the posts as our products are fitted to so many different surface types.
What is included with the gate?

2 x posts, 2 x caps and 2 x door stop's

1 x gate

Hinges (3 for singles and 6 for doubles) and 1 ring latch with screws for fixing
Can I hinge the gate from the left- or right-hand side?

Yes, you can. We do not drill any pilot holes for the hinges or latch so you can hinge the gate from the left- or right-hand side.
Can I fix the gate to open inwards or outwards?

Yes, you can. If fitting the gate to open inwards the hinges go on the back face of the gate, if fitting the gate to open outwards, the hinges go on the front face of the gate.