Regular price
Sale price
£0.00 GBP
Unit price
per
Sale
Sold out
Build Time: Size Dependant
Description

Tekplas Dog Pods, Safe, Durable, and Versatile Dog Enclosures.

 

Introducing Tekplas Dog Pods, the perfect enclosure solution designed with the safety and comfort of your pets in mind. These premium enclosures, suitable for humans and animals, are constructed with high-quality lightweight PVC, ensuring a robust, rigid construction that stands the test of time. Whether you plan to use it indoors or outdoors, our dog pods are durable and versatile enough to suit any environment.

 

Key Features:

High-Quality PVC Product:

 Our dog pods are made from top-grade PVC, ensuring a robust and sturdy construction.

Quick Assembly and Disassembly:

 Setting up or taking down the dog pod is a breeze, thanks to its user-friendly design.

Very Hygienic:

 The PVC material and easy-clean, wipeable surface make it hygienic and easy to maintain.

Optional Features:

 Customize your dog pod with optional features such as a door, floor, or roof, depending on the size required.

Panel Options:

 Choose between panels with gaps for ventilation or solid panels for added privacy.

Indoor or Outdoor Use:

 Durable construction makes it suitable for both indoor and outdoor environments.

 

Customize Your Play Area:

The Tekplas Dog Pod is a modular system, allowing you the flexibility to add more PVC panels later should you need to increase the play area. View our range of puppy playpen single panels in the pets section, or use this link to explore more.

 

Easy Maintenance:

The easy-wipe surface can be cleaned with ordinary household disinfectants or even washed in a garden environment with a hose or pressure washer should it become exposed to dirt or debris. For best results, we recommend using Solvent UPVC Cleaner by Everbuild.

 

Bespoke Requirements?

We understand that every pet owner has unique needs. Therefore, you must contact us for pricing as these are always bespoke heights, widths, depths, and number of pods. You can have a mixture of panel and gate types to suit your requirements.

 

Contact Us Today!

Have bespoke requirements or need assistance? Our friendly and professional team is here to help. Contact us today to discuss your needs and get a custom quote.
Dimensions

Bespoke Product = Dimensions Will Be Different
View full details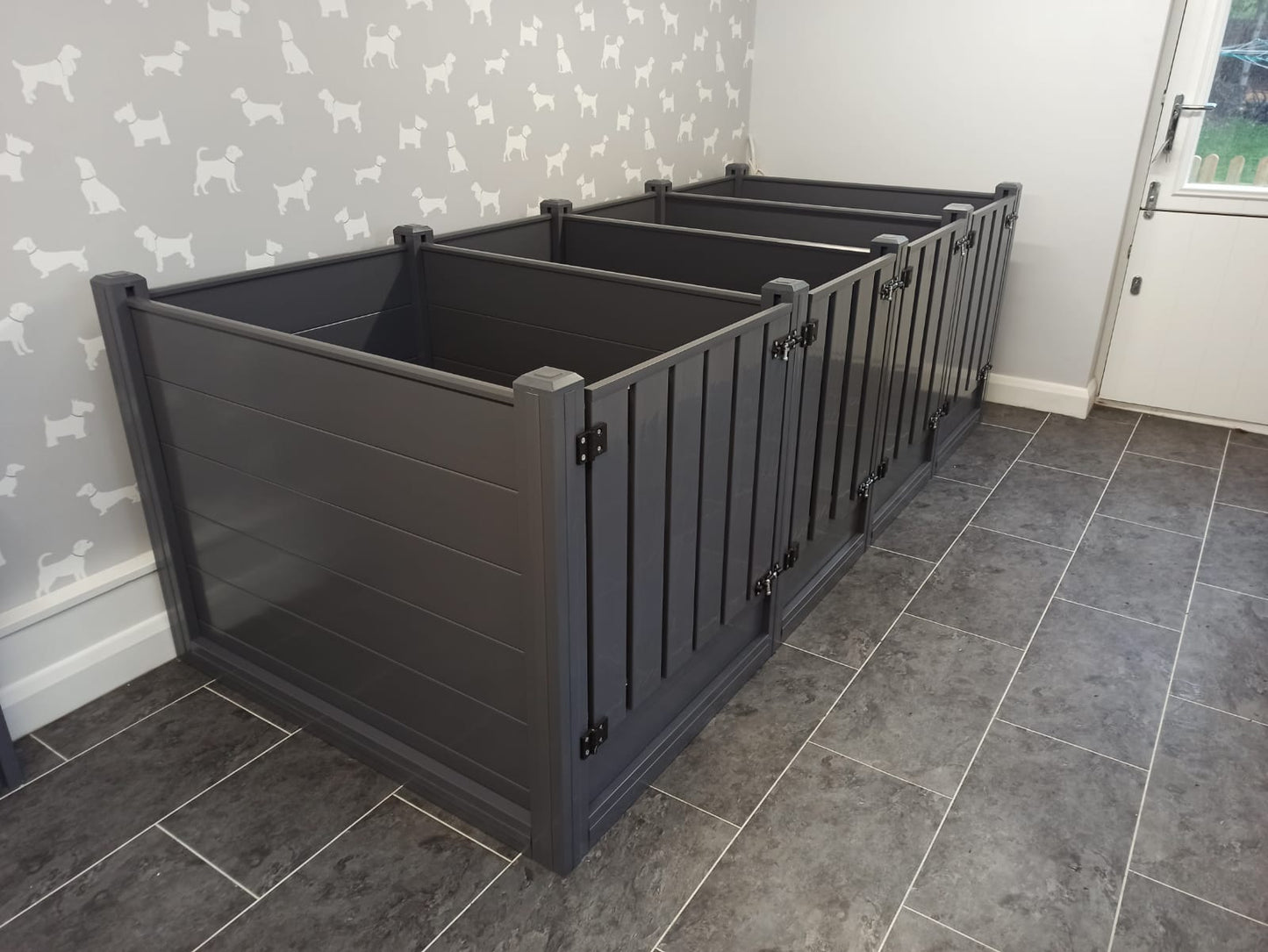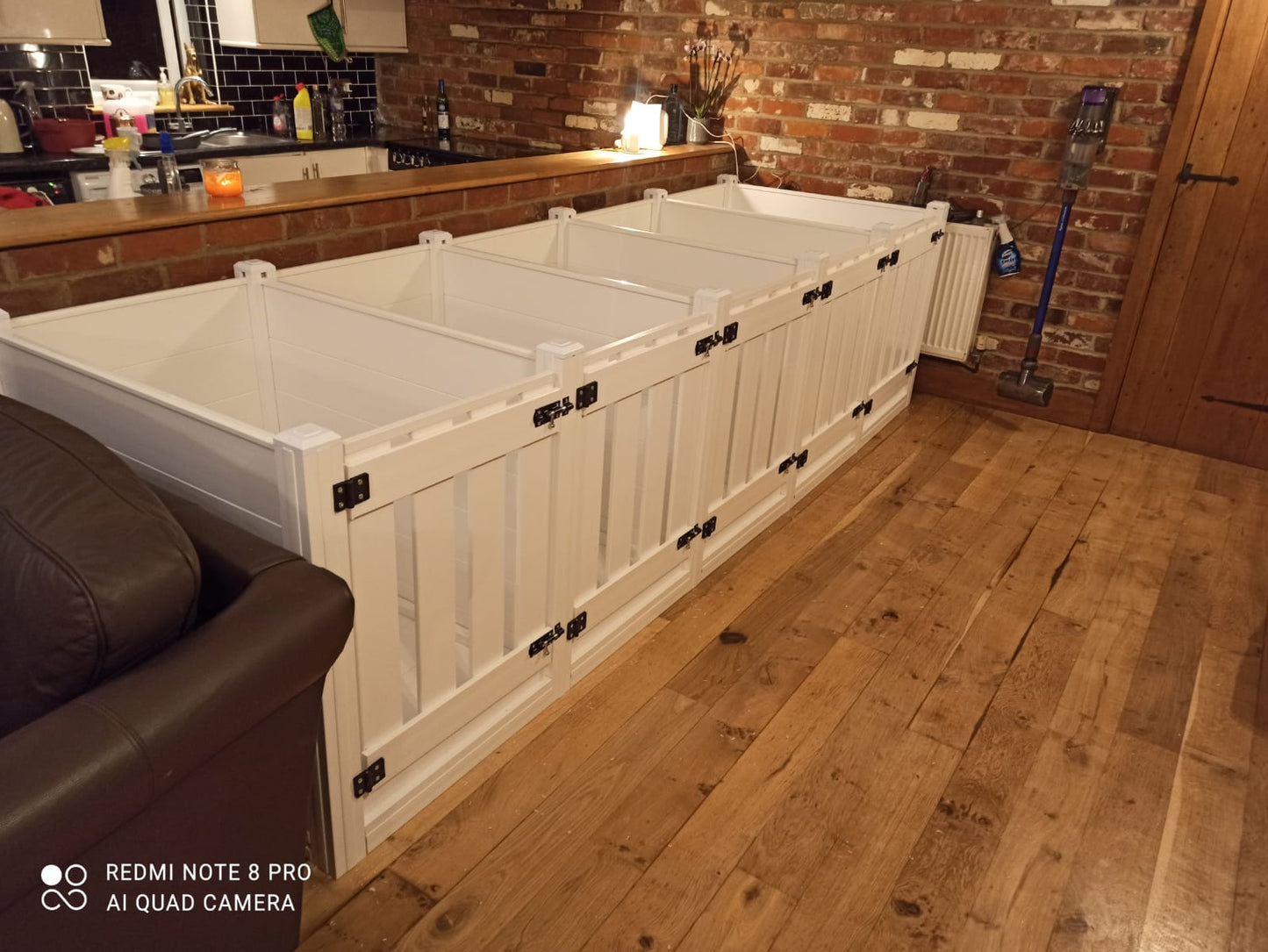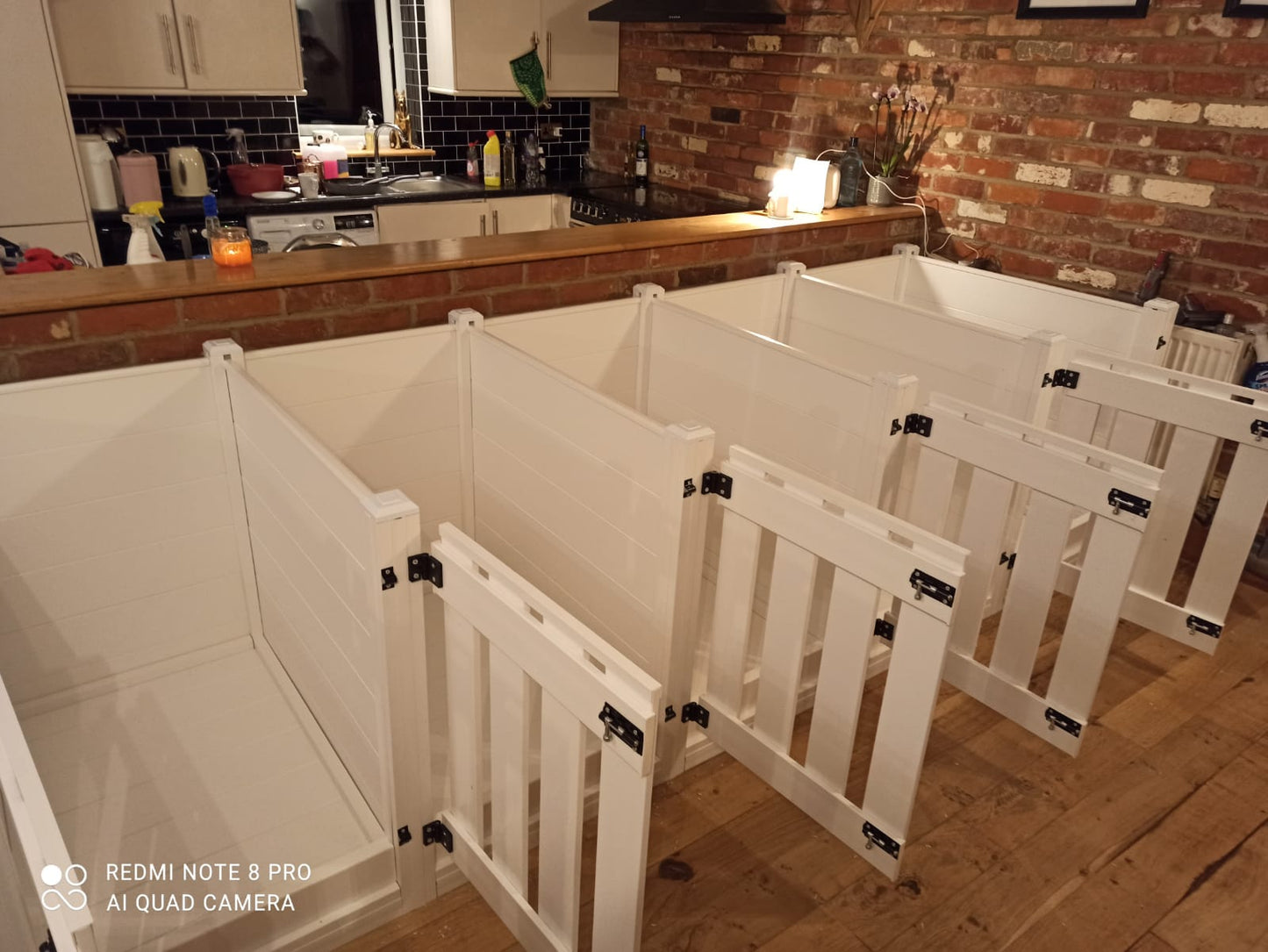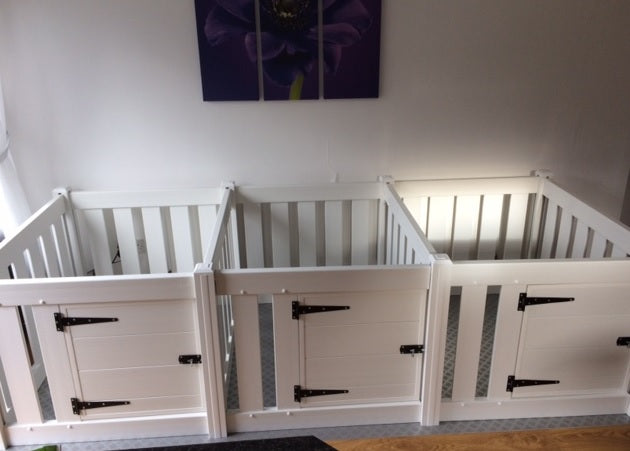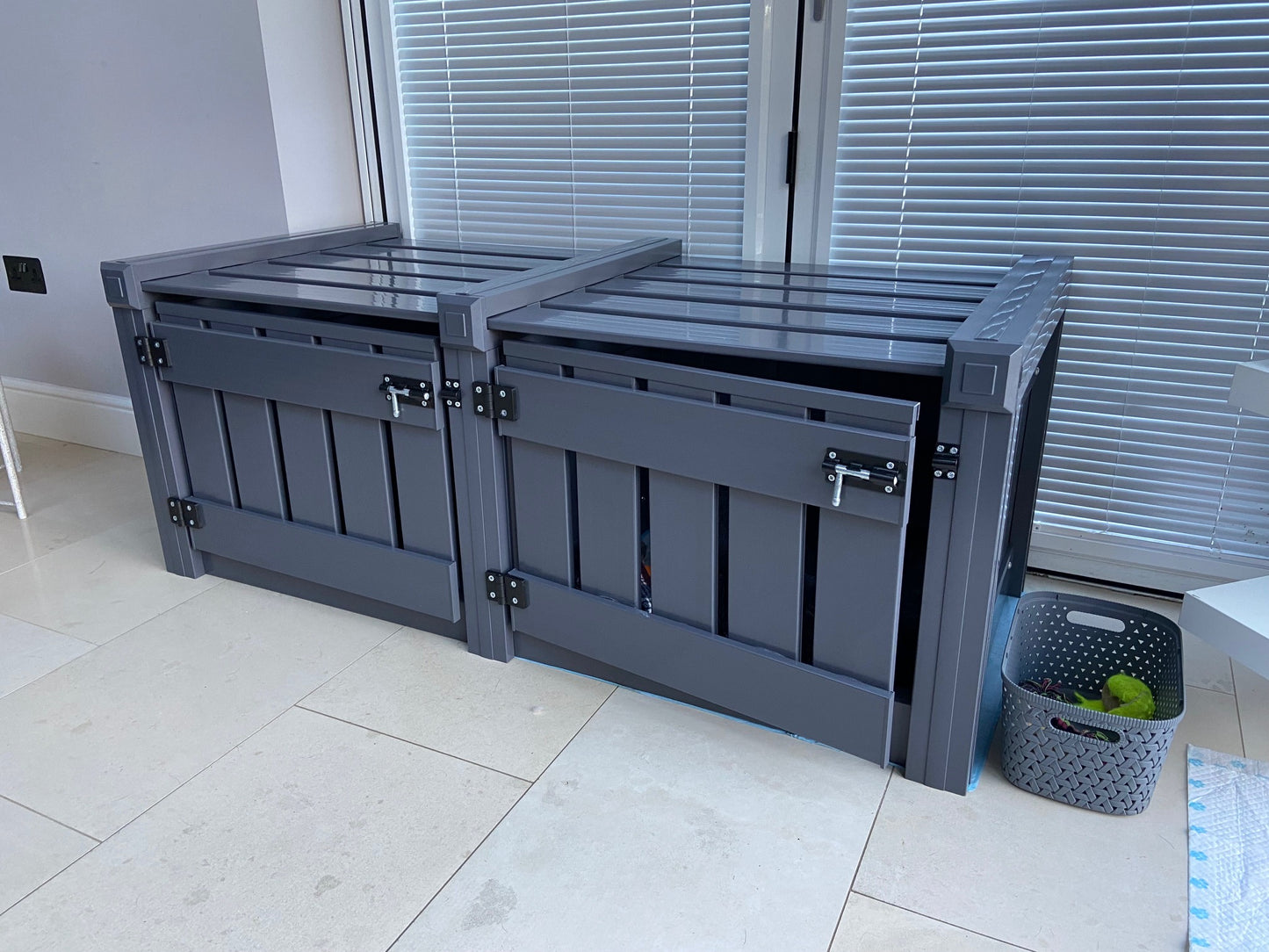 Floors, Roofs and Gates
Our Whelping Boxes come with a range of options, need a floor, roof or gate? We have got you.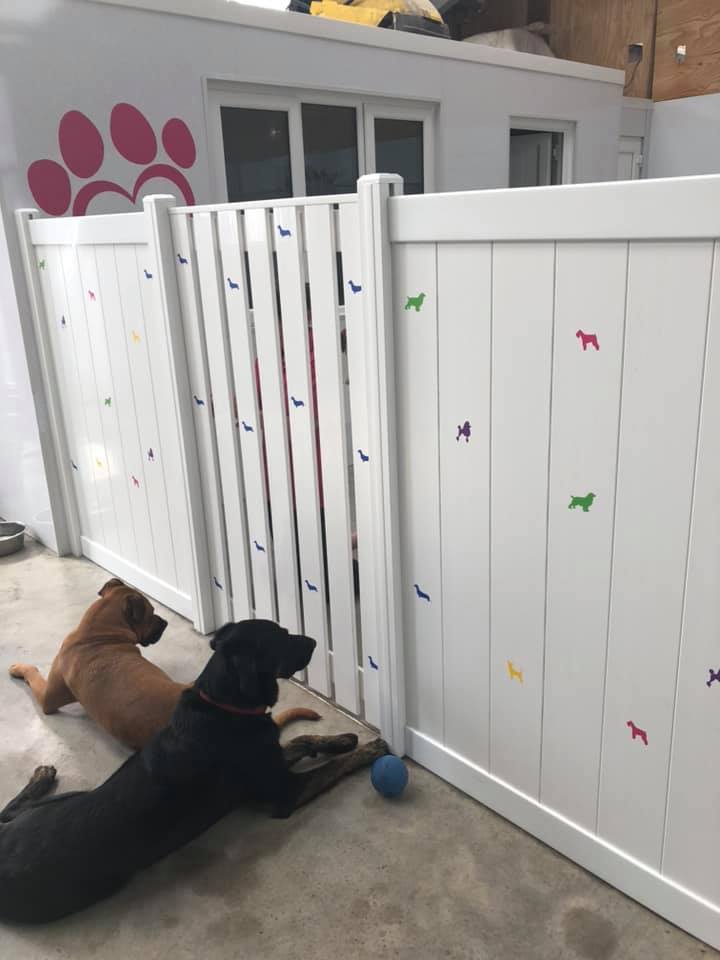 Suitable for all Breeds
Our Whelping Boxes are available in a range of heights We have varying slat gaps and heights to suit your breed of dog.
FAQs
What breeds are suitable for your Whelping Boxes?

Our Whelping Boxes are made to suit all breeds. Simply adjust the options when placing the order to suit your breed, such as height and slat gaps.
Can I add a Floor or Roof to my existing Whelping Box?

Yes you can get in touch with us and we will be able to assist you further.
Can you make bespoke sizes?

Yes, we can, send us an email to info@tekpla.co.uk with your required size and we can work out what we can do for you.
Does the whelping box come with pig rails?

Yes, it does, the pig rails are removable.
Is the floor waterproof?

The floor is made using a tongue and groove system. You can run a bead of silicone in-between each of the boards to make the floor waterproof. You need to use a
sanitary silicone (kitchen or bathroom) it is recommended to water test the floor before using it with puppies!
Can I add a playpen to my whelping box?
If I buy a whelping box and playpen can I add the playpen at a later date?

Yes, you can build the whelping box and then add the playpen when the puppies are mobile.