Regular price
Sale price
£79.99 GBP
Unit price
per
Sale
Sold out
Build Time: 6-8 Business Working Days
Description

Introducing Tekplas Event & Exhibition Gates: Premium PVC Access Solutions for Safety and Durability.

 

Elevate your event and exhibition management with the exceptional quality and innovative design of Tekplas Event & Exhibition Gates. Crafted from top-tier PVC material, these gates redefine safety, ease of use, and longevity in access control solutions.

 

Key Features:

1. Uncompromised Safety: Our gates prioritize the safety of both attendees and animals, boasting a meticulously engineered construction that eliminates sharp edges and potential hazards.

2. Superior PVC Craftsmanship: Constructed from the finest PVC available, these gates are a testament to enduring strength and resilience, ensuring a lasting investment for your event infrastructure.

3. Robust Rigidity: Engineered for reliability, these gates offer a robust, rigid structure that defies wear and tear even in the dynamic environment of events and exhibitions.

4. Versatile Indoors and Outdoors: Seamlessly adapt to any setting with gates designed to excel indoors and outdoors, providing unyielding performance regardless of the environment.

5. Effortless Maintenance: Effortlessly maintain the pristine appearance of your gates. Our design prioritizes easy cleaning, allowing you to effortlessly uphold impeccable hygiene standards.

6. Swift Installation: Designed with simplicity in mind, our gates are easy to install, streamlining your event preparation process and ensuring hassle-free setup.

7. Hygiene Amplified: Promoting a hygienic ambiance is paramount. Our gates are thoughtfully designed to facilitate cleanliness, upholding the highest sanitation standards.

 

Fence Plan

Send us your plan, and we will work out your complete fencing area. These will also be suitable for other types of fencing you may have. Please get in touch with us with your bespoke requirements. Otherwise read the below carefully.


 

Tekplas Gate Explained

This product allows you to purchase a Tekplas Event Gate to fill any gap within the sizes we offer 500-1200mm dependent.

 

You can buy a gate to fill an opening between your current posts or purchase a gate and 1 x post or a gate and 2 x posts depending on your requirements.


 

This product works with all our fencing products: swimming pool fencing, picket-style fencing, children's outdoor fencing, school fencing, etc.

 

If you want to swap out a fencing panel for a gate on an existing fencing you have purchased from us, you can do so with this product. Example: Our standard panels are 115cm so the gate would be 113cm.

 

Please read the posts and gaps explained to order the correct size.


 

The gate width depends on how the posts have been fixed. If the posts have or are going to be cemented into the ground or fixed with our solid floor fixings. You can order a gate up to 1200mm wide. If the post is fitted to our temporary stabilising feet, we recommend going for a gate no wider than 750mm.

 

Posts and Gap Explained

Suppose you fit a gate to our fencing system and want a gate between the panels. You can purchase a gate and 1 x post. The 1 x post will act as the finishing post to complete the fencing run, and you can then fit the gate to this post and use the post from the next panel to continue the fencing. You will need another finishing post at the end of the next run. Please see our fixings page.

 

To fit between existing posts, you need to order a gate 20mm smaller than your gap between the 2 x posts, as we allow 10mm of clearance between the gate and the post on each side.

 

Purchasing 1 x post and a gate, you need to minus the post at 75mm and then 20mm of clearance. Example Gap of 800mm minus 1 x post and 20 mm of clearance = Gate Size of 705mm

 

When purchasing 2 x posts and a gate, you must subtract 150mm for the posts and 20mm of clearance. Example Gap of 800m = minus 150mm plus 20mm of clearance = Gate Size of 630mm

 

Please Note: The size you put in the gap box will be the actual width of the gate supplied. 

 

Gates are complete with a Fitting Kit consisting of:

Hinges

Screws (For hinge to post and hinge to gate only)

Latch Type: Metal Thumb Latch (We offer keyed gravity latches and other latches. Please see the fixings page.)

Posts + Caps = If selected

 

Please Note:

We cannot be held responsible for the safety or installation of our products. As the buyer or installer, you must ensure it is installed correctly and safely.
Shipping

Free Delivery to all UK Mainland (not including the Highlands)
View full details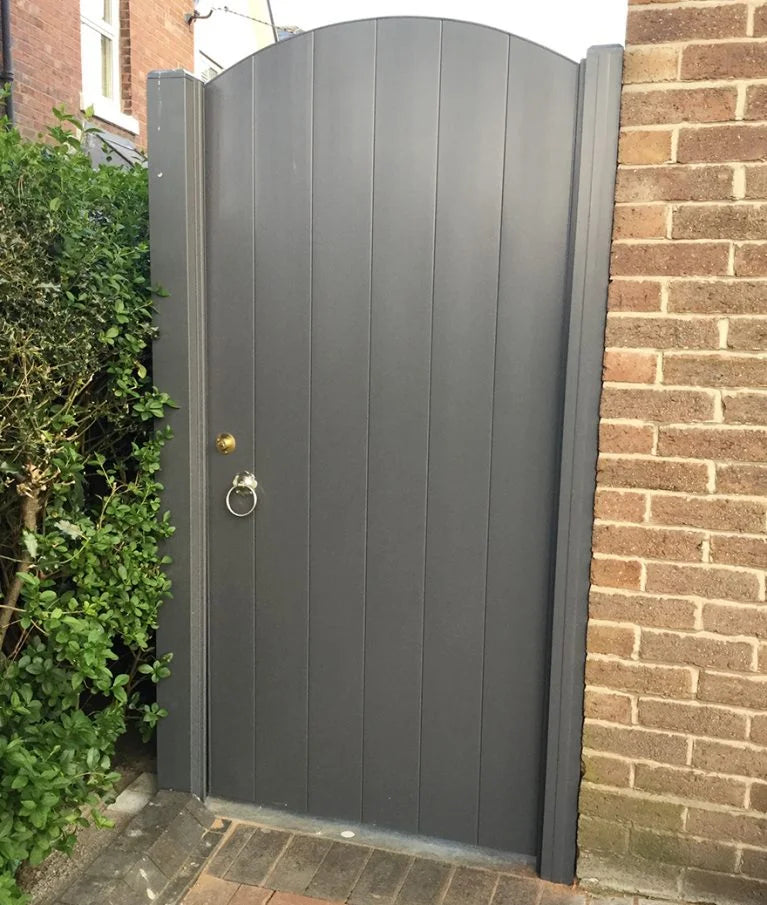 Hassle Free Maintenance
With no rotting or degredation in our material, our Gates are easy to maintain. Simply wipe down and clean.
Security Options
We have a range of locks bolts and hardware to add to your gate.
FAQs
Are your gates fully assembled?

Our gates will come fully assembled. You will need a trusted gate fitter to install your gate for you along with your lock options.
How strong are your gates?

Our gates are just as strong as wooden gates, without the worry of rotting and material degrading.
Does the total gap include the posts?

Yes, it does.
The total gap is to include the 2 posts and the gate - so it is the gap you are trying to fill.

We recommend measuring your total gap top, middle and bottom and giving us the smallest
measurement.

We then take into account the 2 posts, gaps for clearance and the gate size.
Can I use existing posts?

Yes, you can use existing posts as long as they are in good condition. Please send an email
with a picture of the existing posts to info@tekplas.co.uk so we can double check.
Does the gate come with screws for fixing the posts?

No, the gate does not come with screws for fixing the posts as our products are fitted to so many different surface types.
What is included with the gate?

2 x posts, 2 x caps and 2 x door stop's

1 x gate

Hinges (3 for singles and 6 for doubles) and 1 ring latch with screws for fixing
Can I hinge the gate from the left- or right-hand side?

Yes, you can. We do not drill any pilot holes for the hinges or latch so you can hinge the gate from the left- or right-hand side.
Can I fix the gate to open inwards or outwards?

Yes, you can. If fitting the gate to open inwards the hinges go on the back face of the gate, if fitting the gate to open outwards, the hinges go on the front face of the gate.