Regular price
£179.99 GBP
Regular price
Sale price
£179.99 GBP
Unit price
per
Sale
Sold out
Description

Tekplas Plastic Garden Gate

 

Experience the future of garden gates! Tekplas Plastic Garden Gates are designed 

with durability, aesthetics, and ease of use in mind. Say goodbye to the regular maintenance of conventional wooden gates and embrace the robustness and elegance of our plastic garden gates.

 

Main Features:

Longevity

: Unlike wooden gates that weather over time, our plastic gates are built to last. They are weatherproof, ensuring longevity even in harsh weather conditions.

Maintenance-free

: Once installed, you can rest easy—no need for regular sanding and painting.

High-Quality PVC

: Our gates are made from premium quality PVC, ensuring strong and rigid construction.

Easy Clean:

An occasional wipe is all it takes to keep it looking new. A genuinely hassle-free solution! Or go one step further and use a solvent PVC cleaner.

Customization

: We make all our profiles, so if you need bespoke sizes, just let us know. Plus, our coloured gates possess a grainy surface, offering the classic wood look.

Complete Set

: Our gate package includes everything you need - hinges, latch, screws, post, and the gate leaf.

Gate Style: 

Flat top or arched top. For arch top, please see our arch top product.

 

Specifications:

Gap Fit

: Suitable for gaps ranging from 600mm to 1200mm.

Standard Side Posts

: Plastic 75mm x 75mm x 900mm. Pre-fitted with a snap-in slot cover for easy installation.

Gate Height

:

 For a flat top style, the height is 880mm. The arch starts at 880mm for

 Our arch-style gates rise to 100-150mm, depending on the width.

 

Total Gap Field Explained

We require the total gap your gate is required to fill, e.g., the brick-to-brick gap. It is best to measure both the top opening and bottom opening. If the measurement differs from top to bottom, please input the smallest dimension into the total gap field. We can then 

subtract the posts supplied and clearance for the gate to open and close correctly.

 

We recommend that for any gap over 1000mm wide, the gate needs to be fitted with a diagonal brace.

 

Posts Option:


 If wall-fixing one or both posts isn't feasible, and we can offer longer posts

 for cementing into the ground with a steel insert or our 100mm x 100mm 

Aliminum Post cut longer to cement into the ground. Please get in touch 

with us

 

Hardware Finish

We have three different types of hardware finish for the gate.

Black

Zinc Plated

Stainless Steel = Premium Product (recommended)

 

Summary: Tekplas

Small Plastic Garden Gates offers durability, aesthetic appeal, and ease of installation. It's an excellent choice for homeowners looking to enhance their outdoor space without the 

maintenance hassles. For bespoke sizes or additional information, feel free to contact us!
Dimensions

Post Height 900mm = Gate Height 880mm
Shipping

Free Delivery to all UK Mainland (not including the Highlands)
View full details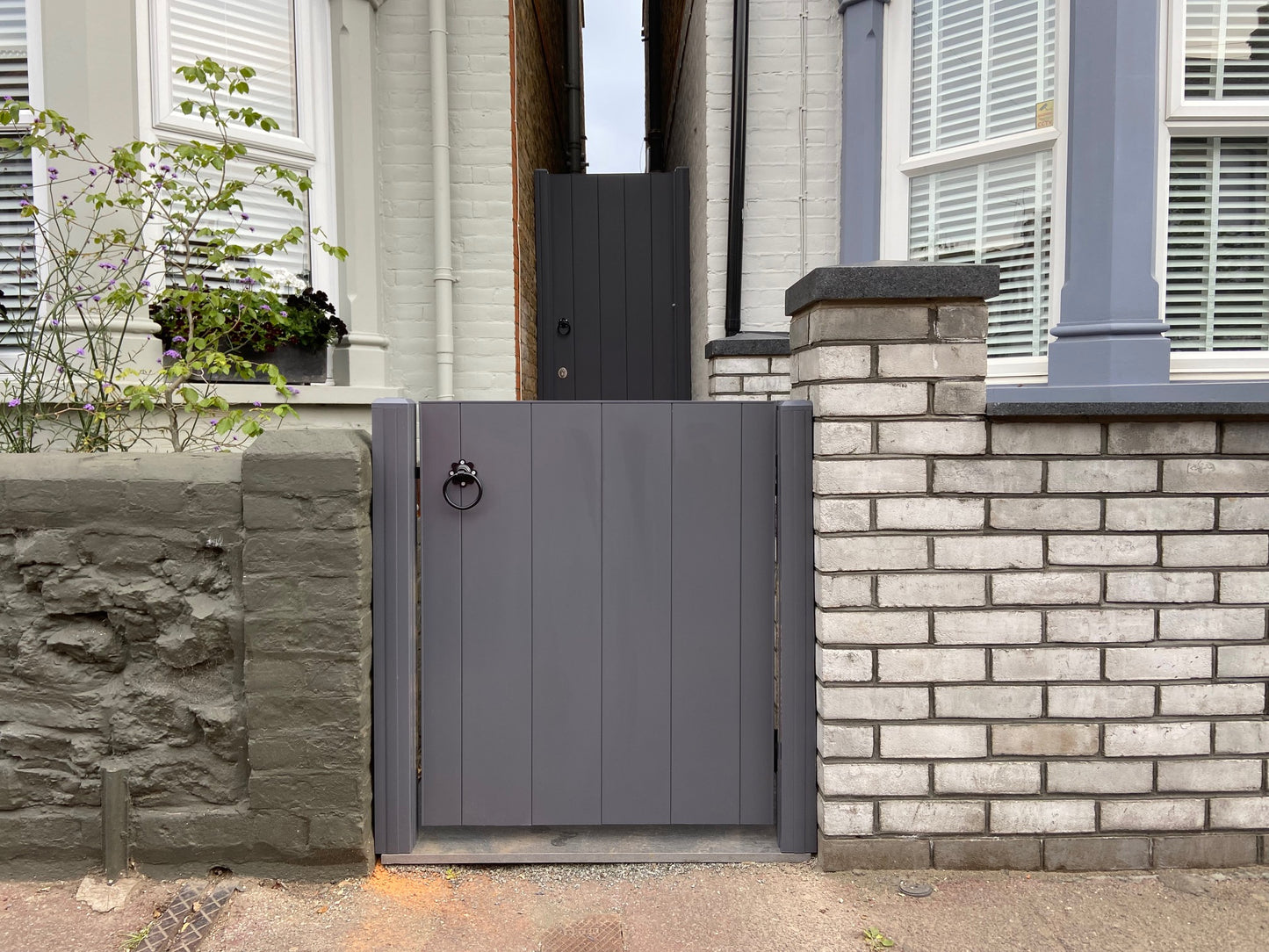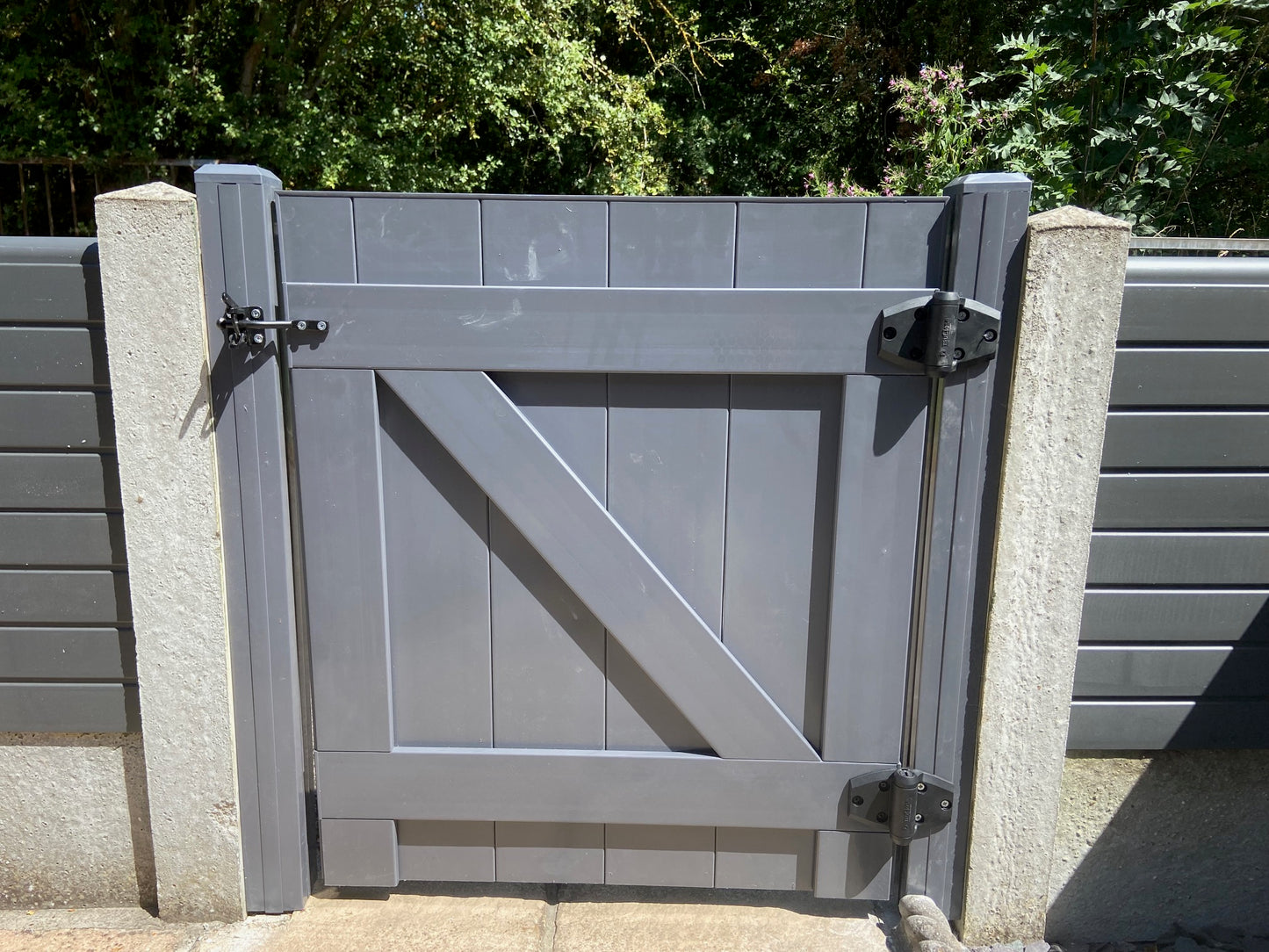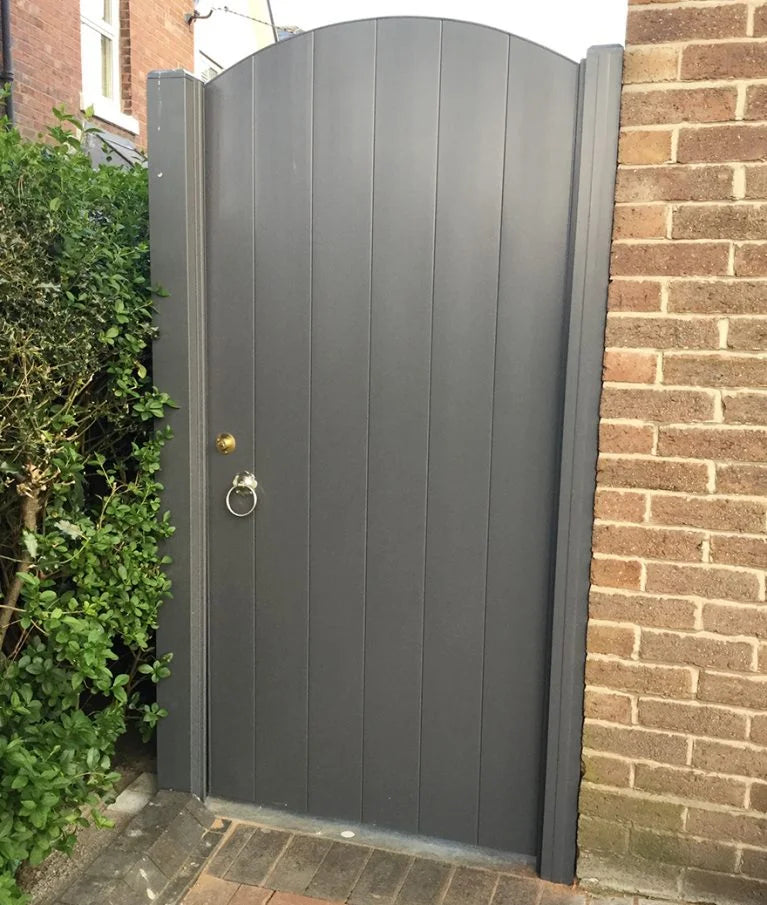 Hassle Free Maintenance
With no rotting or degredation in our material, our Gates are easy to maintain. Simply wipe down and clean.
Security Options
We have a range of locks bolts and hardware to add to your gate.
FAQs
Are your gates fully assembled?

Our gates will come fully assembled. You will need a trusted gate fitter to install your gate for you along with your lock options.
How strong are your gates?

Our gates are just as strong as wooden gates, without the worry of rotting and material degrading.
Does the total gap include the posts?

Yes, it does.
The total gap is to include the 2 posts and the gate - so it is the gap you are trying to fill.

We recommend measuring your total gap top, middle and bottom and giving us the smallest
measurement.

We then take into account the 2 posts, gaps for clearance and the gate size.
Can I use existing posts?

Yes, you can use existing posts as long as they are in good condition. Please send an email
with a picture of the existing posts to info@tekplas.co.uk so we can double check.
Does the gate come with screws for fixing the posts?

No, the gate does not come with screws for fixing the posts as our products are fitted to so many different surface types.
What is included with the gate?

2 x posts, 2 x caps and 2 x door stop's

1 x gate

Hinges (3 for singles and 6 for doubles) and 1 ring latch with screws for fixing
Can I hinge the gate from the left- or right-hand side?

Yes, you can. We do not drill any pilot holes for the hinges or latch so you can hinge the gate from the left- or right-hand side.
Can I fix the gate to open inwards or outwards?

Yes, you can. If fitting the gate to open inwards the hinges go on the back face of the gate, if fitting the gate to open outwards, the hinges go on the front face of the gate.