Regular price
Sale price
£99.99 GBP
Unit price
per
Sale
Sold out
Description

Plastic Gate Side Panels are a highly durable weatherproof and maintenance free solution to an outdoor side gate.  Unlike conventional wooden side gates panels, these have an extended lifespan and require no maintenance post installation.

 

Plastic Gate Side Panel will fit varying gaps between 200mm – 600mm  and with our fencing can fit almost any distance required.

High Quality PVC Product
Strong Rigid Construction
Weatherproof
Easy Clean Wipeable Surface
Maintenance Free
Durable for Outdoor Use

We can supply different heights and bespoke sized Side Gate Panels gates should you have any bespoke requirements or areas you wish to use our Tekplas Side Gates please contact us

PLEASE NOTE: This is for the Side panel to the left only (Tekplas Gates and Tekplas Top Bar are available for an additional cost).

Tekplas Gate Side Panel is designed to replace your existing timber gates and are supplied complete with fixings, these side panels can easily be fitted into an existing opening to enhance any home or garden.

 

Total Gap Explained

When adding a side panel to your gate order, you will notice that when you order the gate that we ask for your total gap. This includes the gate and two posts. So when ordering the side panel you will need to give us the remaining distance. The remaining distance will include the panel and one post only. This way the panel will fit into the gate post and the post supplied with the panel.

Example: You have a 1500mm overall gap for the gate and side panel to fit between. You require a gate total gap of 1200mm. Due to a path width, etc

This means you have another 300mm for the side panel and one post to fit between. Our posts are 75mm square, giving you a 225mm side panel, plus one post = 300mm. So in the total gap please put the remaining distance in (Example) 300mm

We will always take away one post from the total gap given and make the side panel to suit.

 

Post Type Explained = Most gate and side panel scenarios are two outer walls for the outer posts to be fixed too, but the middle post is always hard to secure due to ground type. Below we have the options to secure the middle post. Depending on what option you chose the post supplied with this product, will most likely become the middle post and one of the posts that come with the gate will become an outer post. This way you can purchase the gate and side panel direct from us and it will all fit correctly.

3″ Standard Plastic Post =  A post at 1830mm long, the same size as our standard gate posts. This is best suited If you have solid ground under your gate and side panel. If you then purchase a solid floor fixing from our fixings page. This post can be fixed to the ground using the solid floor fixing.

3″ Standard Plastic Post Cut Longer = Our standard post cut longer by 300-400mm to cement into the ground. Best suited If you ground is not solid under the gate and side panel. Selecting a top brace bar also works well with this option. The top brace bar can be removed quickly and easily if required.

4″ Aluminum Post = These can only be cemented into the ground, but it gives you the ultimate fixing. This will also allow you to hang the gate off the middle post if required rather than the post fixed to the wall. Due to the different post size this will not work with a top brace bar.
Shipping

Free Delivery to all UK Mainland (not including the Highlands)
View full details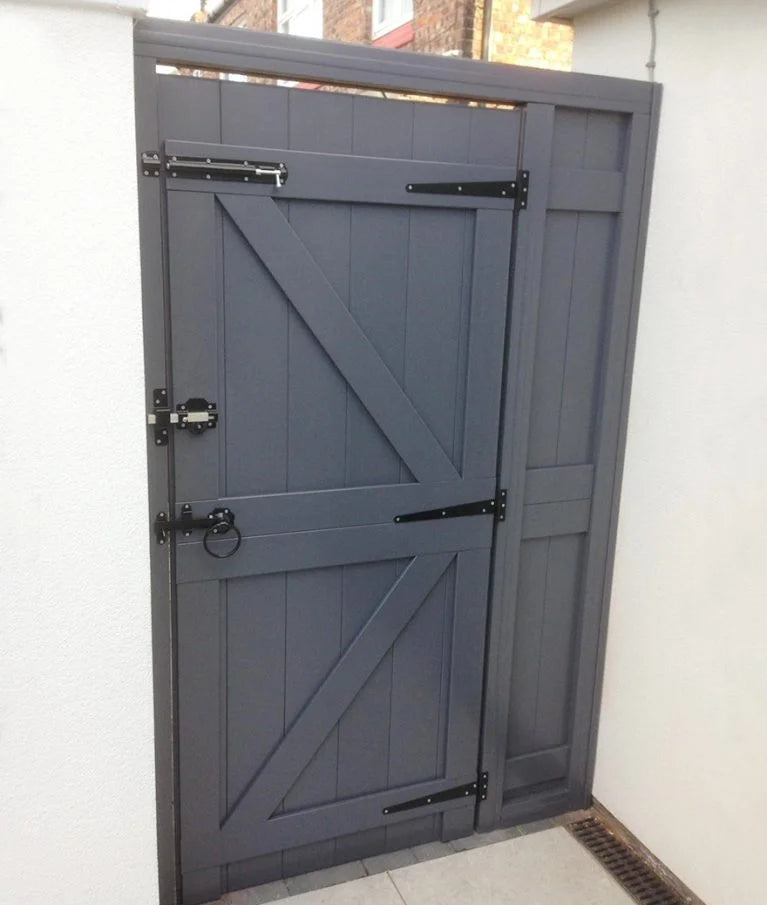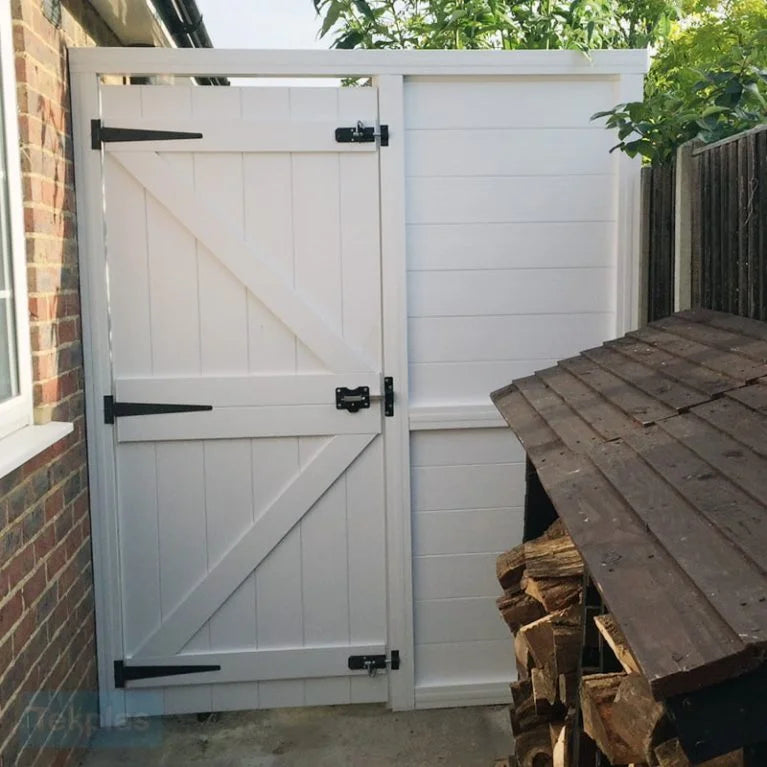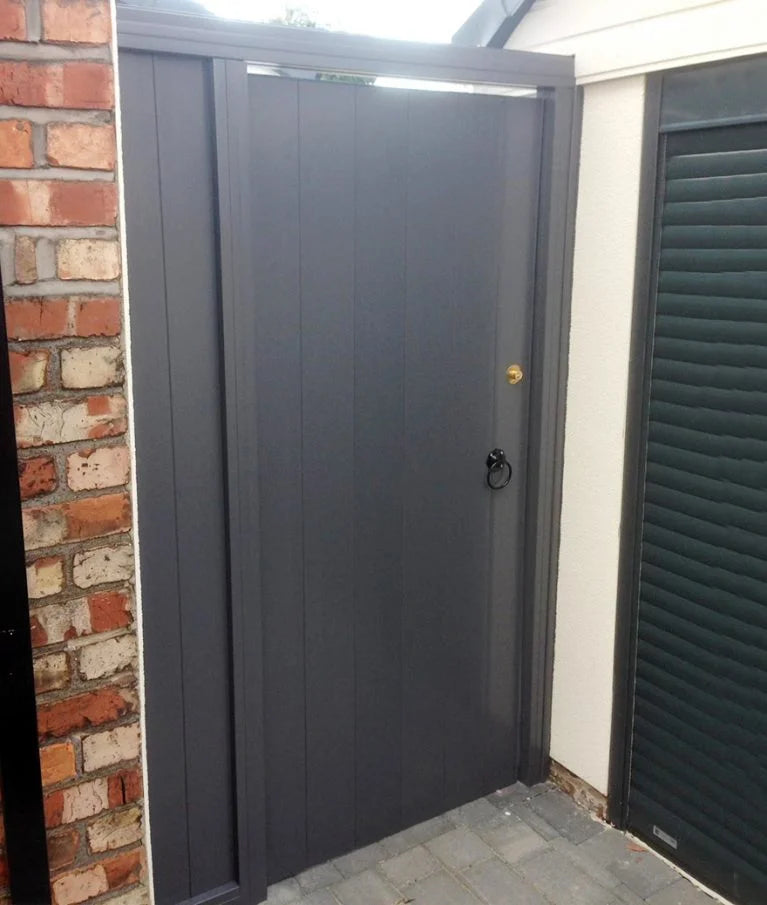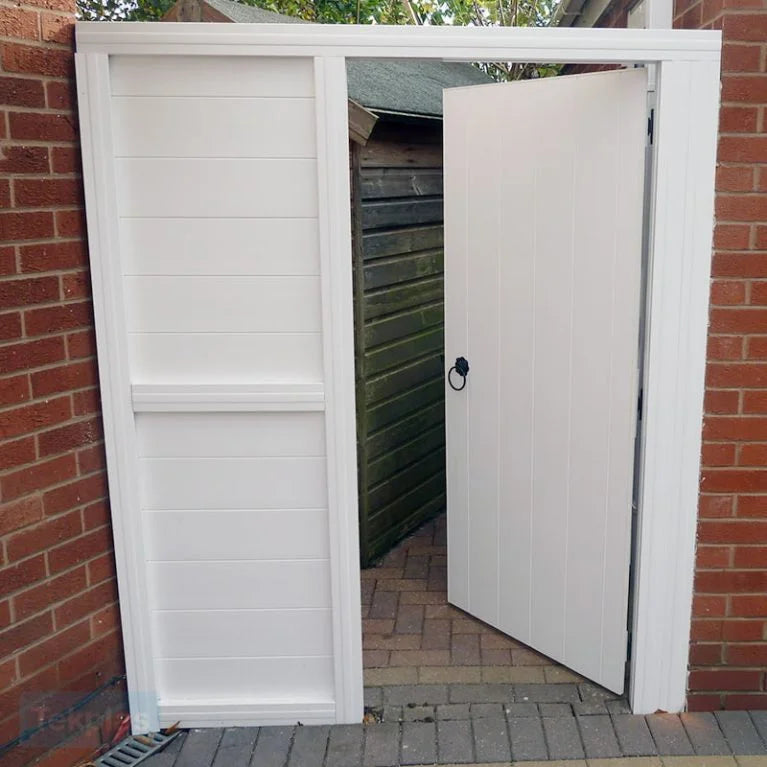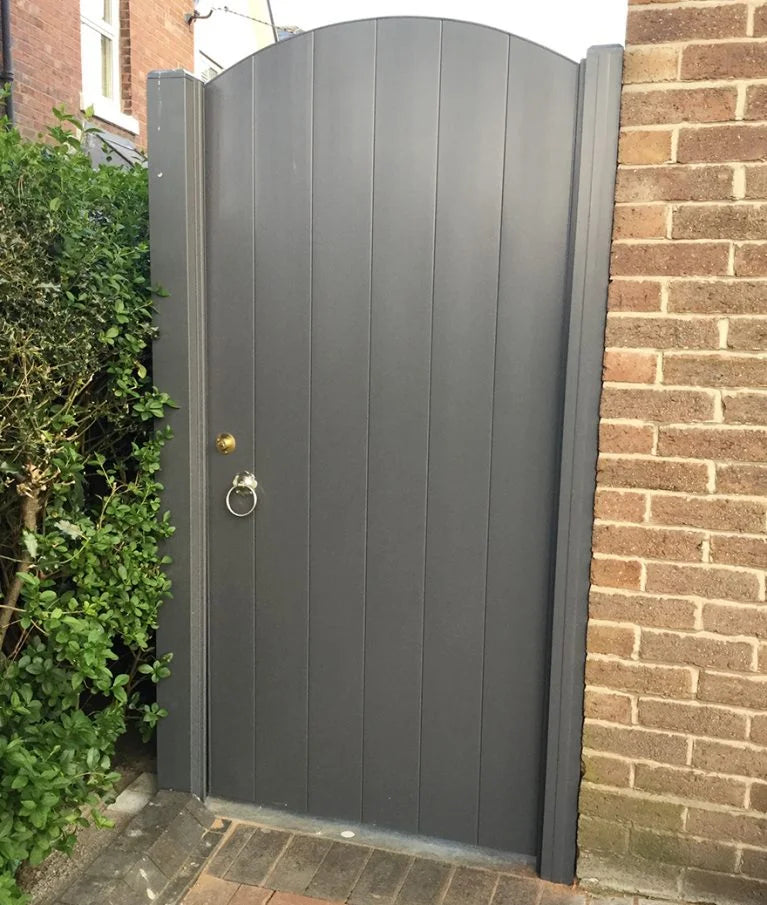 Hassle Free Maintenance
With no rotting or degredation in our material, our Gates are easy to maintain. Simply wipe down and clean.
Security Options
We have a range of locks bolts and hardware to add to your gate.
FAQs
Are your gates fully assembled?

Our gates will come fully assembled. You will need a trusted gate fitter to install your gate for you along with your lock options.
How strong are your gates?

Our gates are just as strong as wooden gates, without the worry of rotting and material degrading.
Does the total gap include the posts?

Yes, it does.
The total gap is to include the 2 posts and the gate - so it is the gap you are trying to fill.

We recommend measuring your total gap top, middle and bottom and giving us the smallest
measurement.

We then take into account the 2 posts, gaps for clearance and the gate size.
Can I use existing posts?

Yes, you can use existing posts as long as they are in good condition. Please send an email
with a picture of the existing posts to info@tekplas.co.uk so we can double check.
Does the gate come with screws for fixing the posts?

No, the gate does not come with screws for fixing the posts as our products are fitted to so many different surface types.
What is included with the gate?

2 x posts, 2 x caps and 2 x door stop's

1 x gate

Hinges (3 for singles and 6 for doubles) and 1 ring latch with screws for fixing
Can I hinge the gate from the left- or right-hand side?

Yes, you can. We do not drill any pilot holes for the hinges or latch so you can hinge the gate from the left- or right-hand side.
Can I fix the gate to open inwards or outwards?

Yes, you can. If fitting the gate to open inwards the hinges go on the back face of the gate, if fitting the gate to open outwards, the hinges go on the front face of the gate.