Regular price
Sale price
£79.99 GBP
Unit price
per
Sale
Sold out
Build Time: 4 - 6 Business Working Days
Description

Tekplas Play Area Gates are a great way to allow a secure entrance and exit section within your play area.

These gates are safe for both humans and animals and are a lightweight uPVC construction and are easily installed upon our Tekplas Play Area Fencing product range. The easy wipe surface can be wiped with ordinary household disinfectants or even washed in a garden environment with a hose or pressure washer should it become exposed to dirt or debris.

High-Quality PVC Product
Strong Rigid Construction
Easy To Clean
Easy to Install
Very Hygienic
Manufactured in the UK by Tekplas

Please be aware when planning your fencing with a gate that you may need an extra post as you can hinge off one of the panel posts, however, you may need an extra post to latch on too.

Actual Gate Size

Tekplas Play Area Gates can be made between 600mm To 950mm Wide – Please let us know the width you require when ordering by leaving the actual size of the gate required in the gate size box, please use the info below to decide what your gate width will be.


Selecting Posts

Tekplas offer 3 options, no posts, one post or two posts with your gate. This gives you flexibility when ordering the gate. As you may have already ordered from us before.

Please note when ordering a gate, you need to allow for 20mm of clearance overall, 10mm each side. This is the gap between the gate and the post. This is to allow the gate to open and close correctly.

So for example. If you have a gap between your posts of 1000mm you need to order a gate at 980mm.

If you order posts as well, whether that is 1 x post or 2 x posts, please remember each post is 75mm square.

So if your adding a gate to the end of your current fencing, which already has a finishing post. Ordering 1 x gate and 1 x post allows you to fit this at the end of your current fencing run or the fencing your about to order. Example = You have a gap between your current fencing and a wall of 1000mm you will need to minus 75mm for the post and 20mm for clearance giving you a gate width of 905mm.

If you have just a gap that you want to fill with a gate and posts. Then you will need to minus 150mm for both posts and 20mm of clearance. Example 1000mm gap, minus 150mm, minus 20mm gives you an actual gate width of 830mm.

Play Area Gates consist of:

Hinges
Screws
Latch Type:  Metal Thumb Latch / Magnetic Child-Friendly Pull Latch
Posts (if selected)

Alternatively, send us your plan and we will work out your complete play area. These will also be suitable for other types of fencing you may have, please contact us with your bespoke requirements.
Dimensions

110cm: W 110cm x L 50cm x H 60cm / 75cm
130cm: W 130cm x L 50cm x H, 60cm / 75cm
Shipping

Free Delivery to all UK Mainland (not including the Highlands)
View full details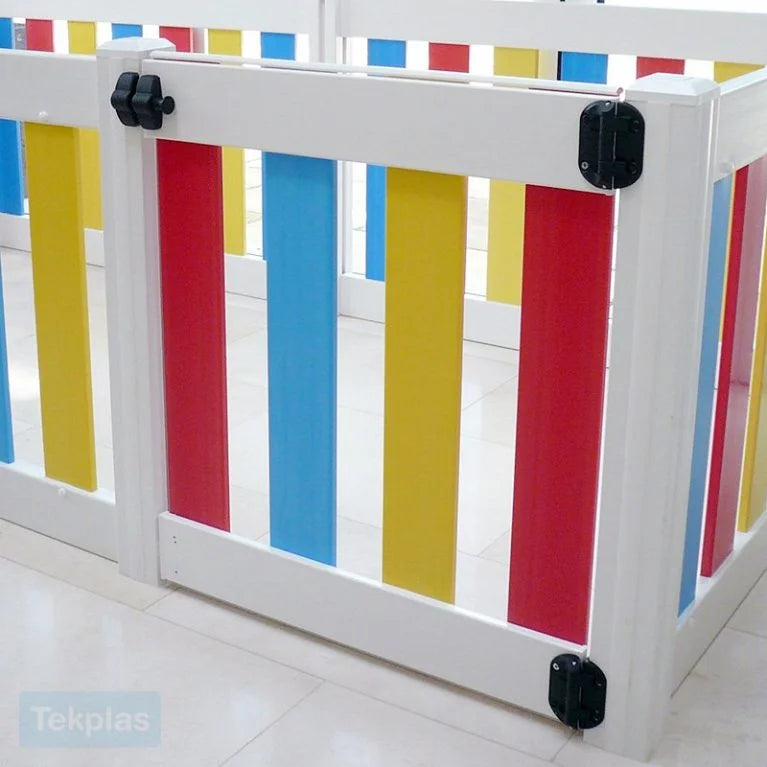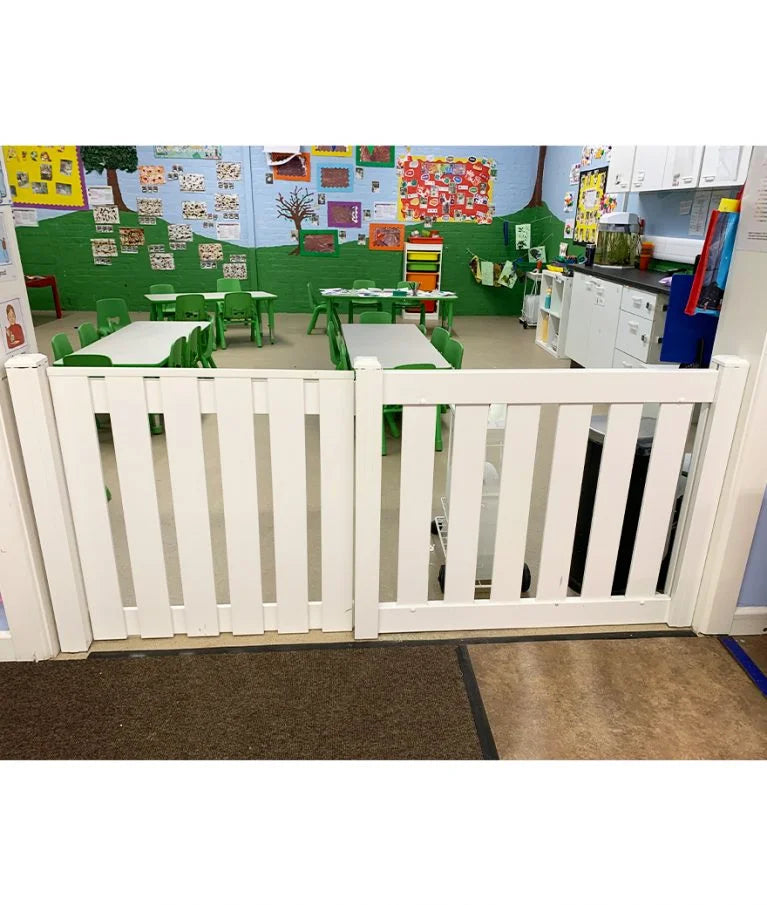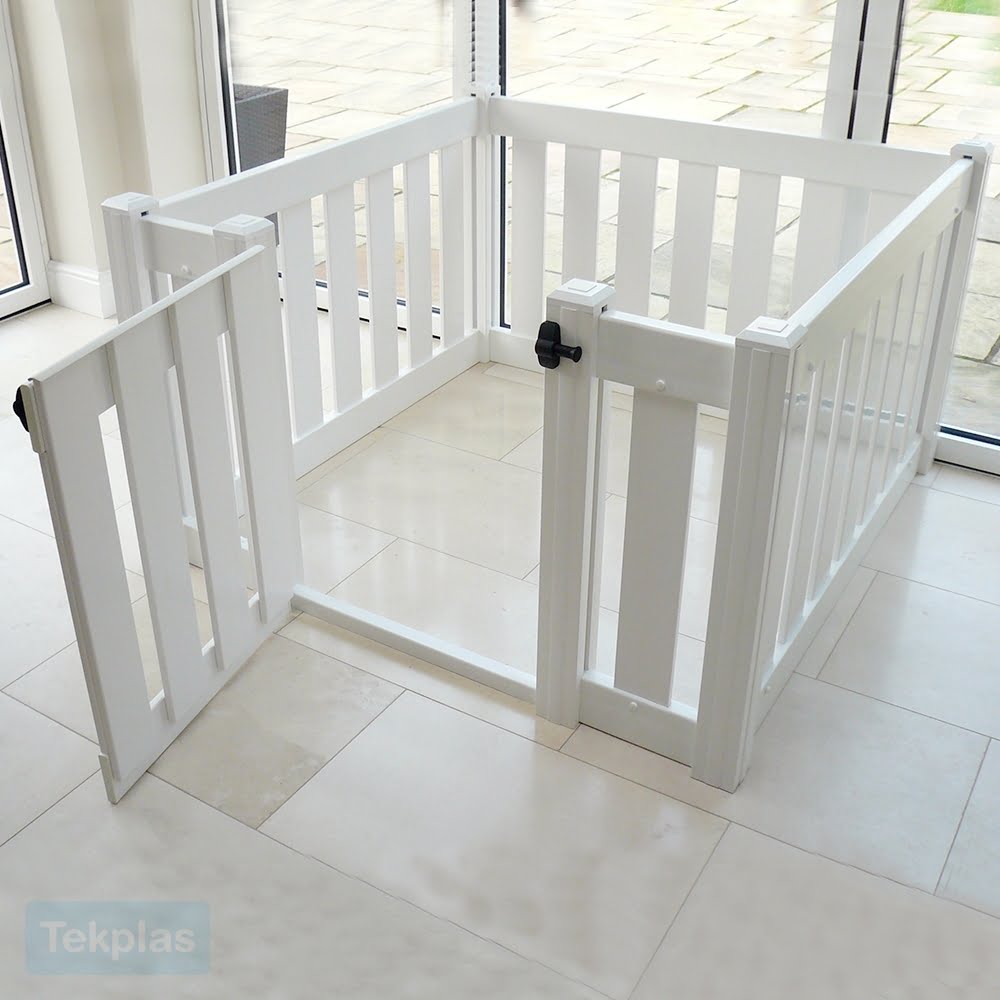 Secure access for little feet
Our Playpens featuring a gate offer effortless access for your little ones to enter and exit, alleviating the need for adults to awkwardly lean in or step over to take care of the children.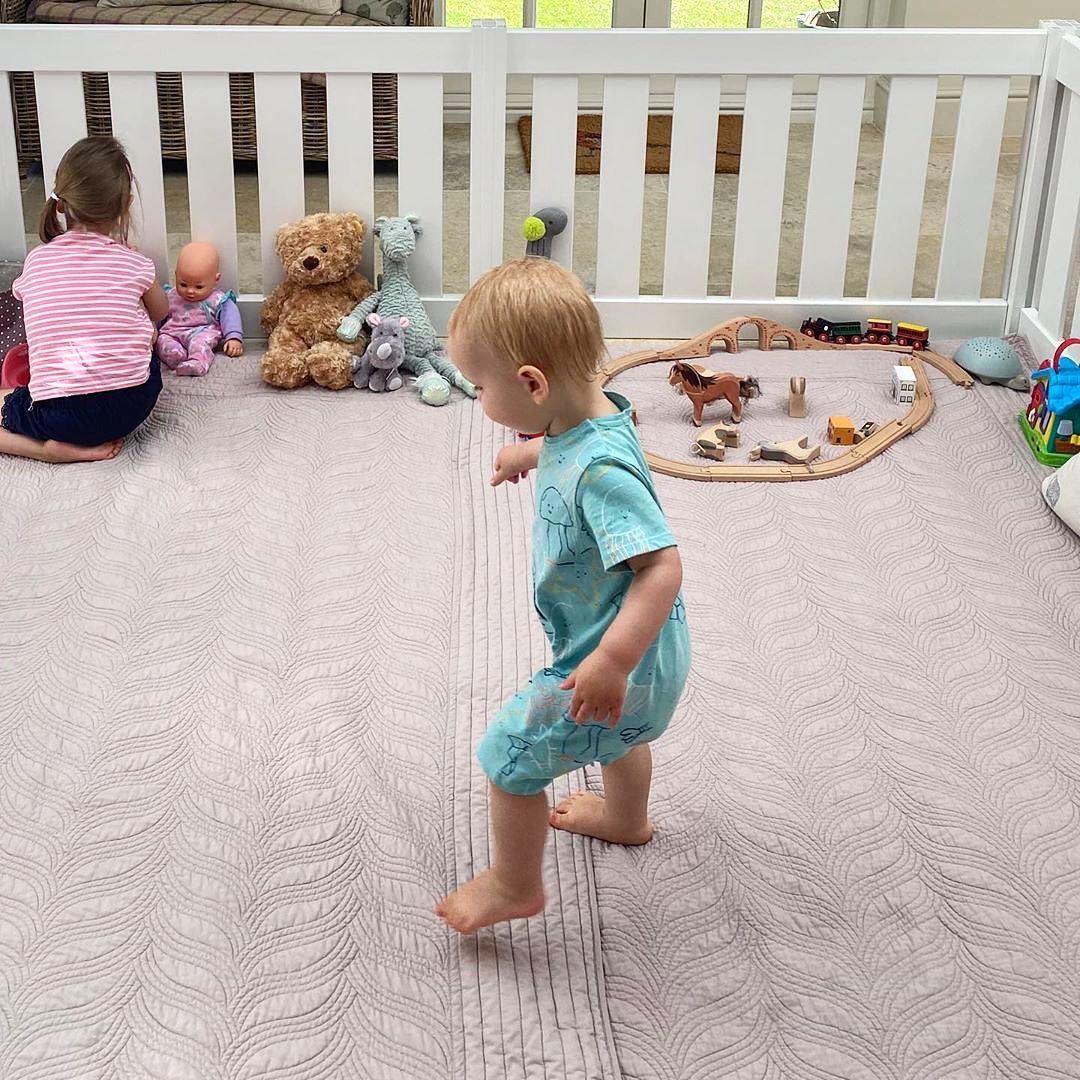 Grows with your child
Require extra space? Our playpens are designed to expand, evolving alongside your child. Simply incorporate additional panels as they grow, providing them with increased play area.
FAQs
Are your playpens suitable for carpet or hard floors?

Our products are suitable for all floor surfaces. Due to their construction they are strong and difficult for a child to move once in place. We provide rubber feet for hard and slippery floor surfaces.
Are the playpens easy to assemble?

Our playpens are easy to assemble. No tools are required and the posts and panels simply slide and lock into position.
Can I use a 6-panel playpen as a 4-panel playpen?

Yes, you can, simply remove 2 of the panels and 2 of posts
to create a 4-panel pen.
Can I mix and match the 110cm and 130cm playpen panel sizes?

Yes, you can, place the order online as a 130cm playpen and
then email info@tekplas.co.uk with your order number and required panel sizes.
Can I make my playpen bigger?
Can I add a gate to my playpen?
What does a single panel come with?

Each panel comes with 1 x post and 1 x cap.