Regular price
£124.99 GBP
Regular price
Sale price
£124.99 GBP
Unit price
per
Sale
Sold out
Description

Tekplas Plastic Compost Bin Expansion Add-On is a great way to increase the capacity of your 500 Litre compost bin to a 1000 Litre.  It can be fixed to either side of your existing bin and will look seamless.

High Quality UPVC Product
Strong Rigid Construction
Quick to Assemble
Easy Access
Made From 50% Recycled Material
Durable for Outdoor use

Tekplas Plastic Compost Bin Expansion Add-On is a great way to increase the capacity of your 500 Litre compost bin to a 1000 Litre.


It is manufactured from uPVC and is easily assembled and will enable you to rotate or separate your compostable waste.

Length and Width: 92cm

Height: 77.5cm

The bin is made from Heavy Duty hollow PVC extrusions with internal webs to create strength which insulate the compost, retaining the heat and aid in generating good quality compost. When you need to empty or transfer the compost the individual panels can be lifted to enable digging out.

The kit contains the following

3 Sides Of The Bin

15 x T&G Panels

2 x Posts & Caps

3 x Top Brace Bar = Standard Or Heavy Duty

1 x 700mm Ground Spike (Our ground spikes are knocked into the ground and the posts slide over the top)

The Best Method For Composting 

We have used these bins ourselves some having been in service for over 10 years and are still working well today with almost no maintenance required at all.

Set up on your bin on gravel or a surface that will allow air flow underneath cover the top of your compost with a loose fitting cover that will allow water to pass through.

We use a piece of old hessian carpet to hold in the heat but will pass rainwater

Try to allow air flow underneath via large stones or gravel, this will also allow drainage.

Try to keep the garden waste /cuttings etc cut up as small as possible to speed up composting. Mix the composting materials and introduce some vegetable kitchen waste and a small amount of garden soil, or a composting aid with each layer of composting materials that you add to your bin.

Try to rotate the layers (if possible). If you have bought the extension bin/s remove some of the separating panels and drag the materials across to the empty bin (using a rake) occasionally to aerate the compost. Adding a little garden soil each time you do this will rapidly increase the rate of decomposition.


PLEASE NOTE:

The compost bin add-on is 3 sides only, allowing you to add to your original compost bin.

The pictures are to show the combinations possible with the product.
Shipping & Returns

Free Delivery to UK Mainland.

Please contact us for delivery to Scottish Highlands, Isle of Man, Isle of Wight etc.Free Delivery
Dimensions

Dimensions:

External dimensions of the bin are as follows:

Length and Width: 92cm
Height: 77.5cm

View full details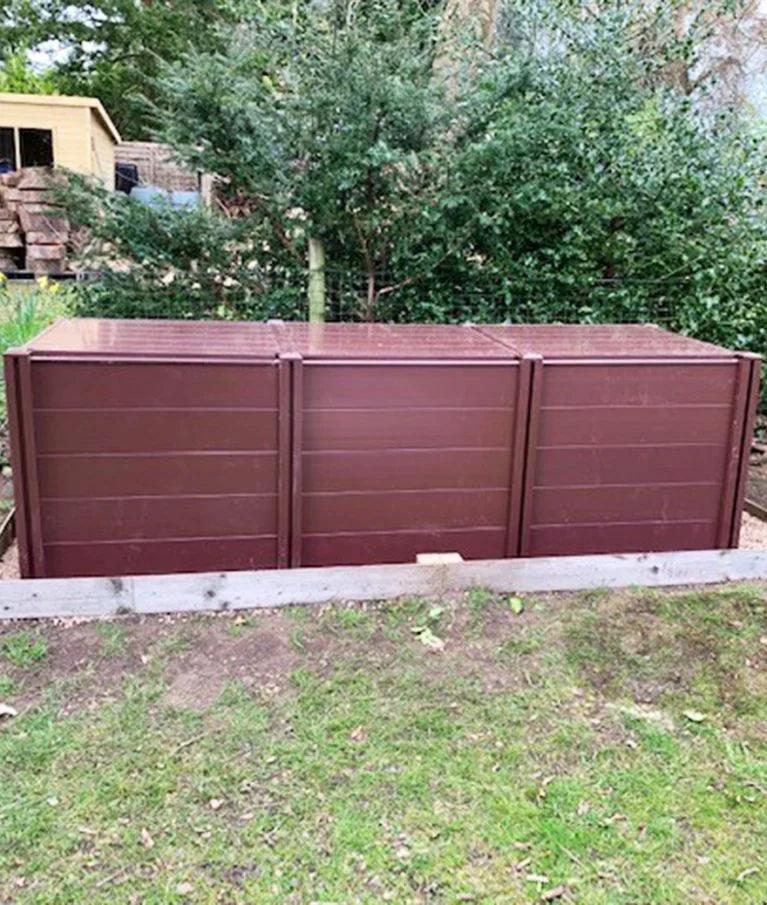 Grow with your Garden
Our compost bins can grow with your composting needs. Easily expandable with add on sections which slot into place.
Better for the environment
Our compost bins are built to last. Our bins do not rot like wood which will need replacing.