Regular price
£299.99 GBP
Regular price
Sale price
£299.99 GBP
Unit price
per
Sale
Sold out
Build Time: 4-6 Working Days
Estimated Dispatch Date: 11 Dec 2023
Description

Introducing Tekplas' Premium Whelping Box: The Ultimate Comfort and Safety for Your Breeding Pets

As a responsible pet owner, ensuring the comfort and safety of your expecting pet is paramount. Tekplas presents the Whelping Box, a meticulously designed space perfect for all stages of your pet's whelping journey. From the anticipation of birth to the joyous moments after, our Whelping Box facilitates a nurturing environment for the mother and her puppies to bond continuously.

Key Features:

Premium Quality PVC: Constructed from high-quality PVC, our Whelping Box is designed to withstand the test of time, making it suitable for indoor and outdoor use.
Robust Construction: The strong and rigid construction ensures a secure and stable pet environment.
Hygienic and Easy to Clean: The wipeable surface makes it extremely easy to maintain hygiene.
Quick and Easy Assembly: With the front and back panels pre-assembled and a handy assembly video on YouTube, putting it together is a breeze.
Puppy Rails Included: These are essential for preventing puppies from being accidentally crushed or suffocated by the mother.
Modular Design: Enables the installation of a Playpen to the whelping box, providing a play area for the puppies.
Customizable Door: The slide-up door on the left-hand side comes in separate pieces, allowing flexibility as the puppies grow.
Floor Included: The included floor provides a comfortable and safe surface for your pet.
Colour Options: Choose from three colours - white, grey, or brown


Additional Features:

Heat Mat Compatibility: Heat mat holes can be included upon request.
Made in the UK: Proudly manufactured by Tekplas in the United Kingdom.
Bespoke Sizes Available: We offer bespoke sizes tailored to your pet's needs. Whether you prefer a slatted front panel with 25mm gaps or a fully enclosed one, we can accommodate your requirements.

Expand Your Whelping Box:

Looking for a space for the puppies to play? Consider our Whelping Box with Puppy Playpen. Or simply add playpen panels to this product. It can only be done on the 1.3m x 1.3m & 1.3m x 1m product.


Finished external sizes:

1.3m x 1.3m by 50cm, 60cm, and 75cm high
1.3m x 1m by 50cm, 60cm, and 75cm high
85cm x 85cm by 50cm and 60cm high (More suited for toy breeds)

Internal sizes with Pig Rails attached:

1.3m x 1.3m = 1m x 1m
1.3m x 1m = 1m x 70cm
85cm x 85cm = 56cm x 56cm

Internal sizes with Pig Rails removed:

1.3m x 1.3m = 1.2m x 1.2m
1.3m x 1m = 1.2m x 90cm
85cm x 85cm = 76cm x 76cm

Ordering Instructions:

Specify your preferences when ordering. Please let us know if you require the door as one piece or if you need heat mat holes. For bespoke sizes or other customization, please share your requirements.

Provide a nurturing, safe, and comfortable space for your whelping pet with the Tekplas Whelping Box. Order yours today and experience peace of mind knowing your pets are secure and comfortable.
View full details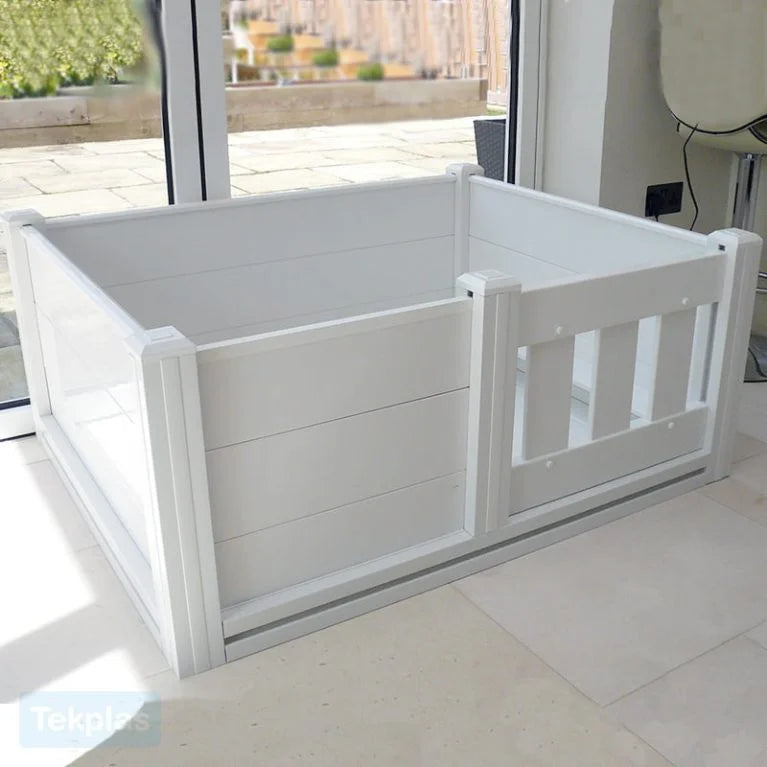 Floors, Roofs and Gates
Our Whelping Boxes come with a range of options, need a floor, roof or gate? We have got you.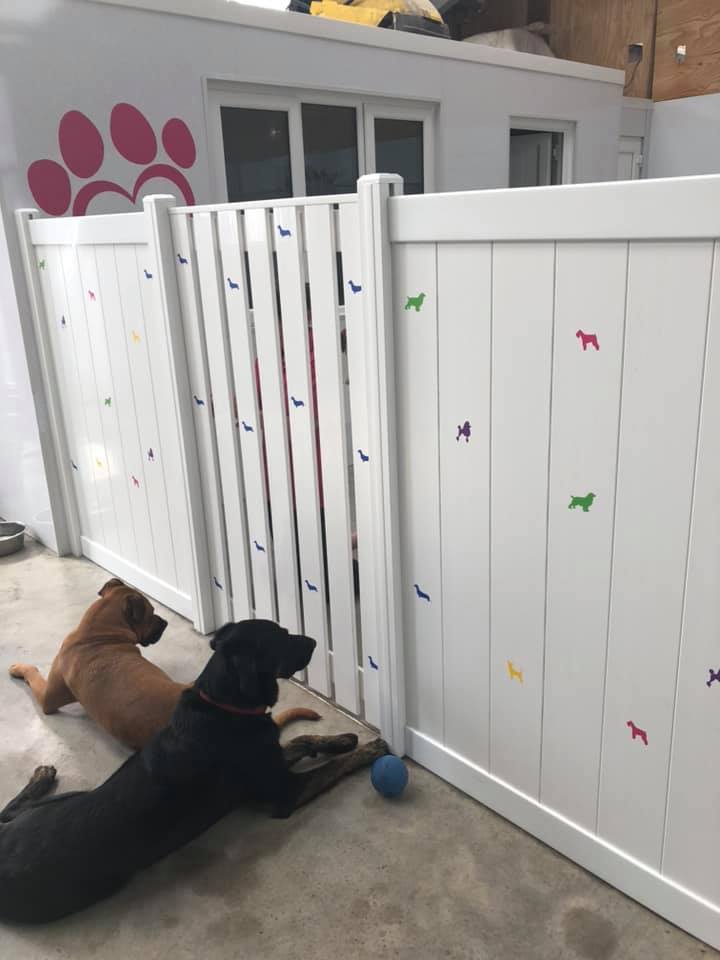 Suitable for all Breeds
Our Whelping Boxes are available in a range of heights We have varying slat gaps and heights to suit your breed of dog.
FAQs
What breeds are suitable for your Whelping Boxes?

Our Whelping Boxes are made to suit all breeds. Simply adjust the options when placing the order to suit your breed, such as height and slat gaps.
Can I add a Floor or Roof to my existing Whelping Box?

Yes you can get in touch with us and we will be able to assist you further.
Can you make bespoke sizes?

Yes, we can, send us an email to info@tekpla.co.uk with your required size and we can work out what we can do for you.
Does the whelping box come with pig rails?

Yes, it does, the pig rails are removable.
Is the floor waterproof?

The floor is made using a tongue and groove system. You can run a bead of silicone in-between each of the boards to make the floor waterproof. You need to use a
sanitary silicone (kitchen or bathroom) it is recommended to water test the floor before using it with puppies!
Can I add a playpen to my whelping box?
If I buy a whelping box and playpen can I add the playpen at a later date?

Yes, you can build the whelping box and then add the playpen when the puppies are mobile.