Regular price
£349.99 GBP
Regular price
Sale price
£349.99 GBP
Unit price
per
Sale
Sold out
Build Time: 4-6 Working Days
Estimated Dispatch Date: 11 Dec 2023
Description

Presenting Tekplas Whelping Box and Puppy Playpen: Elevating Your Pet Care Experience.

 

Welcoming a new addition to your family is a heartwarming journey. With Tekplas Whelping Box and Puppy Playpen, you can ensure a smooth transition and a nurturing environment for your cherished companions. Meticulously crafted with precision and care, these products embody superior quality, enduring durability, and a design that prioritizes the comfort and security of your pets and your family.

 

Key Features and Benefits:

 

Premier PVC Craftsmanship:

 Our Whelping Box and Puppy Playpen are masterfully fashioned from top-tier PVC materials, guaranteeing a lightweight yet robust structure. Your pets' safety and your peace of mind remain paramount to us.

Robust and Resilient Build:

 Engineered with sturdy and rigid construction, these products establish a secure and stable sanctuary for your pets, promoting their growth and well-being at every stage.

Impeccable Hygiene:

 The PVC surface boasts an easy-to-clean design for hassle-free maintenance and upholds impeccable hygiene standards. Effortless cleaning with common disinfectants maintains a fresh and inviting environment.

Effortless Assembly and Disassembly:

 Designed for seamless setup and disassembly, our Whelping Box and Puppy Playpen offer unrivaled convenience. Whether for short-term use or efficient storage, these products adapt effortlessly to your evolving requirements.

Indoor and Outdoor Versatility:

 Our products are meticulously engineered to withstand diverse indoor and outdoor conditions, granting you the flexibility to create a controlled and secure space for your pets, whether within the comforts of your home or in an outdoor setting.

Crafted with British Excellence:

 Proudly crafted in the UK, our Whelping Box and Puppy Playpen embody British craftsmanship and stringent quality standards, reflecting our dedication to excellence.

Custom Heat Mat Hole:

 Understanding your pets' comfort needs, we offer custom heat mat hole options. Reach out to us, or seamlessly convey your request through the notes section during checkout.

Versatile Convertibility:

 Optimize your investment with an optional extra panel and two posts. This feature empowers the Whelping Box and Puppy Playpen to transform into distinct items, extending their practicality and versatility.

Unrivaled Durability:

 Unlike other PVC whelping boxes, our product boasts a heavy-duty composition. It stands as a testament to enduring quality and is meticulously designed to withstand the test of time, offering lasting value for your pets.

Limitless Configurability:

 Harnessing the potential of our modular system, the design possibilities are boundless. Add panels to create personalized configurations. Moreover, the product accommodates side-by-side connections, facilitating puppies' exits from either side—a highlight showcased on our Instagram page.

Tailored to Your Needs:

 Tailor your purchase to your exact requirements with our flexible size options. Adjust widths and lengths without incurring additional charges, ensuring a perfect fit for your unique space.

 

Additional Considerations:

 

Sizes Explained:

 While the overall width of 1.3m, including posts, stays the same, the depths of the Whelping Box offer customizable selections. The dimension between the middle and back panels allows you to optimize interior space for your pets' comfort and the amount of puppies due. The playpen depth is also 1.3m as standard. The playpen panels can be cut down by 1,2 or 3 slats if required. To help bring down the overall length of whelping box and playpen.

 

Doors:

 Our Whelping Box boasts a slide-up middle door composed of separate pieces, accommodating the growth of your puppies. The Playpen door is thoughtfully integrated into the panel. Alternatively, opt for a convenient walk-through door.

 

Floor and Pig Rails:

 The Tongue & Groove floor assembles effortlessly, while pig rails offer additional comfort for your pets. 

 

External Sizes

Playpen & 75cm Long Whelping Box – Width: 1.3m by Length: 2.125m

Playpen & 1m Long Whelping Box – Width: 1.3m by Length: 2.375m

Playpen & 1..15m Long Whelping Box – Width: 1.3m by Length: 2.525m




Discover Tekplas Whelping Box and Puppy Playpen—an impeccable fusion of practicality, endurance, and design ingenuity. Explore our diverse range of sizes and colors, and communicate with us to curate the ideal haven for your cherished pets. Elevate your pets' comfort and well-being with Tekplas—where quality meets devotion.
Dimensions

External Dimensions

75cm Long Whelping Box with playpen– Width: 1.3m by Length: 2.125m

100cm Long Whelping Box with playpen – Width: 1.3m by Length: 2.375m

115cm Long Whelping Box with playpen – Width: 1.3m by Length: 2.525m
Shipping & Returns

FREE Delivery on this product
View full details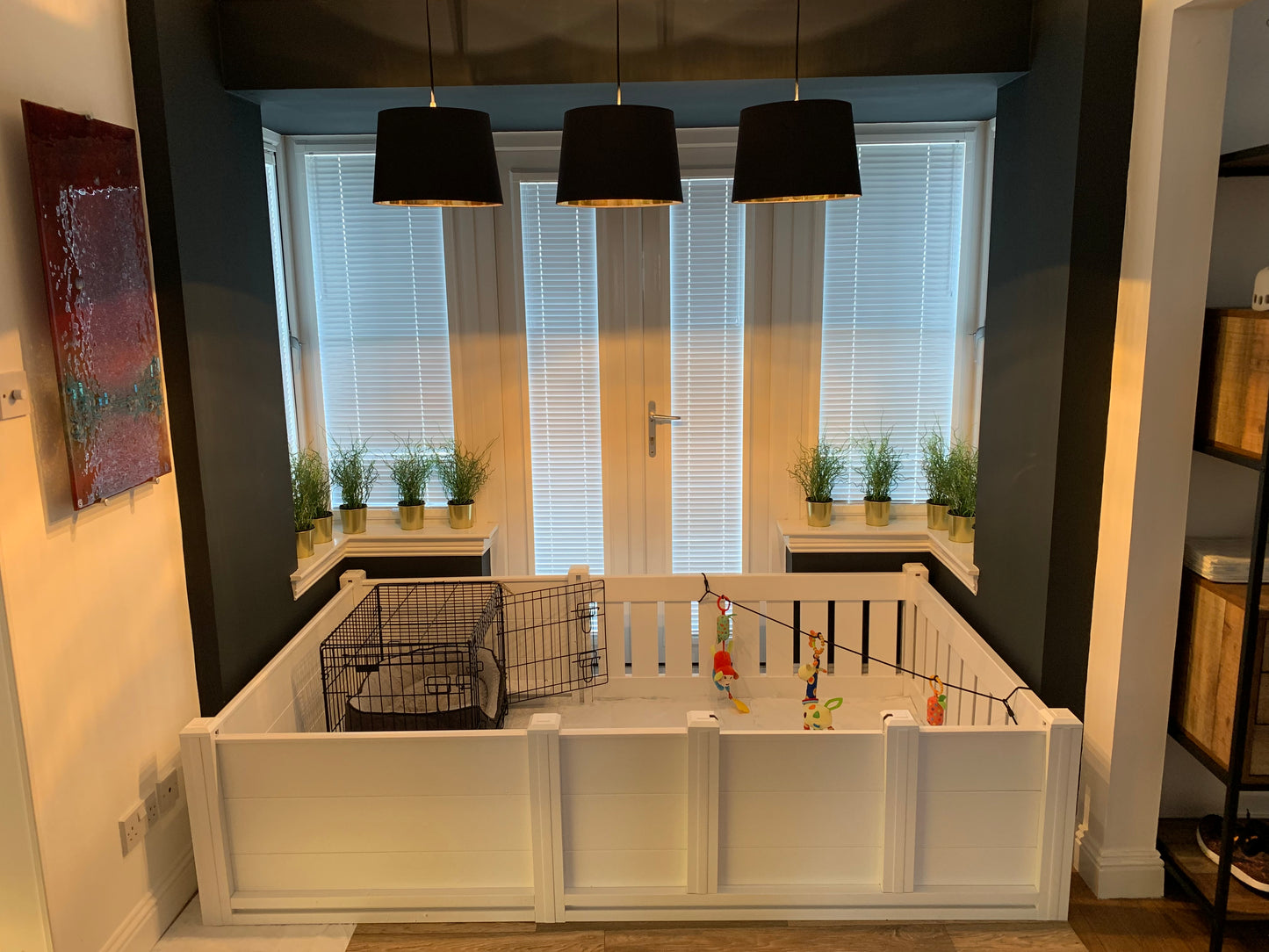 Floors, Roofs and Gates
Our Whelping Boxes come with a range of options, need a floor, roof or gate? We have got you.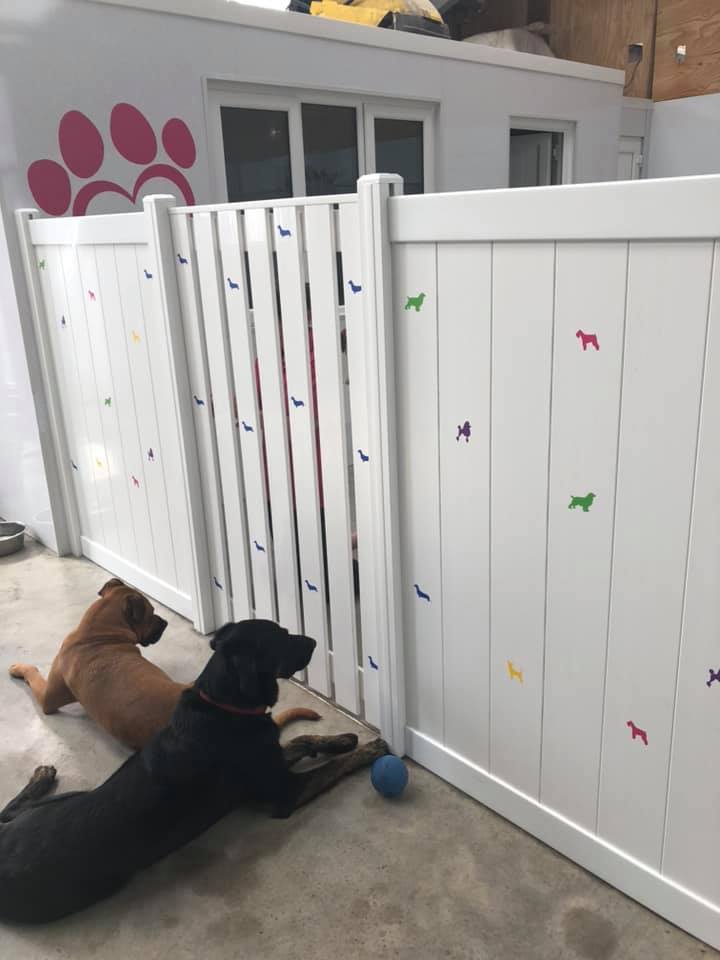 Suitable for all Breeds
Our Whelping Boxes are available in a range of heights We have varying slat gaps and heights to suit your breed of dog.
FAQs
What breeds are suitable for your Whelping Boxes?

Our Whelping Boxes are made to suit all breeds. Simply adjust the options when placing the order to suit your breed, such as height and slat gaps.
Can I add a Floor or Roof to my existing Whelping Box?

Yes you can get in touch with us and we will be able to assist you further.
Can you make bespoke sizes?

Yes, we can, send us an email to info@tekpla.co.uk with your required size and we can work out what we can do for you.
Does the whelping box come with pig rails?

Yes, it does, the pig rails are removable.
Is the floor waterproof?

The floor is made using a tongue and groove system. You can run a bead of silicone in-between each of the boards to make the floor waterproof. You need to use a
sanitary silicone (kitchen or bathroom) it is recommended to water test the floor before using it with puppies!
Can I add a playpen to my whelping box?
If I buy a whelping box and playpen can I add the playpen at a later date?

Yes, you can build the whelping box and then add the playpen when the puppies are mobile.