Regular price
£224.99 GBP
Regular price
Sale price
£224.99 GBP
Unit price
per
Sale
Sold out
Build Time: 4 - 6 Business Working Days
Estimated Dispatch Date: 12 Dec 2023
Description

Introducing our Baby and Toddler Playpens – the ultimate solution for creating a secure and enjoyable play area for your little ones. Crafted with care and precision, these playpens are constructed using the highest grade of PVC, ensuring durability and safety.

 

Key Features:

Modular Flexibility:

 At Tekplas, we've designed our baby playpens as a modular system, allowing you to quickly expand the play area by adding more panels as your child's needs grow. Customizing the size to match your child's or children's requirements is a breeze.

Bespoke Sizes Available:

 We understand that every space is unique. That's why we offer the option for bespoke sizes. Contact us with your specific requirements, and we'll tailor a solution to fit your needs perfectly.

RoSPA Approved:

 Rest assured, our playpens have received approval from the Royal Society for the Prevention of Accidents (RoSPA), attesting to their safety and quality.

High-Quality PVC:

 We take pride in using only the highest quality PVC materials, ensuring a robust, rigid construction that stands the test of time.

Quick Assembly and Disassembly:

 Setting up and taking down our playpens is a breeze, providing convenience for parents on the go.

Indoor or Outdoor Use:

 Versatile and suitable for both indoor and outdoor environments, our playpens adapt to your needs and preferences.

Easy to Clean:

 Maintenance is hassle-free with the playpen's easy-wipe surface. Use ordinary household disinfectants or give it a quick hose-down to keep it looking fresh and clean.

 

Invest in the safety and well-being of your children with our Baby and Toddler Playpens. Create a secure play area that grows with your child's adventures. Choose Tekplas for a quality, customizable solution designed for your peace of mind. With its RoSPA approval, high-quality PVC construction, and the added convenience of a gate, it's a choice you can trust.

 

Additional Info: We offer play mats to go with our playpens. We have a variety of colours and sizes. Please see related items or go to the play mat product page.




External Size: 130cm x 252cm x 60cm or 75cm High

If you are adding extra panels to your 4 or 6 panel baby playpen we recommend to adding stabilising feet. This helps keep the playpen stable over long distances. If you're using the playpen on the grass in the garden, you can purchase our ground spikes, which you knock into the grass and our posts slide over the top of the ground spikes, the spikes won't damage the grass either.
Dimensions

W 130cm x L 130cm x H 75cm
Shipping

Free Delivery to all UK Mainland (not including the Highlands)
View full details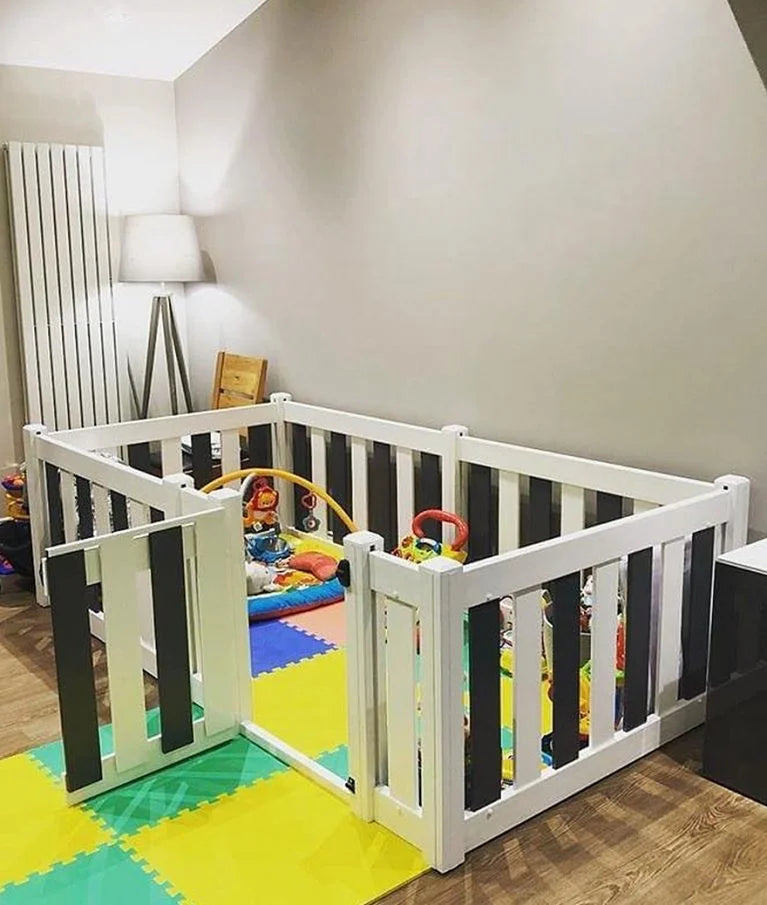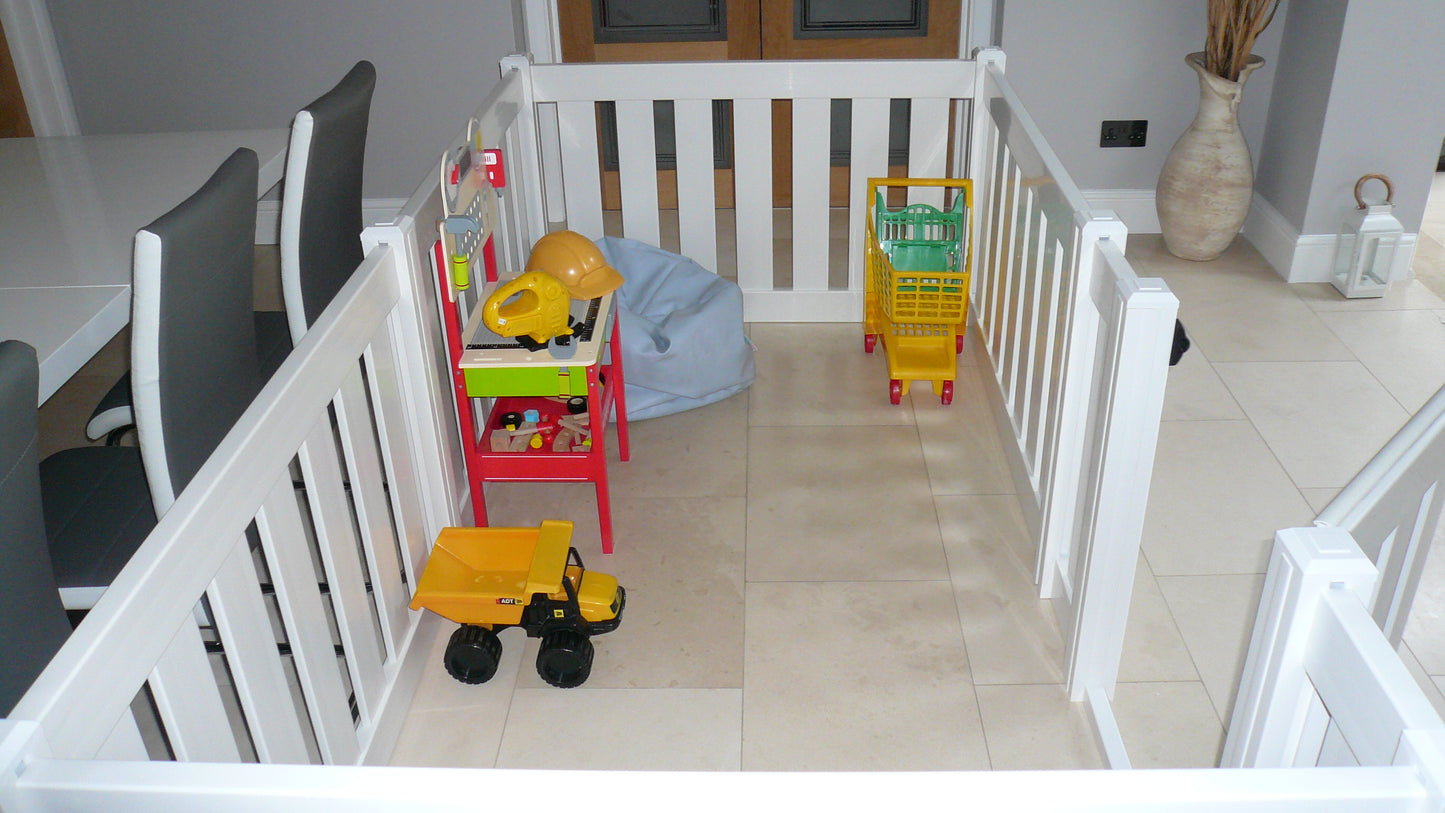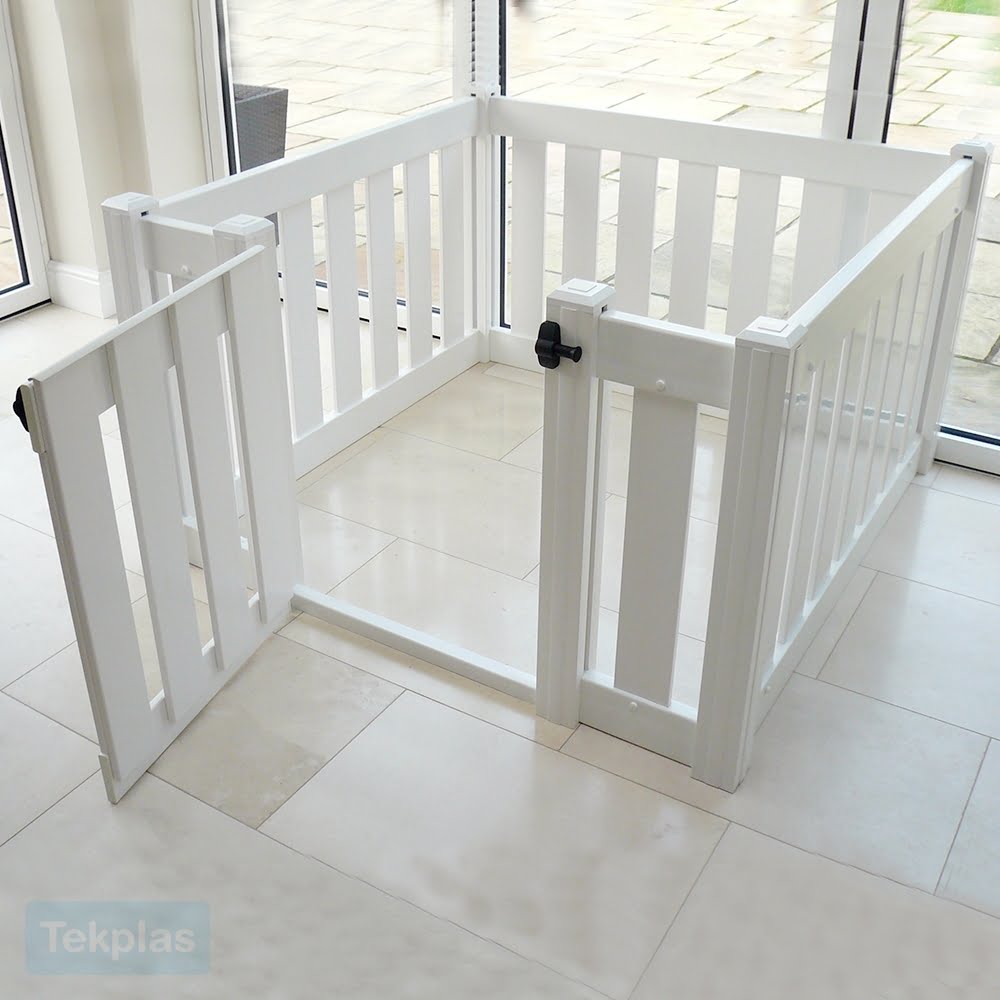 Secure access for little feet
Our Playpens featuring a gate offer effortless access for your little ones to enter and exit, alleviating the need for adults to awkwardly lean in or step over to take care of the children.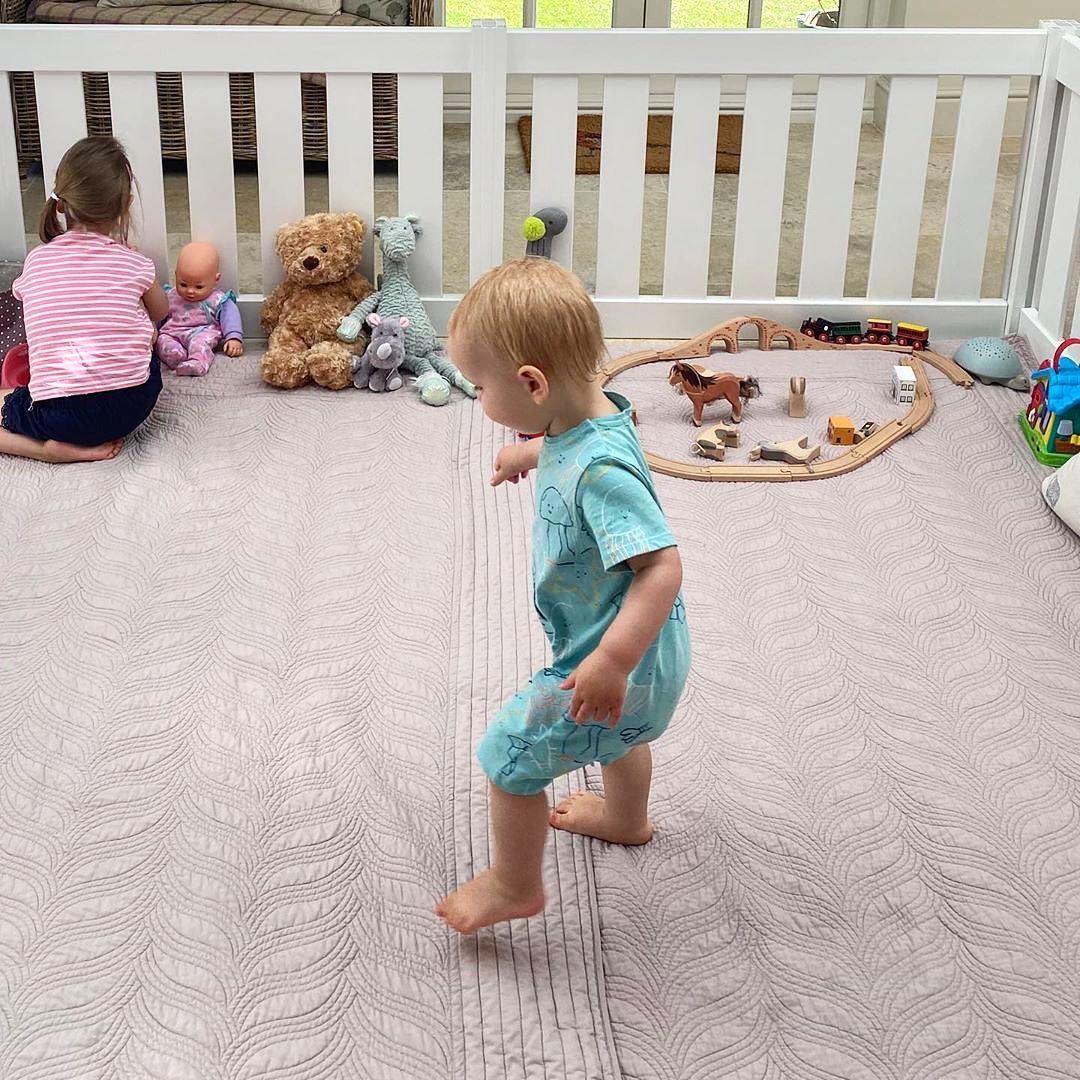 Grows with your child
Require extra space? Our playpens are designed to expand, evolving alongside your child. Simply incorporate additional panels as they grow, providing them with increased play area.
FAQs
Are your playpens suitable for carpet or hard floors?

Our products are suitable for all floor surfaces. Due to their construction they are strong and difficult for a child to move once in place. We provide rubber feet for hard and slippery floor surfaces.
Are the playpens easy to assemble?

Our playpens are easy to assemble. No tools are required and the posts and panels simply slide and lock into position.
Can I use a 6-panel playpen as a 4-panel playpen?

Yes, you can, simply remove 2 of the panels and 2 of posts
to create a 4-panel pen.
Can I mix and match the 110cm and 130cm playpen panel sizes?

Yes, you can, place the order online as a 130cm playpen and
then email info@tekplas.co.uk with your order number and required panel sizes.
Can I make my playpen bigger?
Can I add a gate to my playpen?
What does a single panel come with?

Each panel comes with 1 x post and 1 x cap.