Regular price
Sale price
£99.99 GBP
Unit price
per
Sale
Sold out
Build Time: 4 - 6 Business Working Days
Description

Tekplas Doggy Day Care Fence Panels & Partitions

 

Upgrade your dog boarding and pet daycare business with Tekplas' customizable Doggy Day Care Fence Panels and Partitions. Our versatile dividers can be tailored to your needs and effortlessly reconfigured to adapt to changing requirements.

 

Key Features:

High-Quality PVC

: Our daycare dividers are constructed from top-notch PVC, ensuring durability and longevity.

Customizable Dimensions

: Available in different heights and colours to suit your business aesthetics and functional needs.

Hygienic & Easy to Clean

: The washable panels can be cleaned with PVC cleaner or hosed down, ensuring a hygienic environment for your pets.

Indoor & Outdoor Use

: Suitable for both indoor and outdoor settings and can also be utilized in offices.

Soundproofing Properties

: The twin-wall material is UV-stable, lead-free, and has excellent soundproofing capabilities.

Flexible Installation

: This can be used temporarily with free-standing base plates or permanently fixed to the floor using our solid floor fixings.

 

Product Details:

Each panel comes with a post and a post cap. If you are designing a fencing run, you must purchase a finishing post to complete it. This is essential unless you create a square or rectangle and connect back into the first post and panel you started with. If you want an opening between panels, you need more finishing posts.

 

Kit Contains:

1 x Panel

1 x Post

1 x Post Cap

 

Panel Sizes:

Width: 115cm

Height: 1.2m / 1.5m / 1.8m

 

Post Size:

75mm Square

Height: 1.2m / 1.5m / 1.8m

 

Bespoke Sizes & Additional Features:

We can craft bespoke sizes to fit your specific layout. Send us your plan at info@tekplas.co.uk, and we will take care of the rest. Additionally, we offer entry and exit gates in solid and slatted designs and split stable doors. Explore our range of gates for more options.

 

Installation Note:

We cannot be held responsible for the safety of the installation. As the buyer or installer, you must ensure it is safe to use and correctly assembled. Please ensure you glue the caps on before or after installing your fencing system.

 

Order Today

Upgrade your pet daycare facility with our customizable, durable, and hygienic Doggy Day Care Fence Panels and Partitions. Order now and create a safe and comfortable space for your furry friends.
Shipping

Free Delivery to all UK Mainland (not including the Highlands)
View full details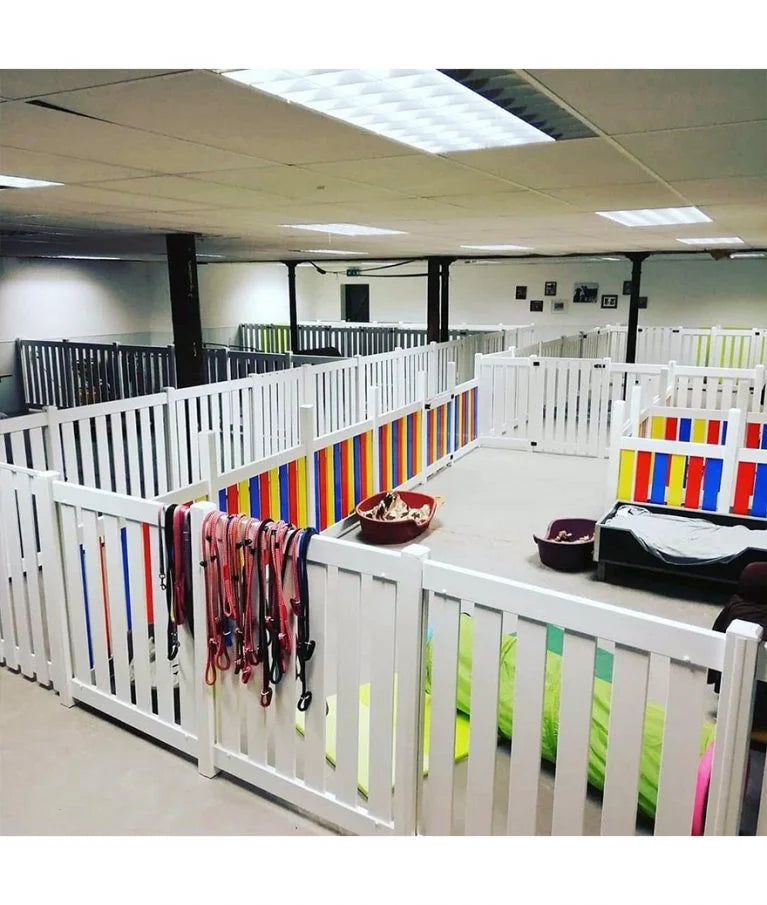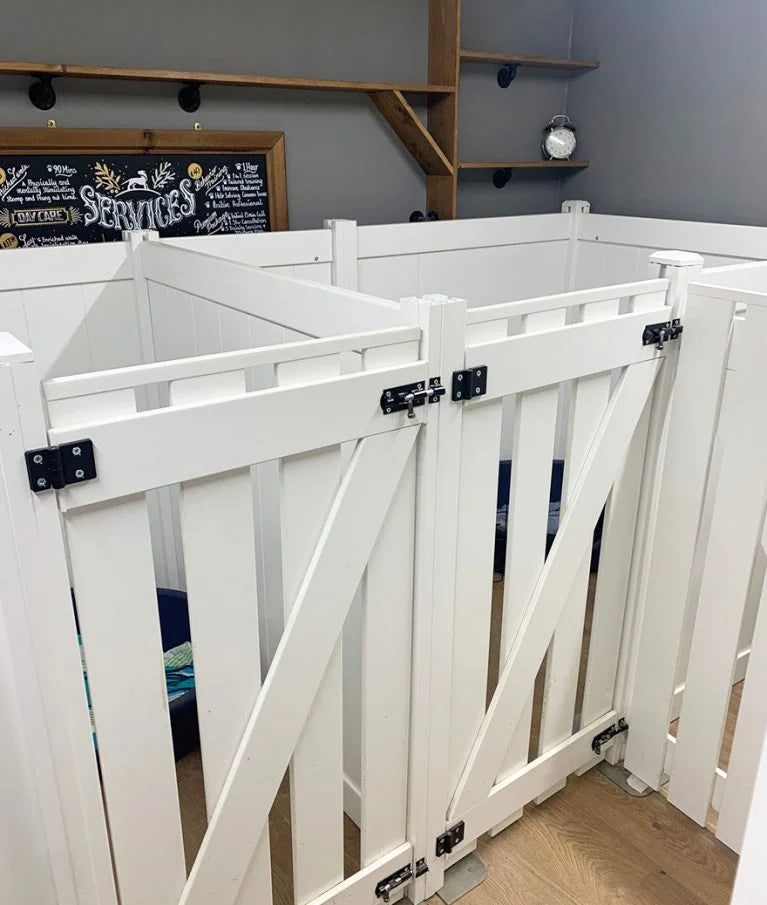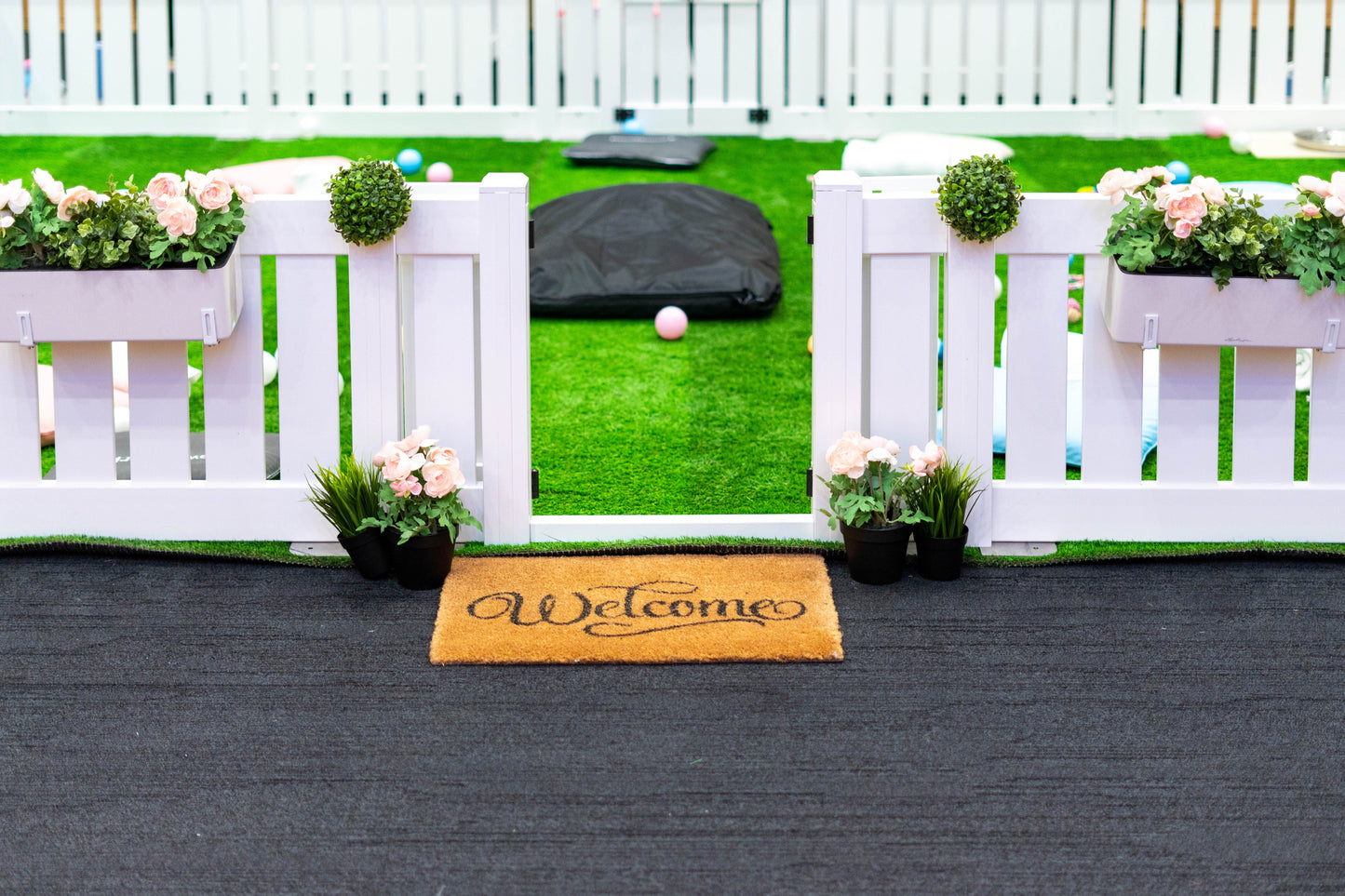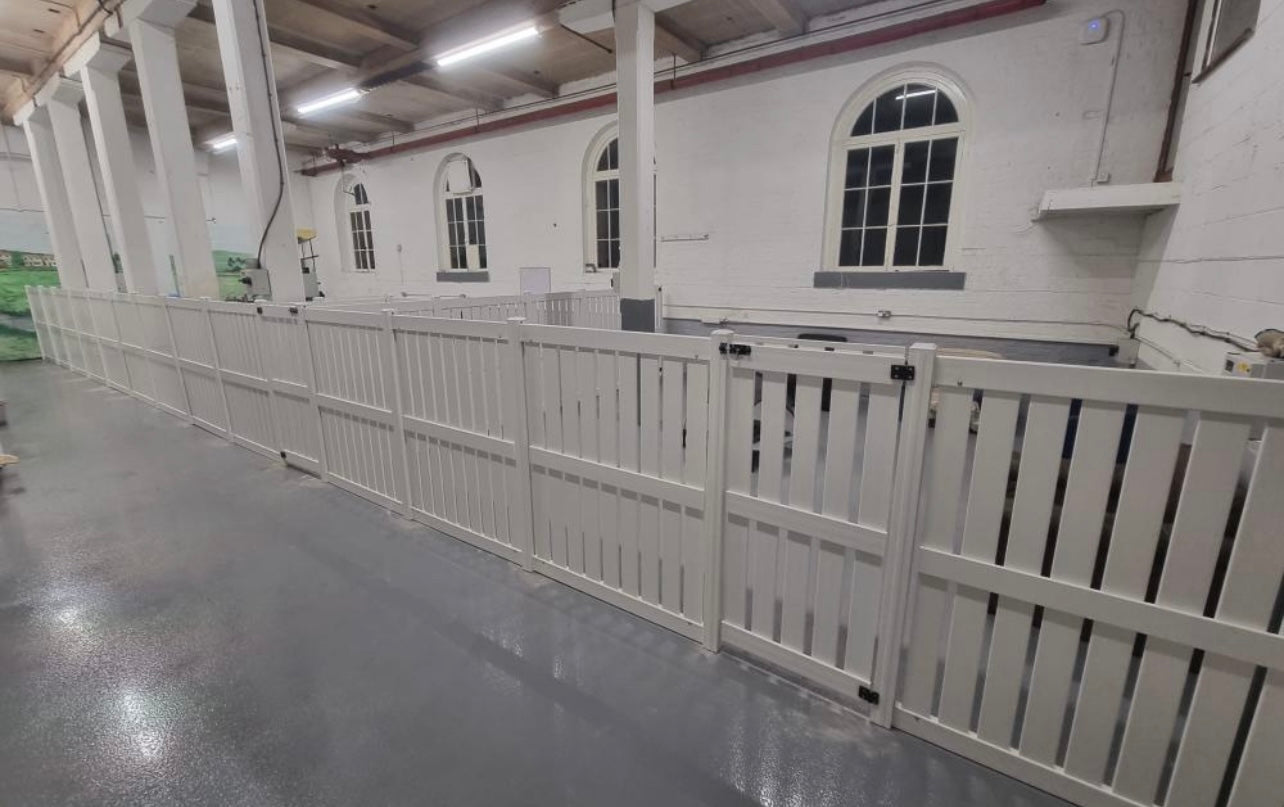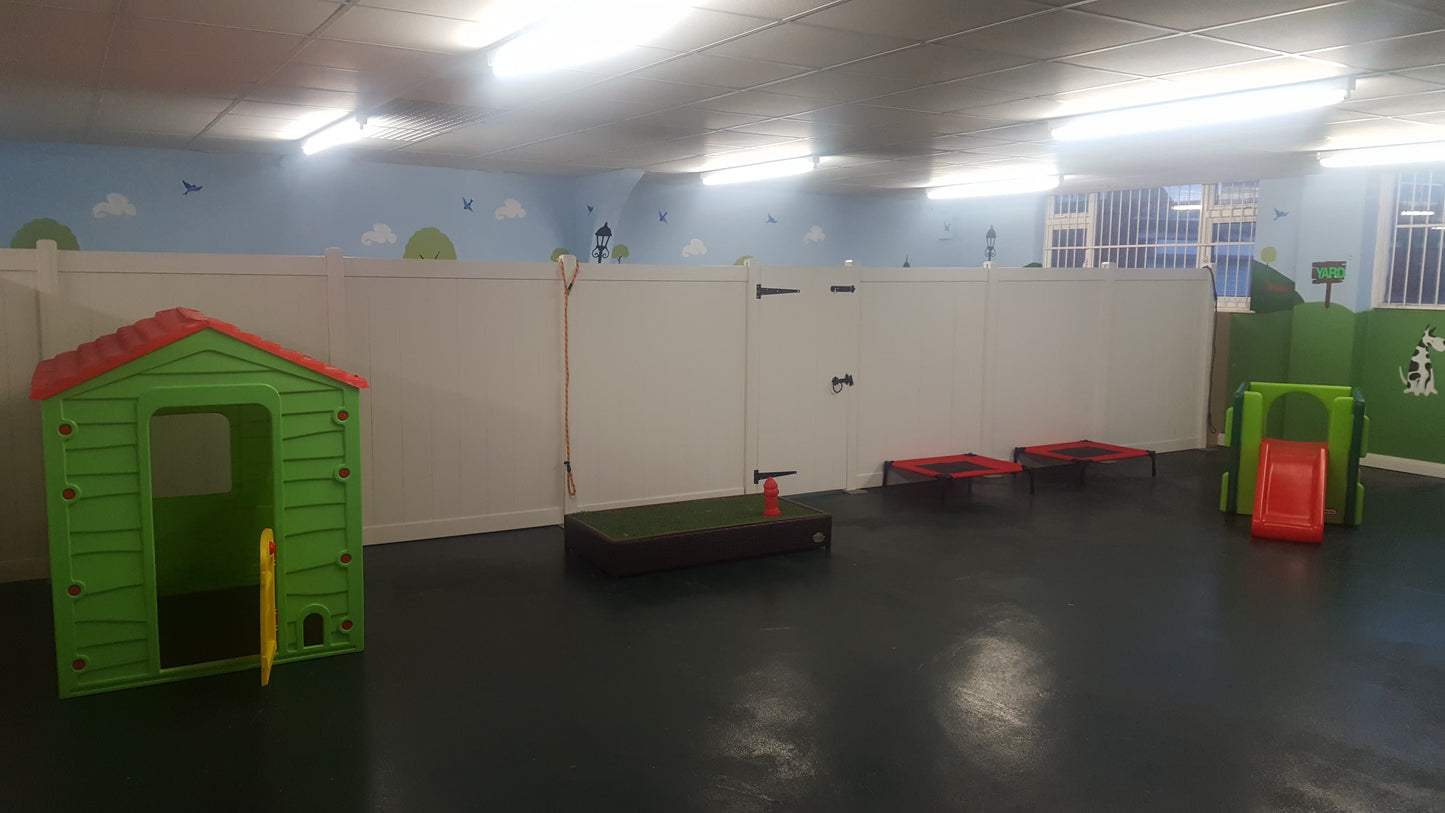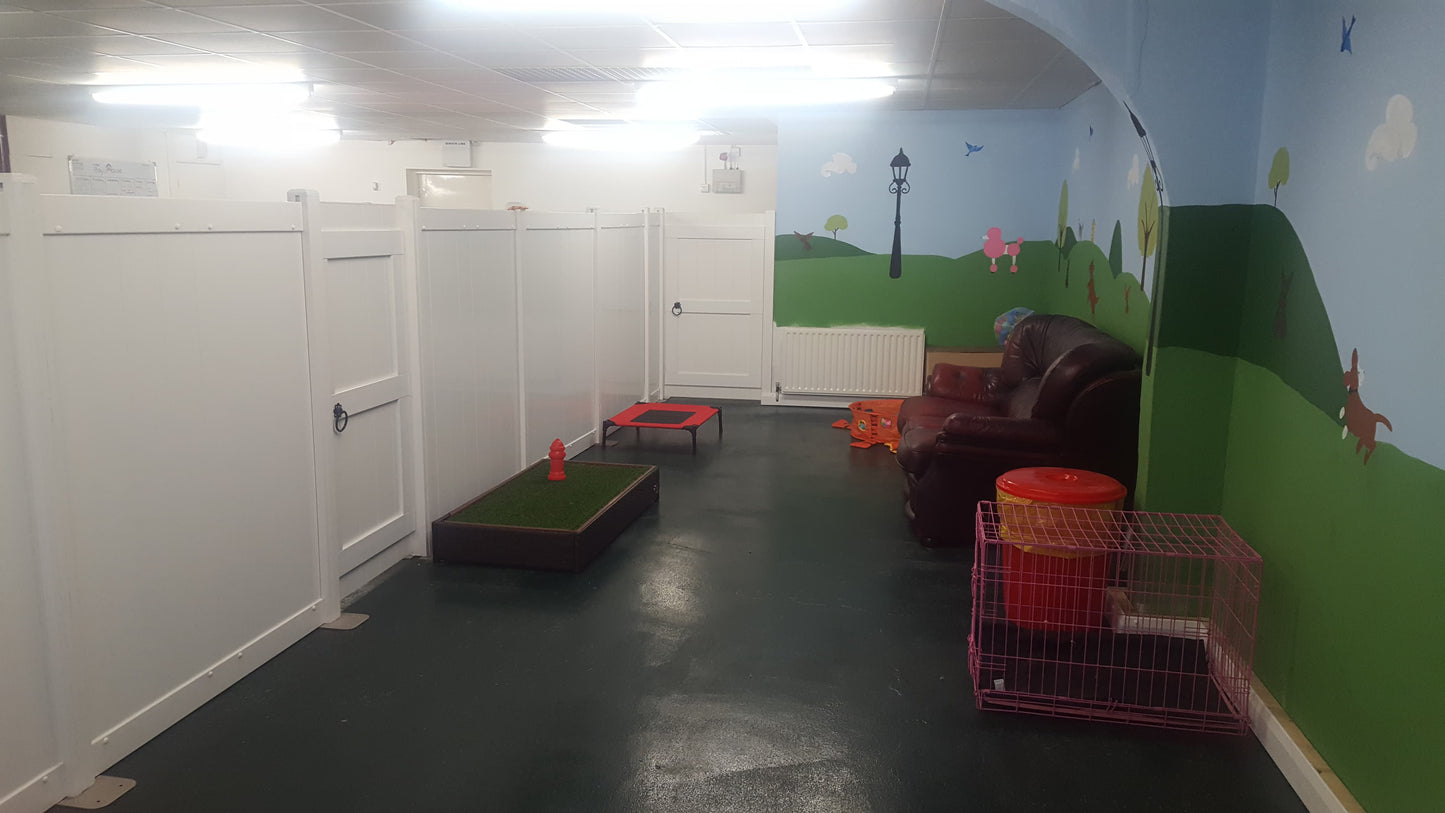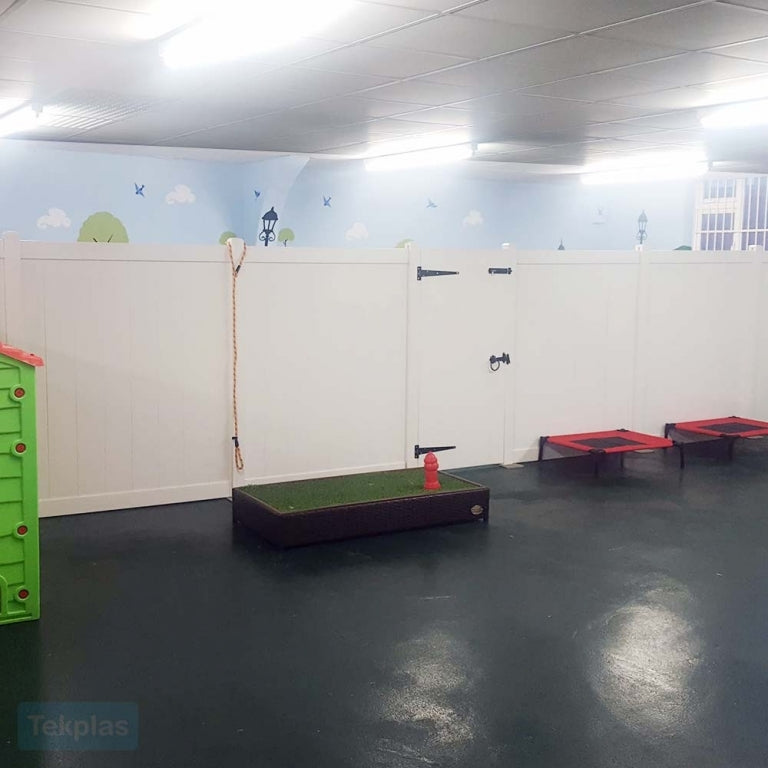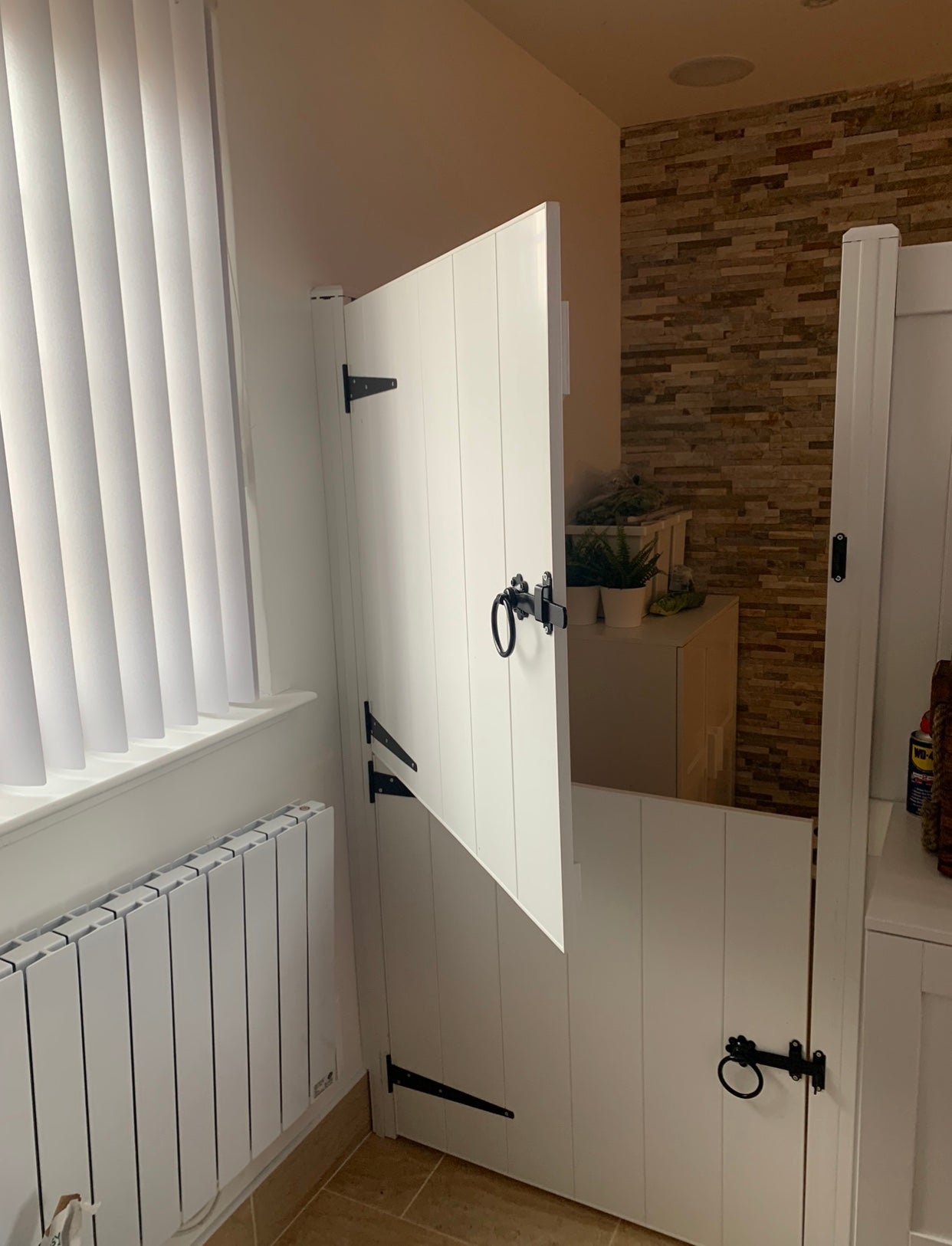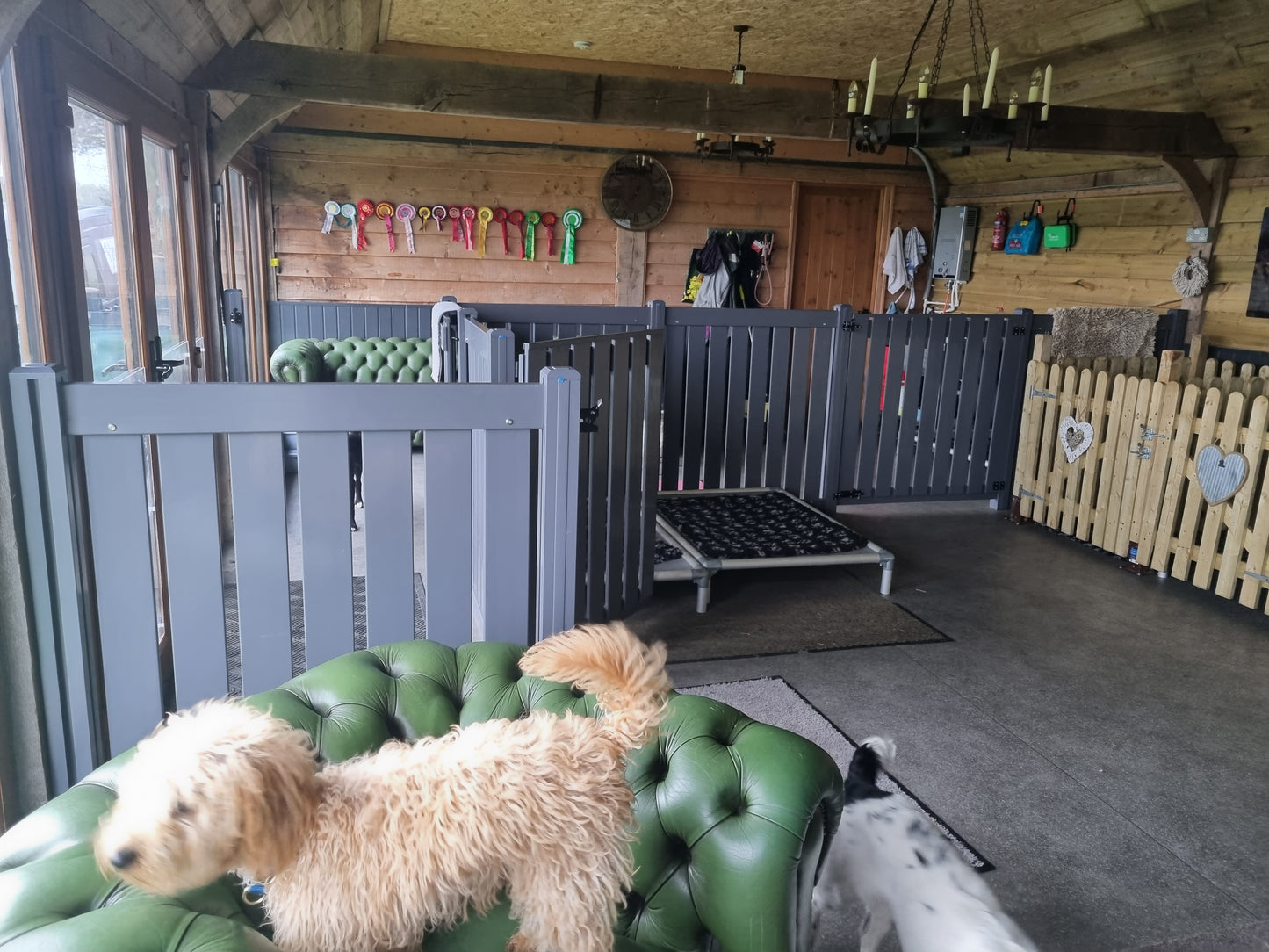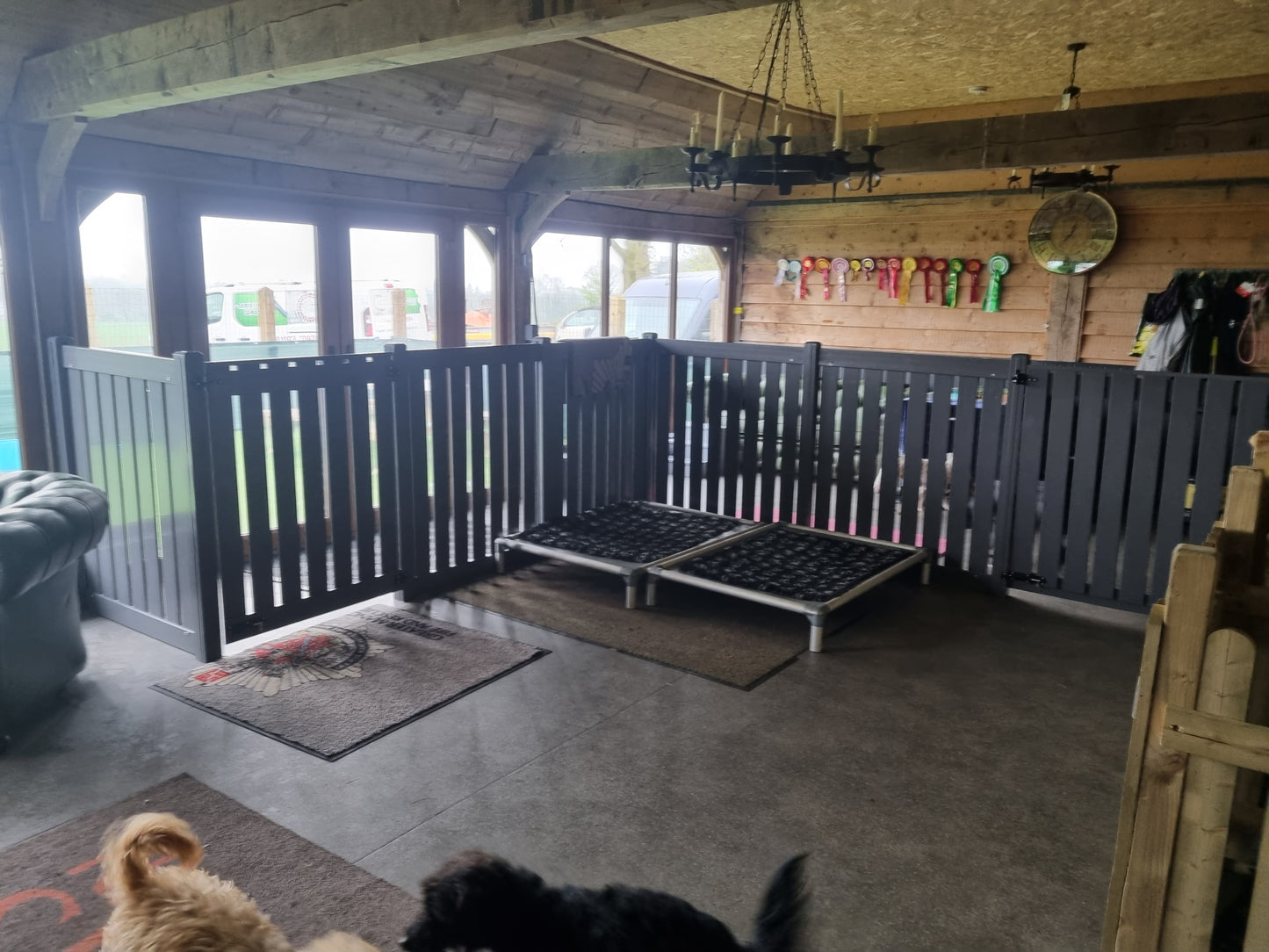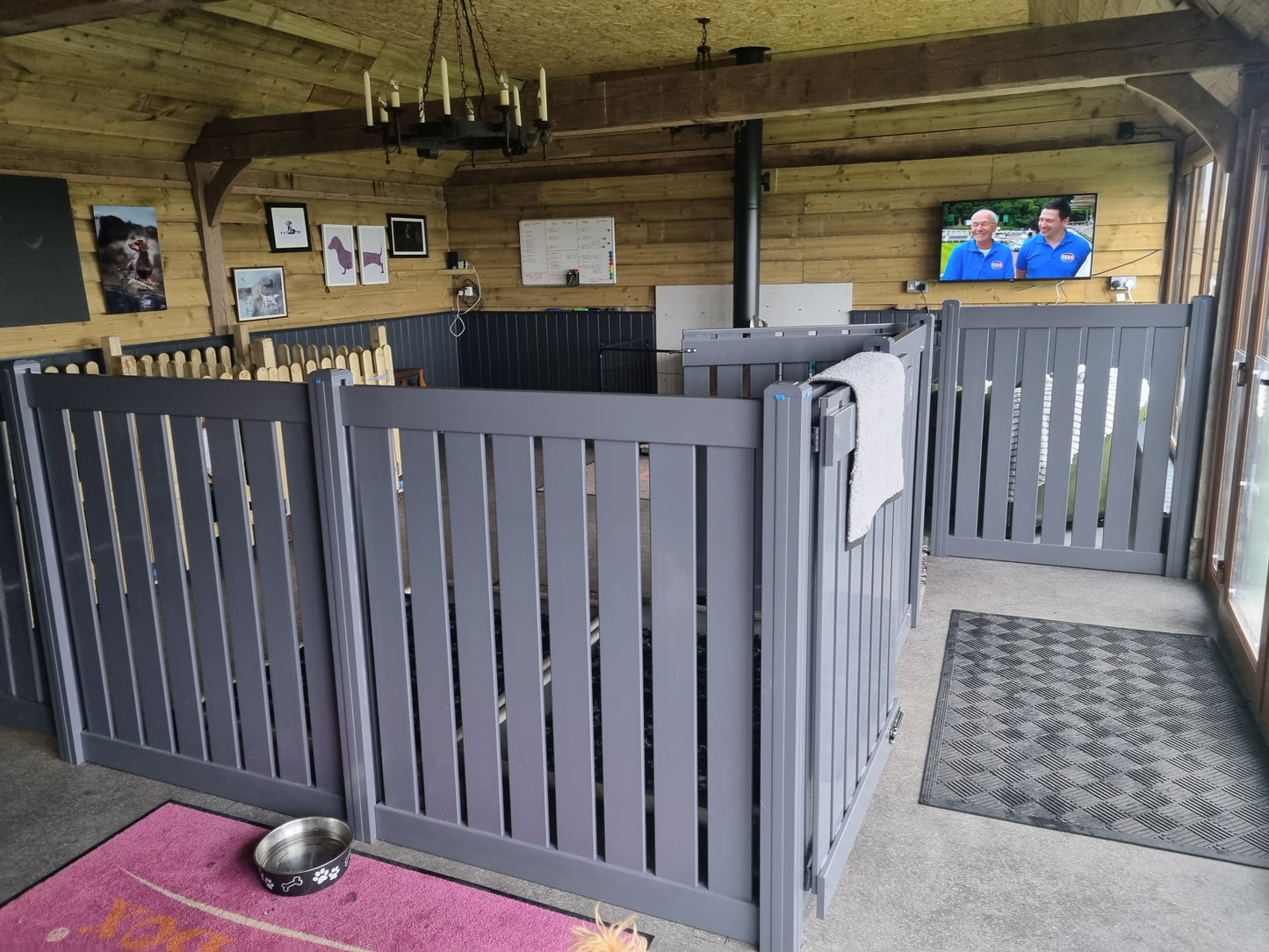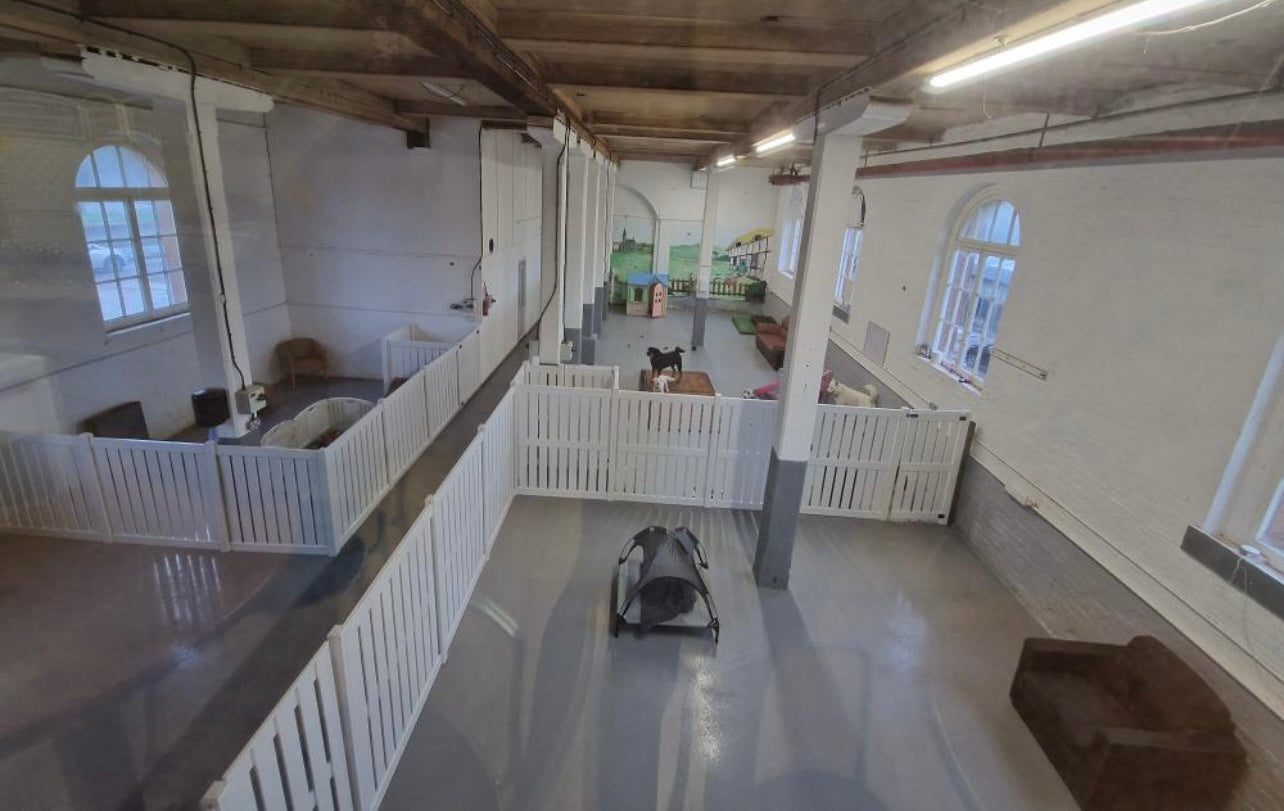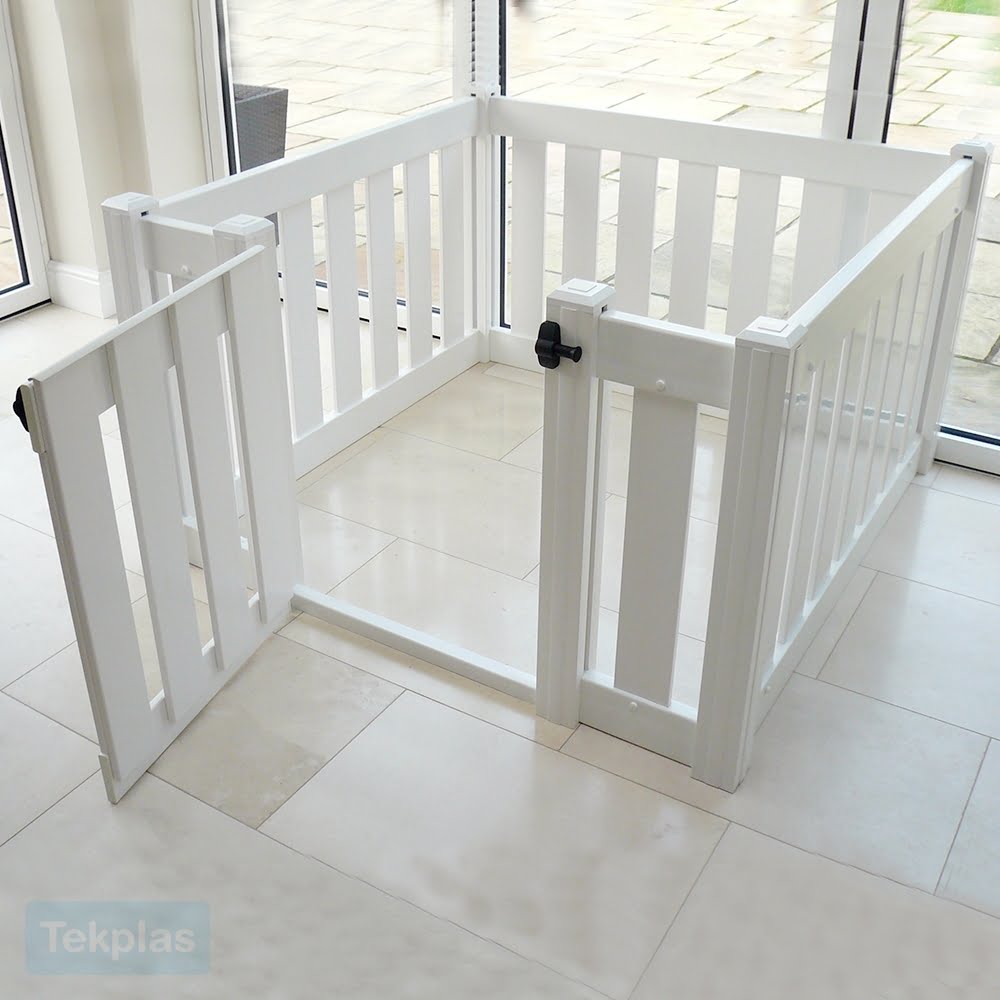 Secure access for little feet
Our Playpens featuring a gate offer effortless access for your little ones to enter and exit, alleviating the need for adults to awkwardly lean in or step over to take care of the children.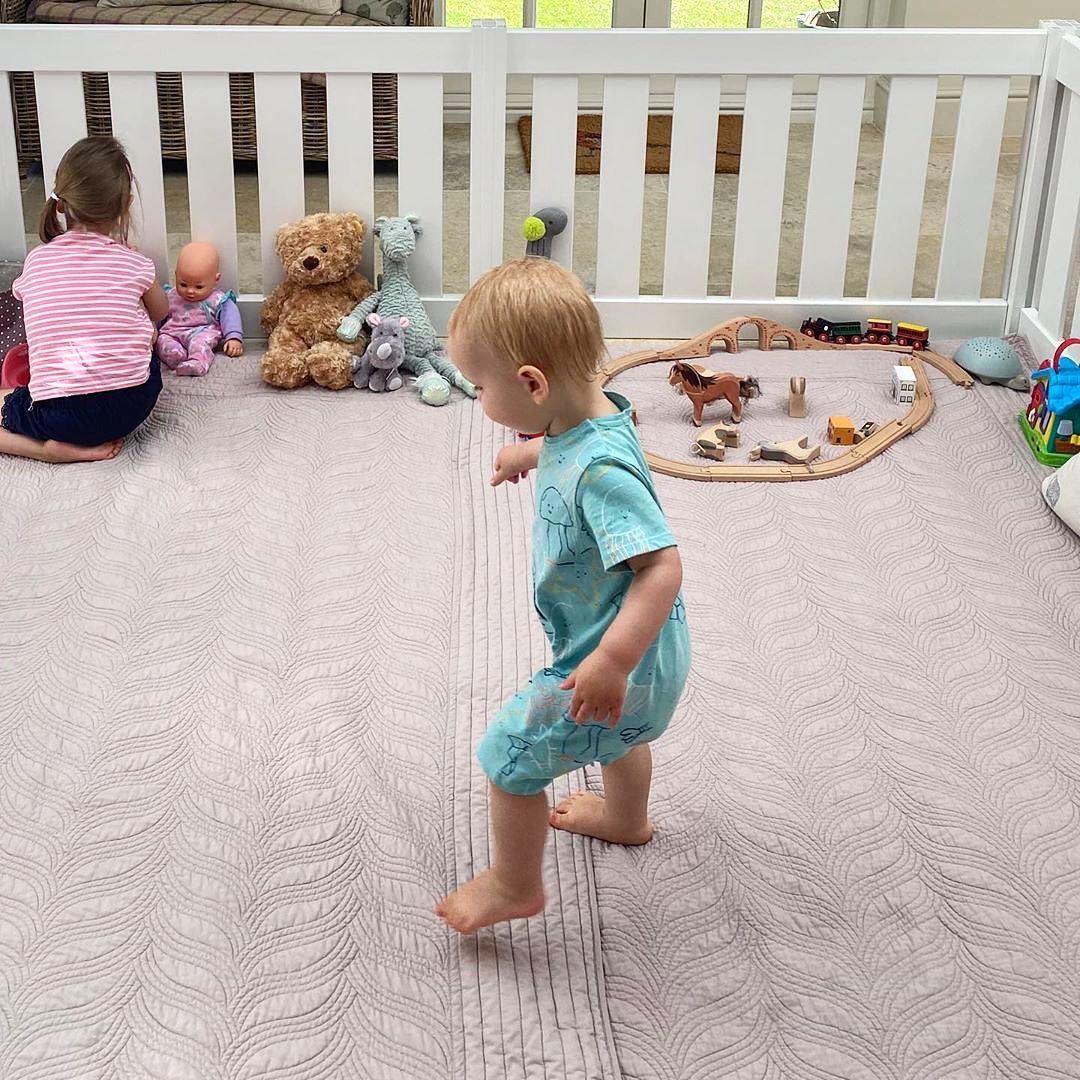 Grows with your child
Require extra space? Our playpens are designed to expand, evolving alongside your child. Simply incorporate additional panels as they grow, providing them with increased play area.
FAQs
Are your playpens suitable for carpet or hard floors?

Our products are suitable for all floor surfaces. Due to their construction they are strong and difficult for a child to move once in place. We provide rubber feet for hard and slippery floor surfaces.
Are the playpens easy to assemble?

Our playpens are easy to assemble. No tools are required and the posts and panels simply slide and lock into position.
Can I use a 6-panel playpen as a 4-panel playpen?

Yes, you can, simply remove 2 of the panels and 2 of posts
to create a 4-panel pen.
Can I mix and match the 110cm and 130cm playpen panel sizes?

Yes, you can, place the order online as a 130cm playpen and
then email info@tekplas.co.uk with your order number and required panel sizes.
Can I make my playpen bigger?
Can I add a gate to my playpen?
What does a single panel come with?

Each panel comes with 1 x post and 1 x cap.