Regular price
Sale price
£38.99 GBP
Unit price
per
Sale
Sold out
Build Time: 6 - 8 Business Working Days
Description

Tekplas' Plastic Picket Fencing is a durable decorative fencing solution for any indoor or outdoor environment whether it be a garden, public area or play zone. Tekplas PVC Picket Fencing System can easily be installed on flat or sloping ground.

 

High-Quality PVC Product
Strong Rigid Construction
Suitable for Indoor and Outdoor Use
Easy To Clean and Install
Maintenance Free

 

Fencing Explained

With our posts, you can connect a panel to each of the four faces and any faces of the post you don't connect to the slot will be covered with a cover strip. It is a modular system so you can keep adding to the fencing. You can make rectangles, squares or straight lines, U-Shapes, L-Shapes, etc We can cut the panels so that you can go at different angles if required. If your making smaller squares or rectangles the fencing is free-standing, if you require straight lines of more than 2 panels, then we can offer stainless steel temporary stabilising Feet which our posts slide over and this helps to stabilise the fence across longer runs.

For permanent fixing (which is the best method) we can offer the posts cut longer to cement into the ground or we offer metpost or solid floor fixings. All of the above fixing products are on our fixings page. We can cut down our standard panels and make most sizes required, simply email a plan of what your require and our team will work everything out for you. Or if you can make our standard panels work, you can easily order everything you need direct from the website. Each panel comes with one post. If your not making a square or rectangle then you will require a finishing post every time you finish the fencing. Again these are on our fixings page. If you are making in and out entrances with gates or just walking through gaps. So stopping the fencing and starting again, will require more finishing posts.

We can also offer gates to suit most gaps from 500mm – 1200mm wide if your going for our temporary fixings we would recommend not ordering a gate over 800mm wide due to the post not being fixed to the ground. If the posts are fixed permanently then anything up to 1200mm is fine. Our single play area gates are on the fencing page. This product has all the options you need to match this product, colours, height, etc

You will need to fix your post cap with PVC Solvent adhesive or super glue, to make a permanent fixing, or with silicone if you wish to move the posts at a later date. All of the parts are available separately if you need to replace or add to your installation.

The easy wipe surface can be wiped clean with ordinary household disinfectants or washed with a pressure washer or hose pipe. Or the best product to use is Everbuild PVC solvent cleaner for stubborn marks.

 

Post Height Explained

No Fixing = No fixings supplied (Post Only At Standard Height)

Standard Height Inc Ground Spike ( 700mm U-Channel Ground Spike Supplied With Standard Height Post)

Long Cemented Into The Ground = Post Cut 250-300mm Longer To Cement Into The Ground (Best Method For Strength)

 

Fencing Options Explained

1) Standard Height = Standard Panel and Post Height

2) Panel To Sit Off The Ground =  50mm Spacing To lift the panel off the ground (Best option for uneven ground or slight slopes)

3) Panel + Gravel Board = Height chosen will include 150mm Bottom Gravel Board at the bottom of the panel

 

Panels & Post Sizes


Panels

Height: 600mm / 750mm / 900mm
Width: 1150mm

Posts

Height 600mm / 750mm / 900mm
Width 75mm Square

 

Picket Fencing Kit is complete with the following:

1 x  PVC Post + Cap
1 x  700mm Galv Ground Spike (unless you have chosen to cement the posts into the ground or the standard option)
1 x Panel 1150mm wide by which height is chosen

 

Please Note:

Darker Colours Will Eventually Start To Fade After Many Years Due To UV Rays, all of our colours have UV additives.

We cannot be held responsible for the safety or installation of our products, as the buyer or installer you must make sure it is installed correctly and safe to use.
View full details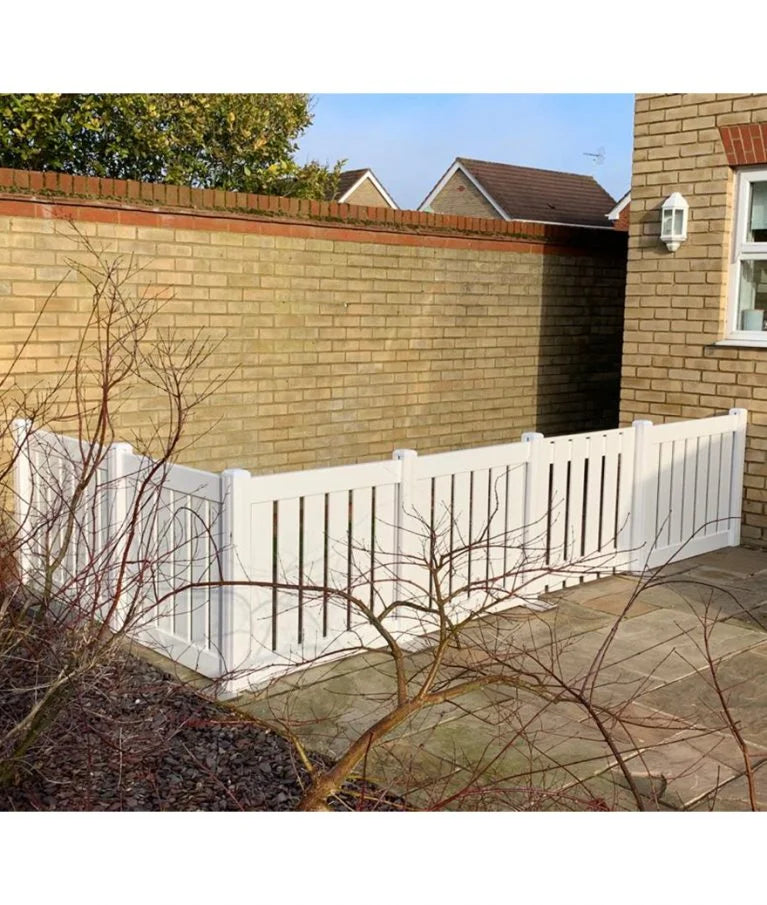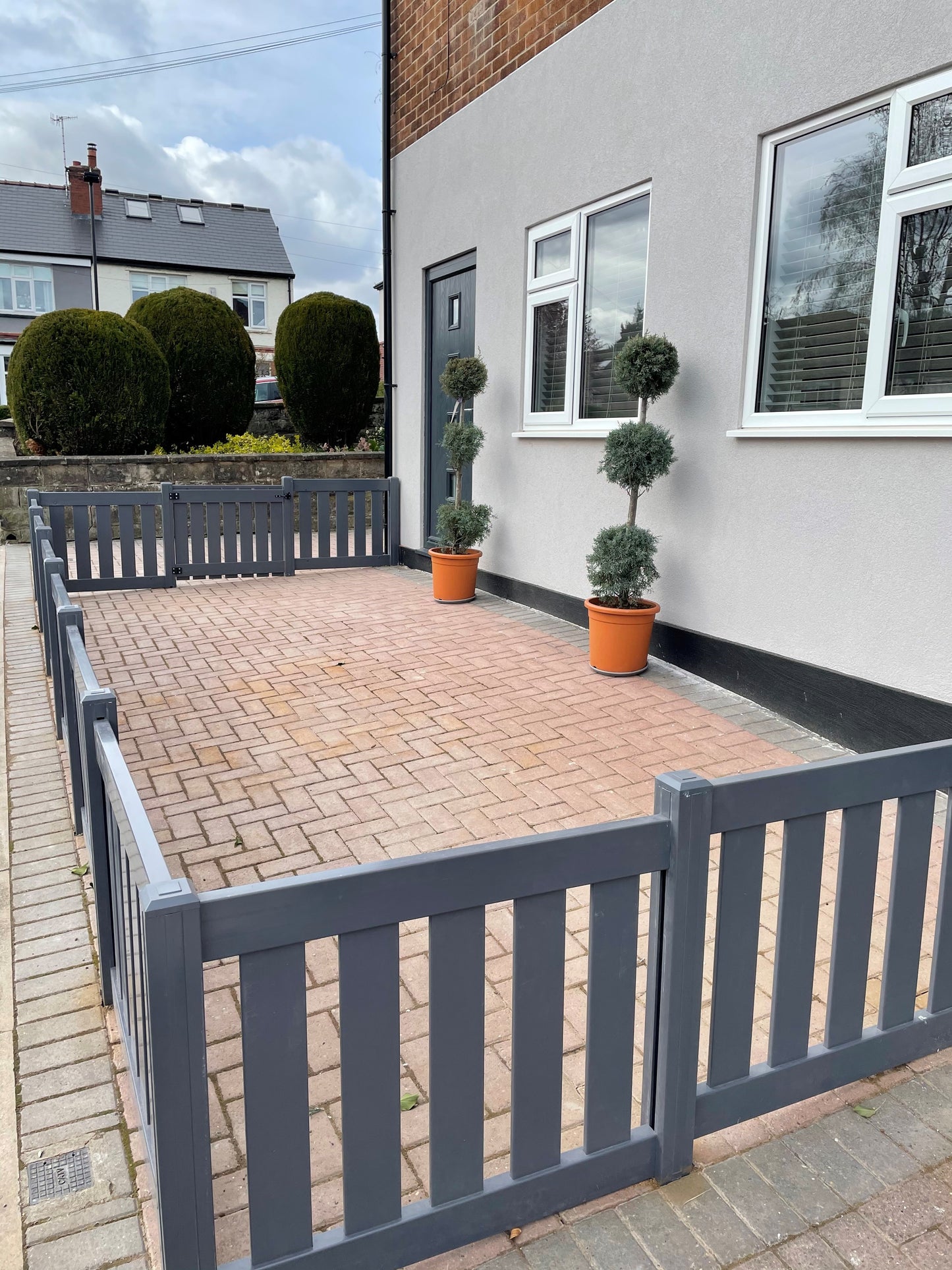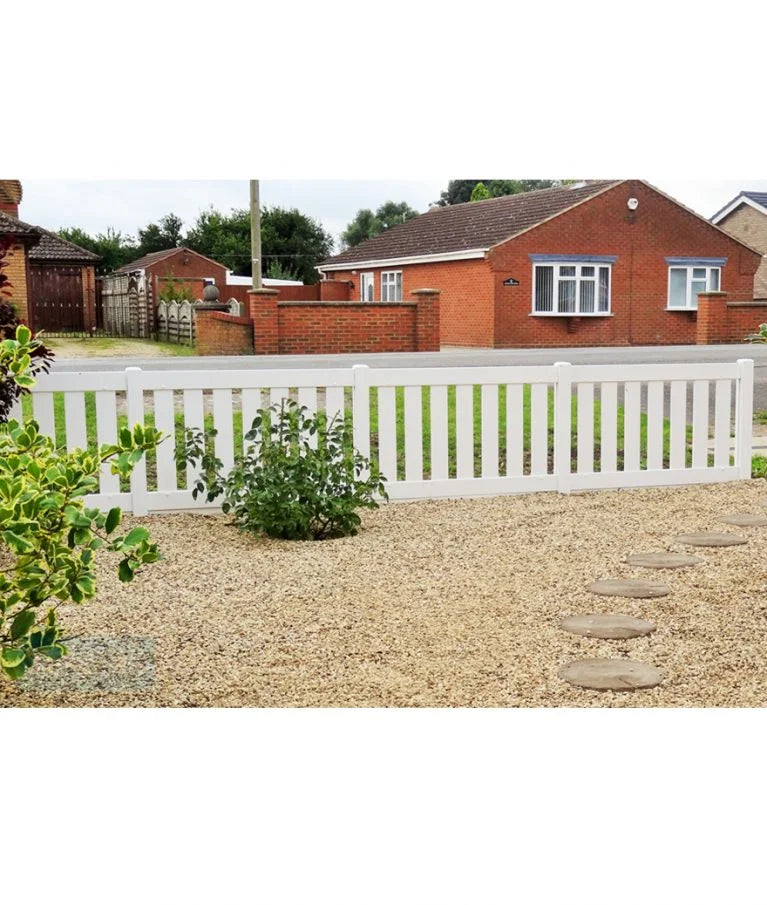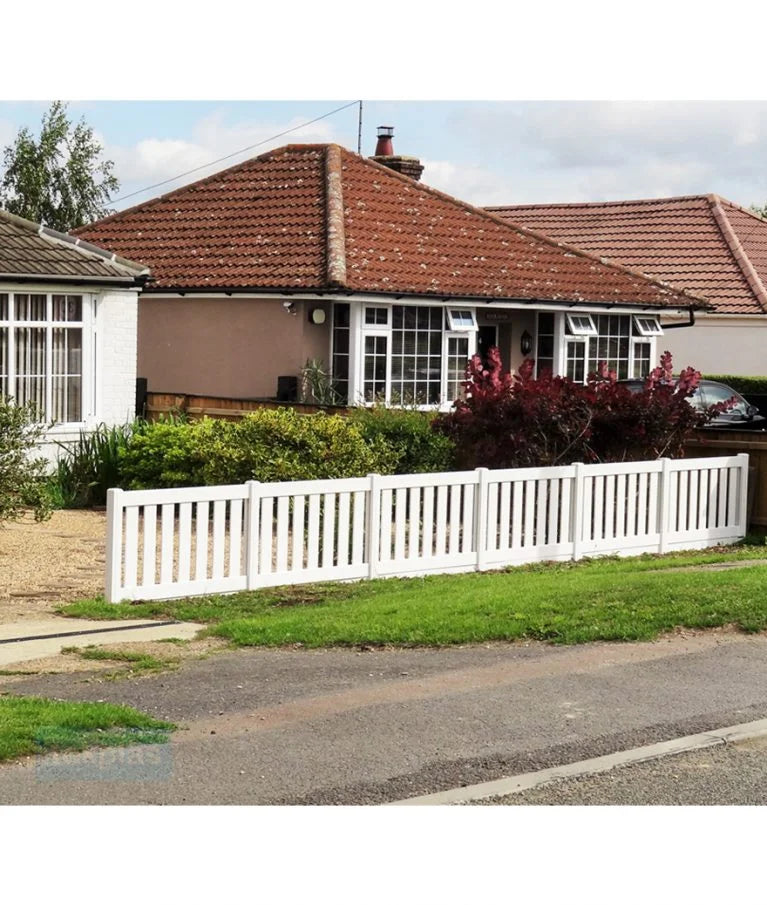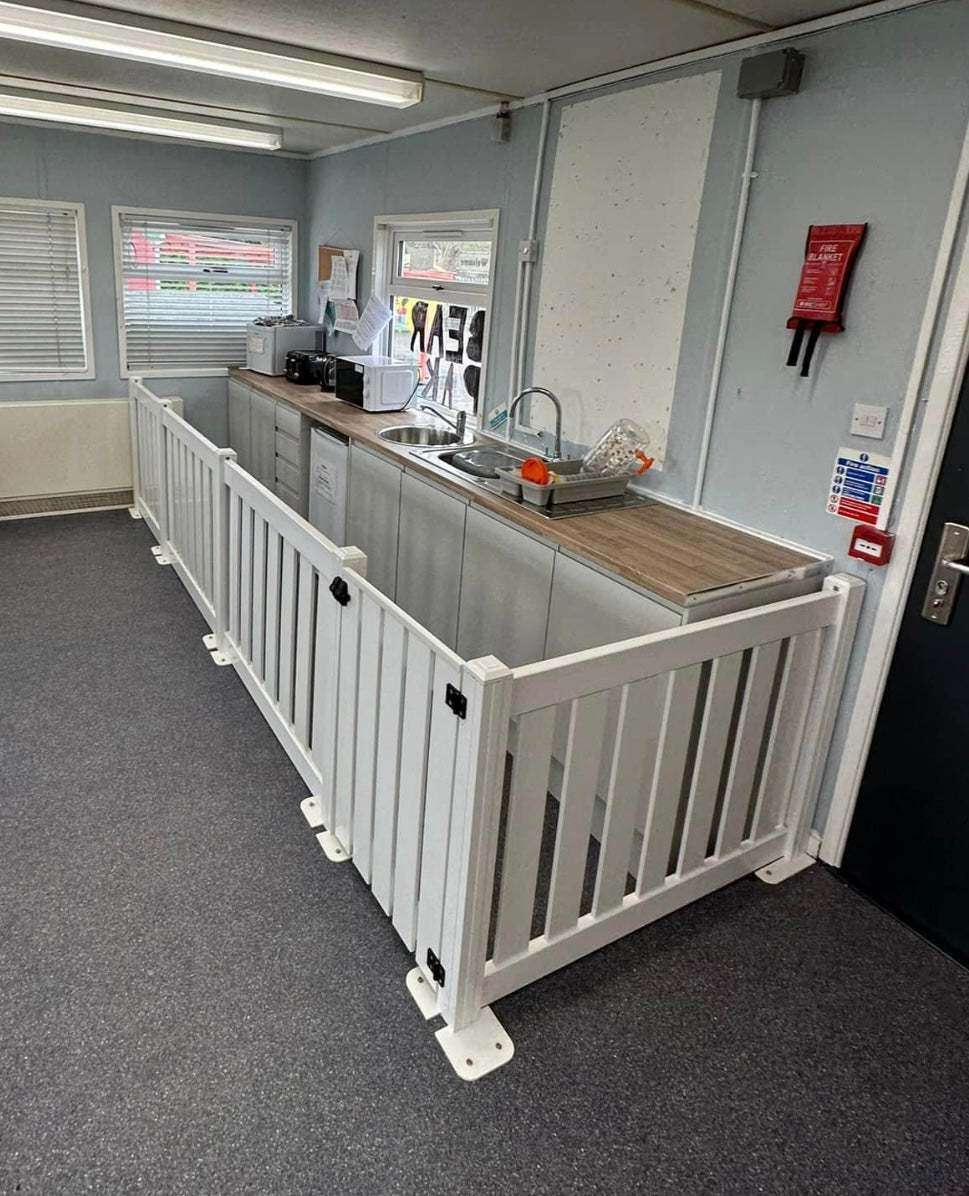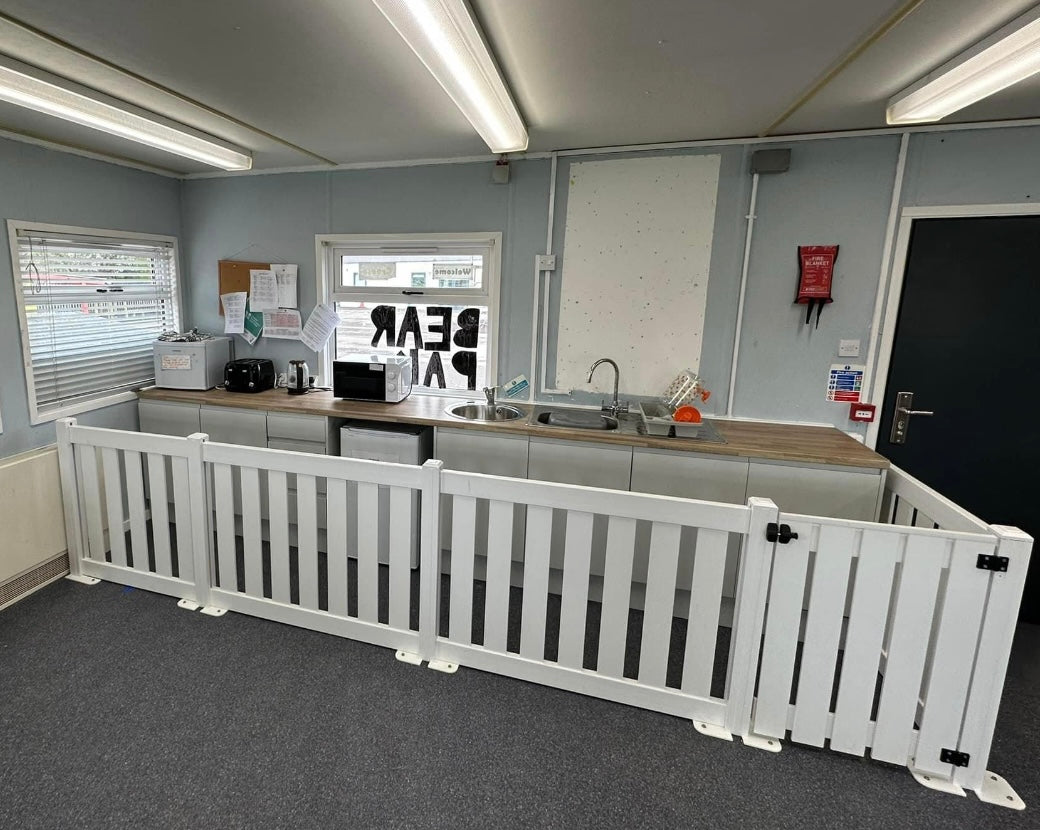 FAQ's
Do I need a finishing post?

Yes, you will need a finishing post unless you are connecting the last panel back to the starting post (making a square or
rectangle) finishing posts are required with all straight line, L-Shape or U-shape fencing.
Do I need a finishing post? (post chain)

Yes, you will need a finishing post unless you are connecting the last piece of chain to a hook on the wall or existing fence
post.
How many finishing posts do I need?

Each panel comes with 1 x post. You will need 1 finishing
post for each run of fencing. For example if you have a 2 individual straight line runs then you will need 2 finishing posts.
Can we make bespoke size panels?

Yes, we can, all of our products are made to order. If you
need bespoke length panels then drop us an email to info@tekplas.co.uk with
your requirements.
Do you charge more for bespoke panels?

We do not charge any extra for bespoke panels, we charge
per panel.